6 Reasons Why Ethereum Price is Surging
Ethereum continues to press forward to new all time highs as ETH price surged to $1756 for the first time last night according to CoinMarketCap. Ether has since fallen to $1,674 at the time of writing.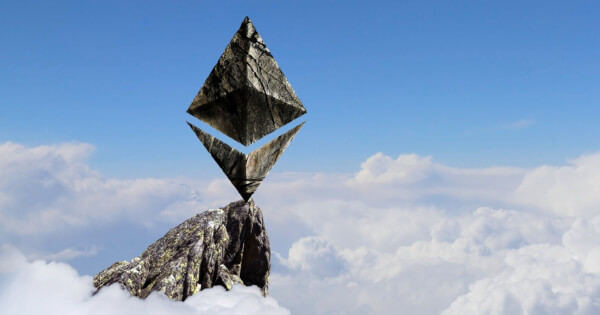 As ETH prices breached $1,700 for the first time, Paolo Ardoino, CTO at Bitfinex shared his thoughts on Ethereum's surging popularity with Blockchain.News in a note:
"Ethereum is seemingly 'going to the moon' as it reaches another all-time high above US$1,700. There are lots of moving parts to the second biggest cryptocurrency by market capitalization. Sceptics may focus on the challenges that it faces. But hackers and coders love to solve problems. Ethereum was designed to be a currency to fuel an ecosystem of applications and we are still at the very beginning of this journey. Meanwhile, the coming CME Futures launch represents another milestone towards crypto becoming an established asset class."
Below are six reasons why Ethereum is showing so much strength and why the ETH price continues to rise.
Reason 1:
A large number of mainstream brokerages have restricted transactions, resulting in a large number of WSB (WallStreetBets) style retail investors investing in the decentralized cryptocurrency market.
WBS, a turbulent U.S. retail investor group joined forces against Wall Street short sellers by targeting a selection of hedge fund shorted stocks, mainly GameStop (GME) and AMC. Following the coordinated buying attack of WSB, mainstream brokerages like Robinhood began restricting the purchases of some WSB targets stocks such as AMC NOK BB due to liquidation risks.
As a result, the retail investors have coordinated to focus on the decentralized virtual currency trading markets, and the influx of such a large number of retail investors has been a factor in accelerating the rise of Ethereum.
Reason 2:
Since January 4, Ethereum has directly risen to $1,350 with a thunderous momentum. The market value reached its highest peak on February 5 today, and continue to rise today. According to CoinMarketCap data, the current market capitalization of Ethereum is about $183,092,738,810, and the price is trading at around $1603.52.
Technical analysis shows that Ethereum has been moving in an ascending channel for the past two days and still has strong upwards momentum. From the perspective of transaction volume, starting from 2021, the overall average transaction volume is higher than the average levels of both 2020 and 2019. The promotion of transaction volume is also one of the factors contributing to the continued rise of Ethereum.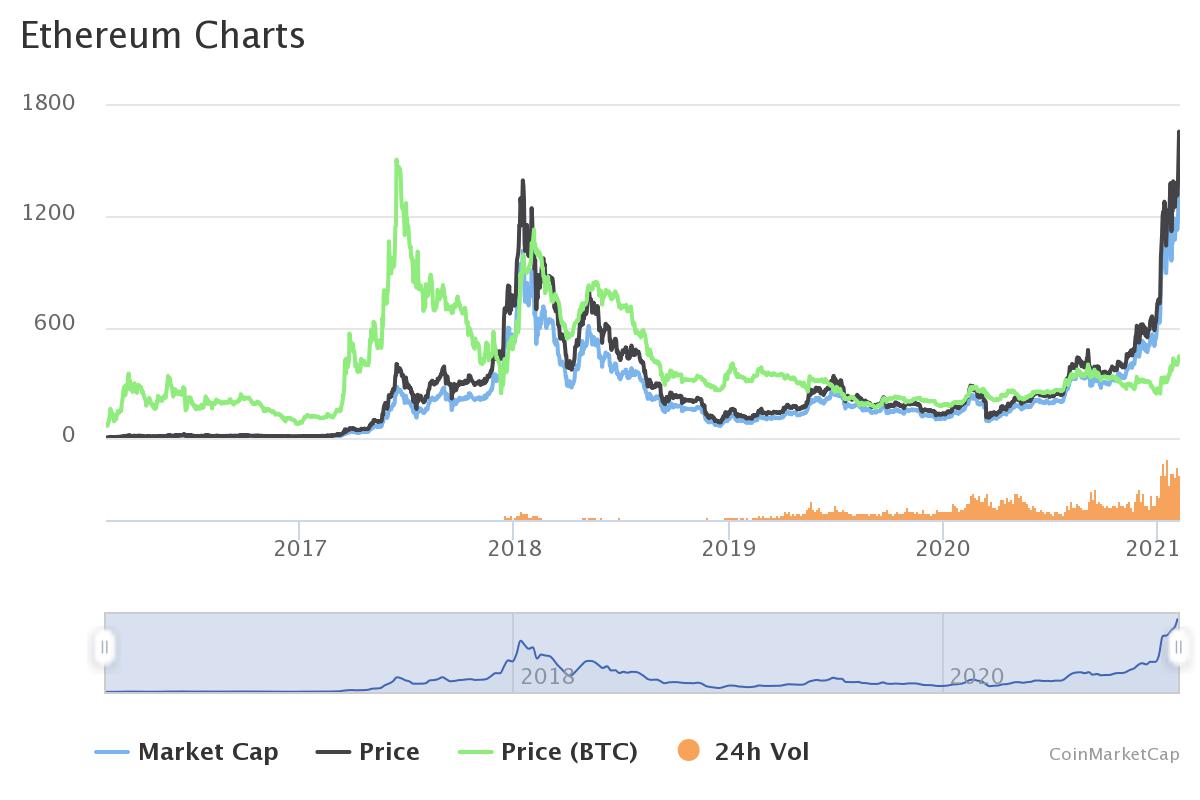 Source: https://coinmarketcap.com/currencies/ethereum/
Reason 3:
According to statistics from the Ethereum options market in the next few days the trading volume in the nearly expiry date, the volume of call options are much bigger than that of put options. The market has shown a bullish sentiment. The main driving force for this sharp rise comes from capital.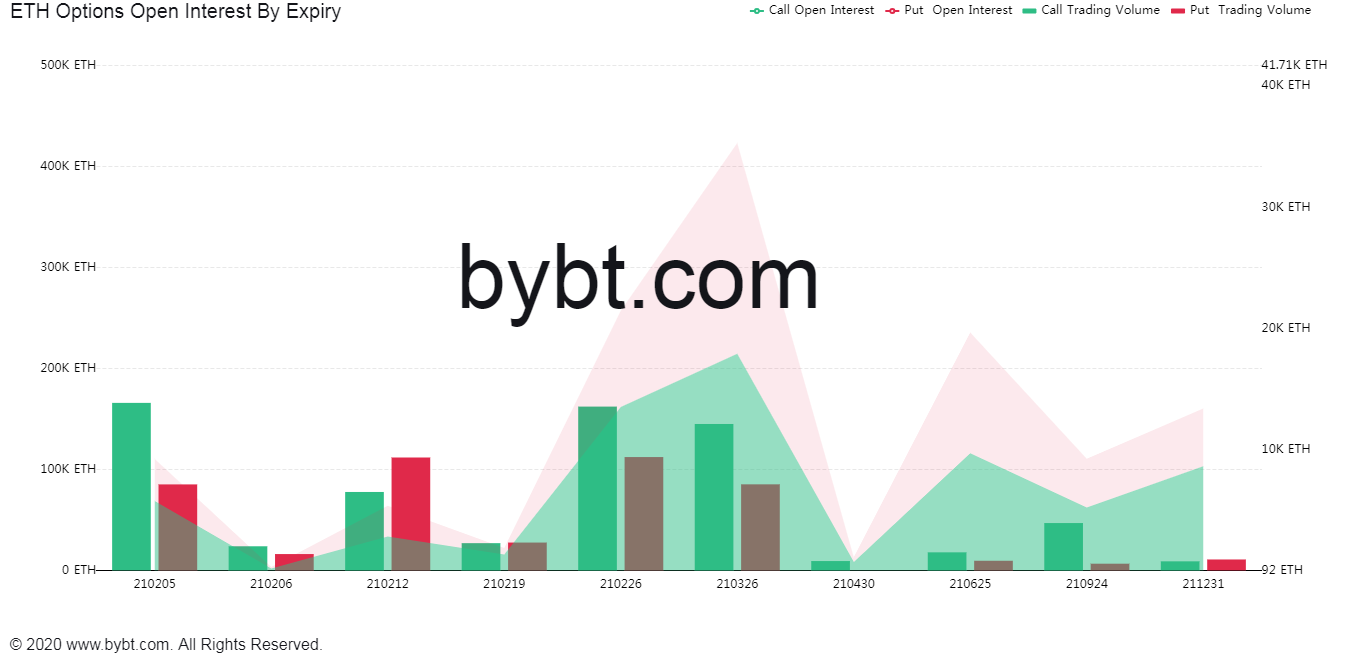 Source: https://www.bybt.com/options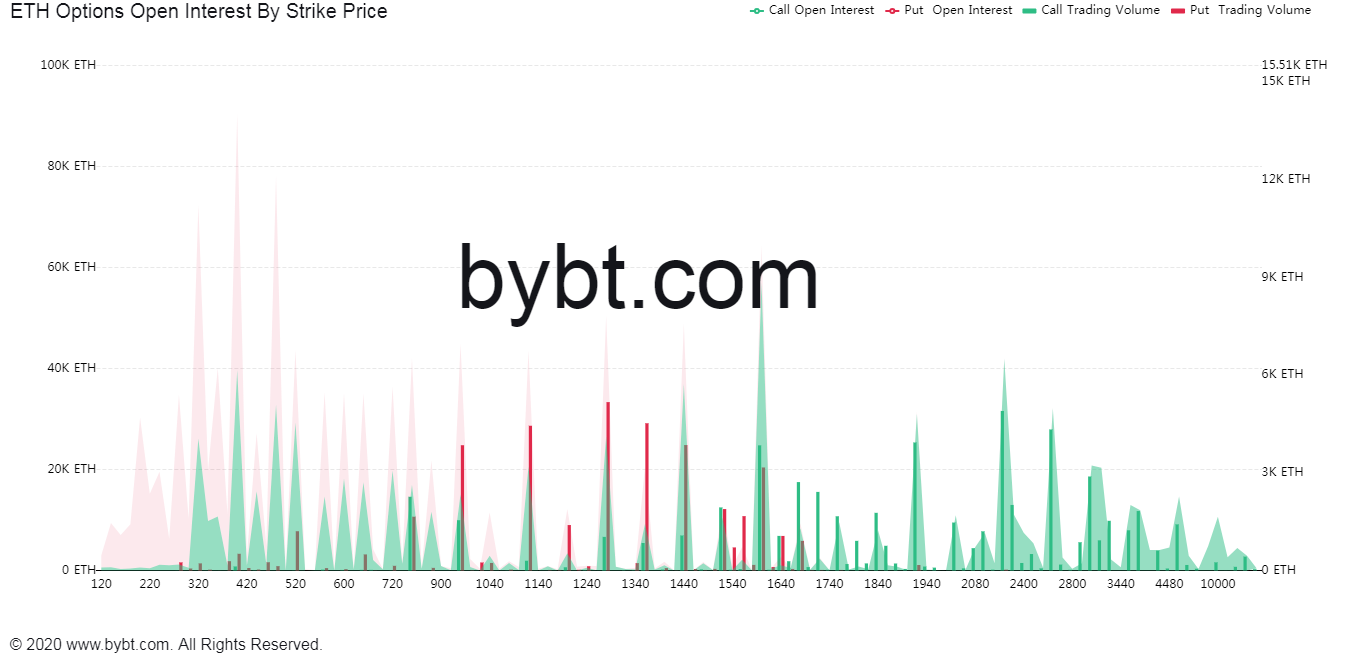 Source: https://www.bybt.com/options
Reason 4: The strong rise of Defi led to the strong rise of ETH.
In recent days, the Defi ecosystem has repeatedly set new highs. Up to now, the total value locked has reached over 48 billion U.S. dollars and the true locked up value of Defi has exceeded 34 billion U.S. dollars, reaching $35.55 billion—a new record high. Ethereum remains intrinsically tied to the DeFi markets and continues to be the most utilized smart contract blockchain in the space and consequently the ETH price continues to surge with the decentralized market.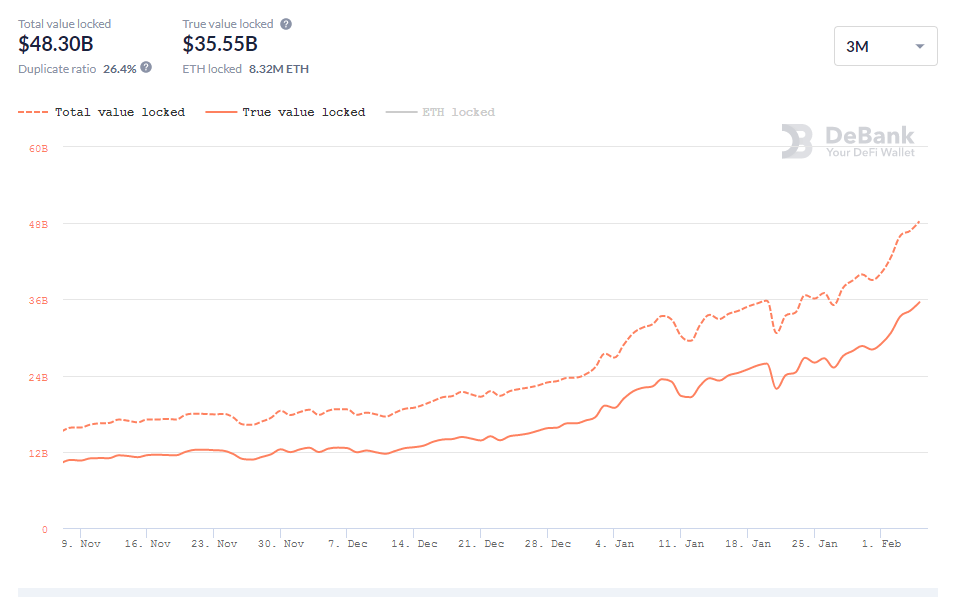 Source:

 

https://debank.com/ranking/locked_value?chart_date=3M
According to data of Debank ,the top five projects in terms of lock-up volume are Maker, WBTC, Uniswap, AAVE and Compound. These five projects have their own merits, and then those who are chasing afterwards are also catching up. Whenever a project rushes into the top five, the token value will reach a new peak.

Source: https://debank.com/ranking/locked_value
Reason 5: Institutional investor arbitrage
Institutional arbitrage may boost ETH's recent gains, speculating that investors are buying ETH to solve the loan problem of ETHE stock.
Over the past 3 days, the Grayscale Fund bought a large amount of ETH, and its holdings reached the highest peak. The total holding of eth reached 3.02 million US.dollar. In the past 7 days, a total of 83678 were bought. eth, in the past 24 hours, the Grayscale Fund bought a large amount of eth, the amount reached 12684, the inflow of grayscale Ethereum greatly exceeded BTC, and the inflow of Ethereum capital rose sharply.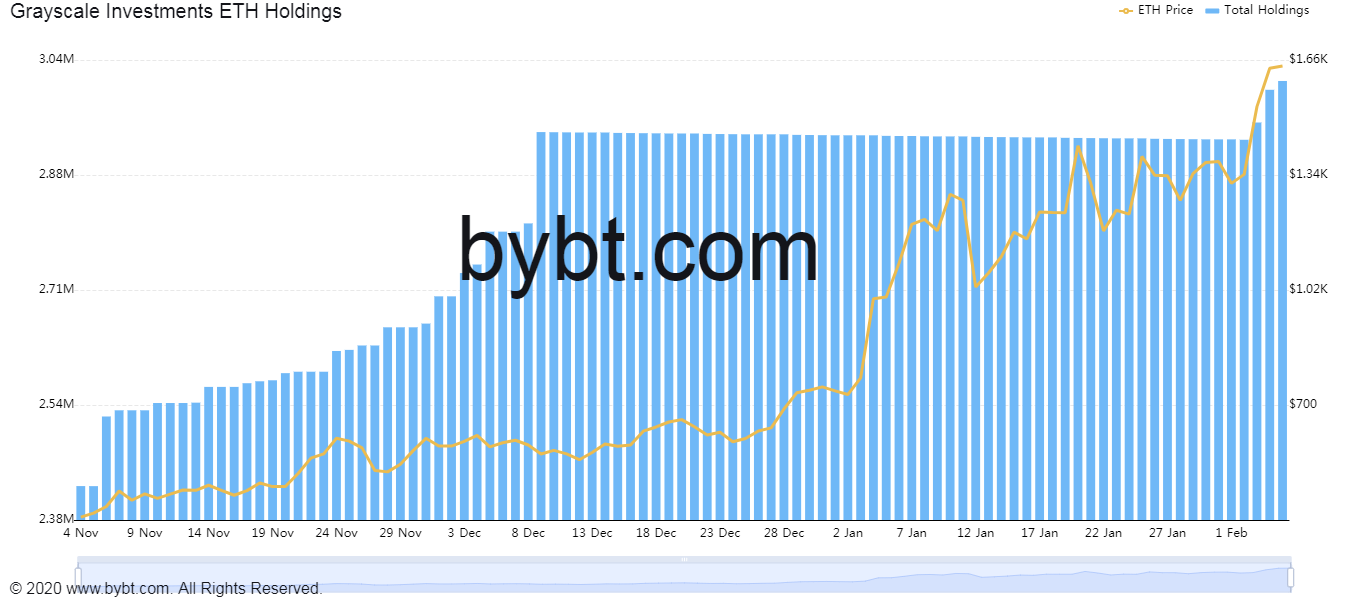 Source: https://debank.com/ranking/locked_value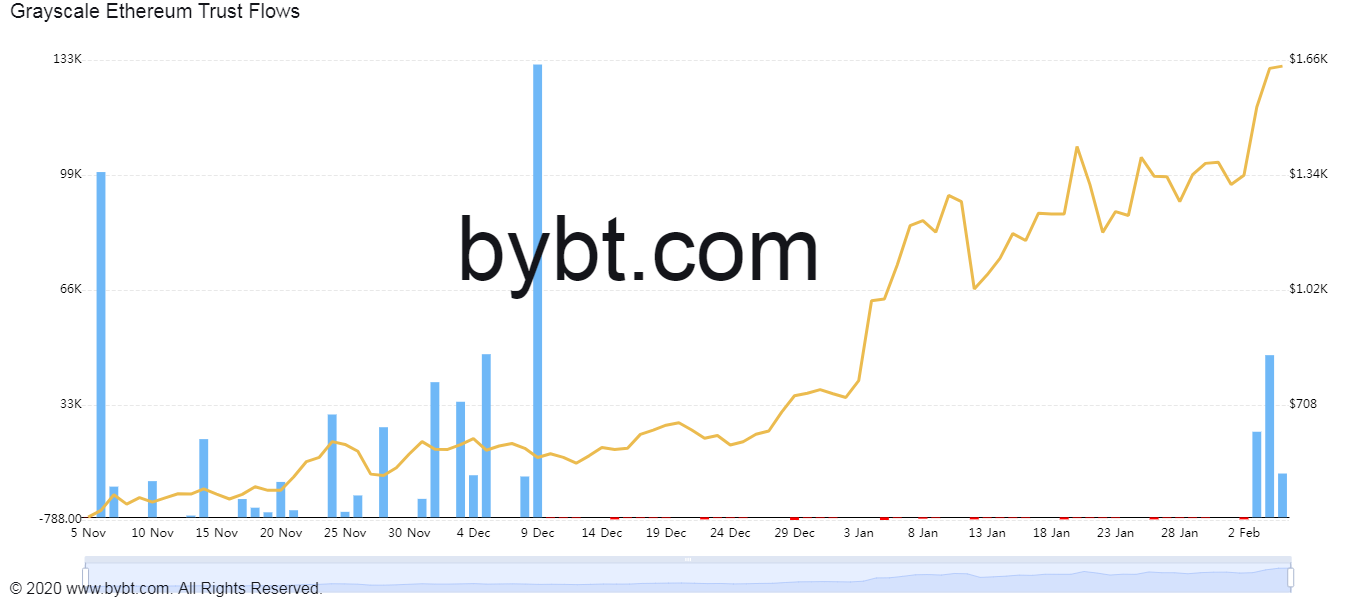 Source: https://www.bybt.com/Grayscale
Reason 6: The positive impact of ETH 2.0
On the current Ethereum protocol, miners use special mining machines that consume large amounts of electricity to mine. The reform of Ethereum 2.0 allows Ethereum holders to pledge Ethereum tokens to become validators in the network, and participate in it to obtain transaction fees. Part of the revenue, and part of the additional tokens.
Under Ethereum 2.0, ETH is no longer a pure consumer commodity, but a productive commodity that combines the nature of commodities and equity - ETH holders can mortgage tokens for interest. Obtain cash flow income, similar to equity securities.
Image source: Shutterstock
UMA, XRX, and FUN Gain Over 100% As Best Crypto Performers this Week
Read More