BTC, ETH Jump to New Highs after Bitcoin ETF Launch - What's Next?
Optimism in the crypto world is sky-high that the Securities and Exchange Commission (SEC) okayed the first US Bitcoin futures exchange-traded fund. The launch is a springboard for crypto to become a more mainstream financial sector.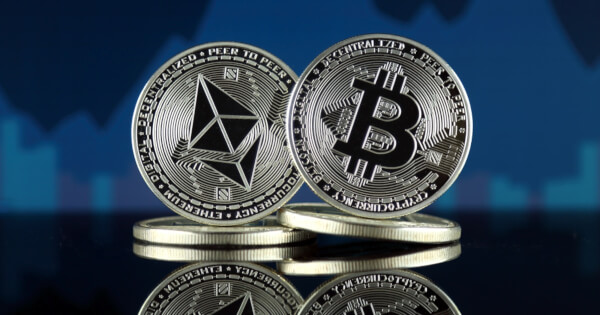 Bullish comments from tech billionaire investor trader Paul Tudor Jones also gave a boost to BTC price as he said crypto is a better inflation hedge than gold.
According to a Bloomberg report, Thiel joked that "you're supposed to just buy bitcoin" prior to adding "I feel like I've been under-invested in it." He echoed the views of several other billionaires, including Twitter co-founder Jack Dorsey and Tesla CEO Elon Musk who expressed support for Bitcoin.
* BTC price performance chart by TradingView
With the first BTC futures ETF debuting on the NYSE on Tuesday, Bitcoin notched a fresh all-time high of $66,974 on Wednesday, breaking through its previous record high of $64,888. Last week, BTC price rose by 12.2% to post its highest weekly close at $61,511.0.
According to a survey of Finder's panel of 50 fintech experts, Bitcoin is expected to peak slightly above $80,000 this quarter, prior to closing the year near $71,400. The long-term predictions look even more radiant: panelists forecast BTC to skyrocket to $249,578 and $5,237,082 in 2025 and 2030, respectively.
Based on the strong fundamentals and a favorable macro environment, I would say that BTC is likely aimed at $70,000, with a further potential pullback. It would be no surprise to see the minimum level of $72,000-$80,000 by the end of 2021. Still, the market is highly volatile.
Bitcoin price reacts most strongly to reports on its regulation. For example, if Switzerland finally makes BTC part of its constitution, we can expect even $100,000 by the end of the year. We need to monitor what happens closely.
Meanwhile, Ethereum followed Bitcoin's rally, rising above the psychological threshold of $4,000 to its new ATH of $4,366.09. The bullish trend is expected to continue. At the time of writing, ETH traded at $4,125.28 with a $487.42 billion market capitalization.
Looking at technicals, ETH support level is seen at $3,599, while resistance is at $4,277.
*ETH price performance chart by TradingView
Other Crypto Gainers:
Solana (SOL)
Solana burst onto the scene in 2021, rising from a 0.01% market share to become one of the top 10 cryptos by market cap in September. It has become a leader in DeFi, with its price rising by about 100-fold this year. SOL traded at $182.12 at the time of writing with a $54.43 market capitalization. So far this month, Solana has added 28.078% in value.
*SOL price performance chart by TradingView
ZCash (ZEC)
ZEC is among other top coins, trading at $148.78 with a $1.92 billion market cap at the time of writing. So far this month, Zcash has gained 39.68%.
* ZEC price performance chart by TradingView
ZEC price is expected to rise above $140.75 by the end 2021. Its highest price for November 2021 is seen at $139.20, while the lowest level is expected at $123.73.
Litecoin (LTC)
At the time of writing, LTC traded at $199.10 with a $13.69 billion market cap. So far this month, Litecoin has advanced by 29.94%.
Dan Gambardello, one of the renowned crypto analysts, who had forecast a meteoric rise of LTC back in 2017, now says it can grow up to $1,000 this year.
* LTC price performance chart by TradingView
Conclusion
Many experts are divided on the crypto space, and there has been a lot of hype around it. Crypto curiousness and doing your own research are both vital to keep up the pace.
With ChangeNOW's full-scale online platform, you can exchange crypto effortlessly, or you can use its feature-rich iOS and Android app. In contrast to traditional exchange platforms, ChangeNOW's platform does not require registration and is non-custodial, giving you full control over your digital currencies.
*Prices and market cap current as of Oct. 21, 2021
Image source: Shutterstock
---

Read More