Ethereum's Median Fee Hit a 4-Month Low, while Address Activity Soaring to a 7-Month High
Despite making significant strides in 2021, high gas fees in the Ethereum (ETH) network have been a big headache.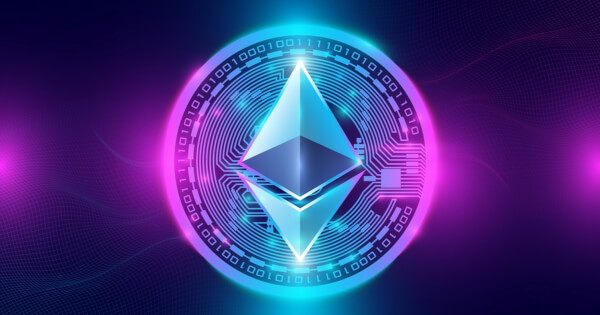 Nevertheless, users have a sigh of relief because Ethereum's median fees have dropped to $5.50 per transaction from highs of $34.18 last month. On-chain metrics provider Santiment confirmed:
"Ethereum's median fees have quietly come back down to an affordable $5.50 per transaction. This is a far cry from the $34.18 per transaction level that the ETH network was demanding near its AllTimeHigh just one month ago."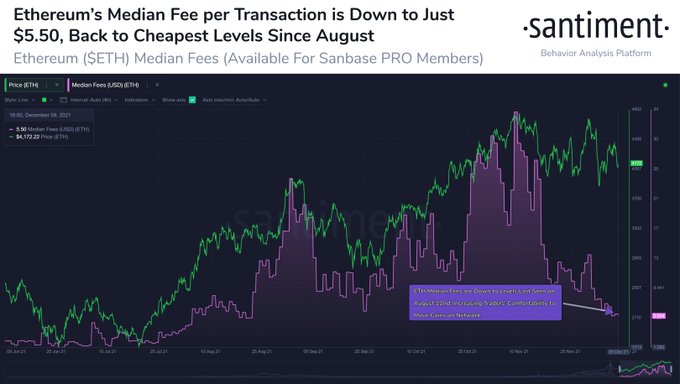 This drop-in fee has been advantageous in pushing Ethereum's utility levels based on high address activity. Santiment added:
"With ETH fees coming back to earth rapidly with this December price correction, address activity has soared to 7-month high levels. Utility of Ethereum is far more appealing to traders with fees back down to $5.50 per transaction."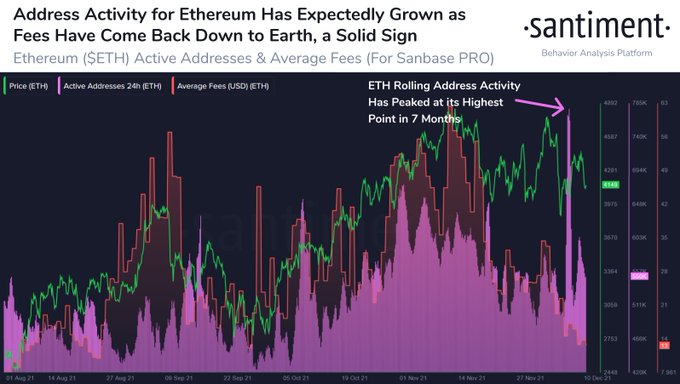 Ethereum has made notable steps this year, given that more money has flowed into its network compared to Bitcoin. This has been boosted by a couple of use cases like ETH being the backbone of the booming decentralized finance (DeFi) and non-fungible tokens (NFTs) sectors.
Furthermore, Ethereum recently showed better performance in annual returns than Bitcoin, with a 663% gain.
Ethereum 2.0 continues to scale the heights
According to crypto analytic firm Glassnode:
"The total value in the ETH 2.0 Deposit Contract just reached an ATH of 8,599,010 ETH."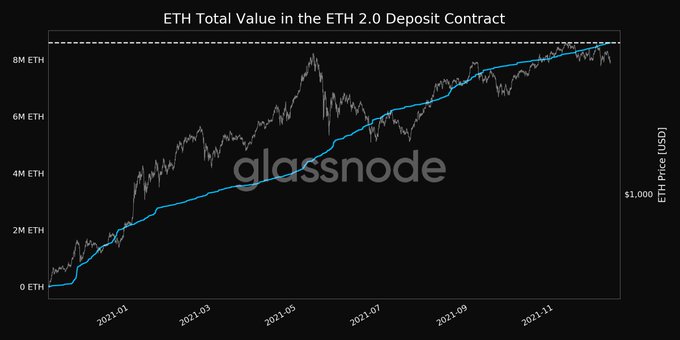 Ethereum 2.0, also known as the Beacon Chain, was launched in December 2020 and was regarded as a game-changer that sought to transit the current proof-of-work (POW) consensus mechanism to a proof-of-stake (POS) framework.
The POS algorithm allows the confirmation of blocks to be more energy-efficient and requires validators to stake Ether instead of solving a cryptographic puzzle. As a result, it is touted to be more environmentally friendly and cost-effective. ETH 2.0 is also expected to improve scalability through sharding.
Image source: Shutterstock
Read More