Is USDC's Value Posed to Surpass that of USDT This Year?
As the stablecoin arena gains steam, the supremacy battle between Tether (USDT) and USD Coin (USDC) continues to play out.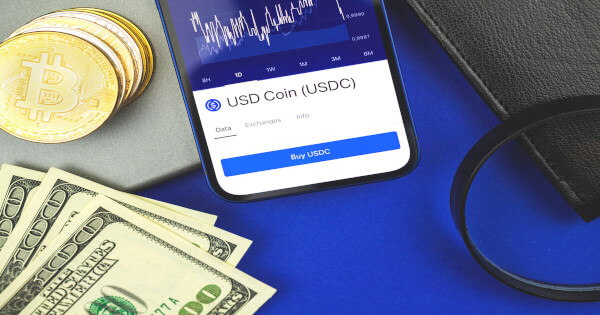 Arcane Research predicts that the USDC will dethrone USDT at the top stablecoin seat in October. The market insight provider stated:
"At the end of Q2, the total stablecoin supply sat at $151.3 billion, down $35.1 billion, or 18.8%, over the last quarter, the largest quarterly drawdown in the history of stablecoins. It is predicted that the market value of USDC will surpass USDT in October."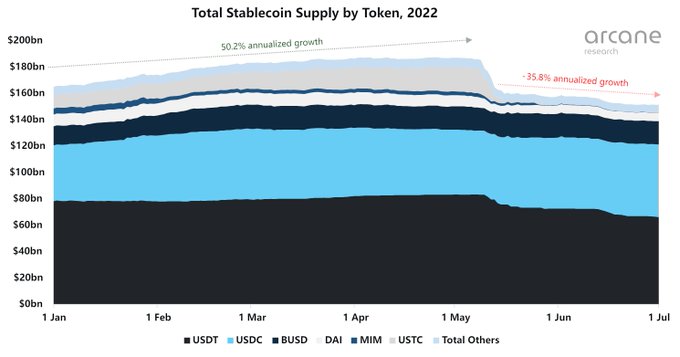 Source:ArcaneResearch
USDT is currently the leading stablecoin with a market capitalization of $65.85 billion at the time writing, and USDC comes second with a value of $55.1 billion, according to CoinMarketCap.
Despite USDC's market cap trailing that of USDT by approximately $10.75 billion, its value has surged by more than $16 billion during the present bear market.
This can be attributed to the fact that Circle, the USDC issuer, regularly supplies transparency reports. The latest shows that the stablecoin is adequately collateralized with $55.7 billion held in short-term cash and U.S. treasuries.
Therefore, this factor makes Arcane Research predict that USDC will take the stablecoin's helm in October.
On the other hand, Coin Metrics disclosed that USDC's trading was mainly done during New York/U.S. business hours, whereas that of USDT was highly concentrated during European and Asia/Pacific trading hours.
Through the weekly State of the Network report, the crypto insight provider stated:
"One of the strongest observable patterns is the distribution of USDC and Tether (USDT) balance updates. USDC activity is highly concentrated during US market hours while USDT activity is centered around Asian and European market hours (note this is true for Tether across the Omni layer and Tron as well)."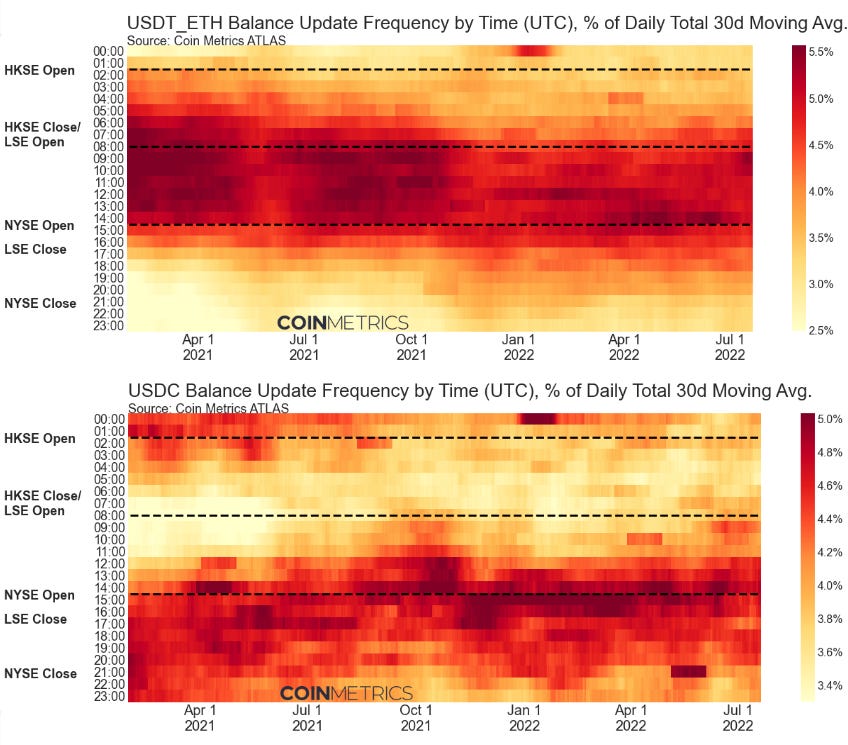 Source:CoinMetrics
Meanwhile, crypto exchange Bit.com recently launched USD perpetual products to reduce confusion about different types of stablecoins, Blockchain.News reported.
Image source: Shutterstock
USDC on Crypto Exchanges Spike as Tether (USDT) Dominance Falters - What This Means
Read More