Visa Blockchain Payments Will Help Promote Bank CBDC Integration
Popular payment service provider, Visa has discussed its ongoing strategy to broaden its use case for blockchain technology as it relates to payments and central bank digital currencies.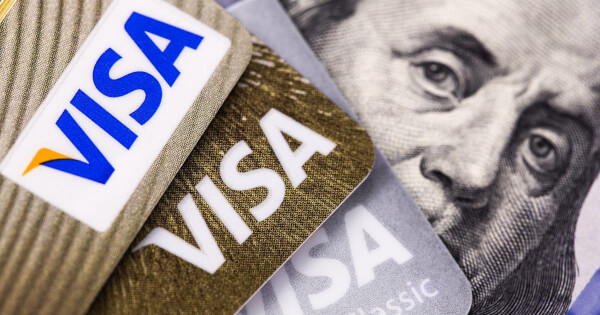 Speaking in an interview with Forbes, two of Visa's executives Cuy Sheffield, Senior Director, Head of Crypto at Visa, and Terry Angelos, Visa's SVP global head of fintech both weighed in on the company's strides to enhance its blockchain payment drive among clients as well as the firm's plans to help banks seize the inherent opportunities in integrating CBDCs.
Terry acknowledged that the company is directly involved in blockchain technology by building blockchain-based products and indirectly by engaging with its clients who have direct involvement with digital currencies. Besides these, Terry noted that the company has a network of researchers constantly working to help enhance Visa offerings. Cuy noted that Visa would incorporate blockchain tech into its operations while advancing its work on its cryptocurrency payment channels.
With a growing embrace for cryptocurrencies, companies are seeking means to partner with Visa as noted by Terry. According to him, Visa is seeing a "significant interest in demand from crypto companies that want to work with Visa and connect their clients to our network of 60-plus million merchants."
Following this demand, the executive noted that Visa has onboarded about 25 blockchain companies including crypto wallets and exchanges from around the world. While Coinbase is the first of such blockchain companies to be awarded a principal membership with Visa, there are hopes to increase the number in due course.
Visa's Involvement With CBDCs
Visa's Head of Crypto, Cuy Sheffield, said that "Visa engages very closely with central banks across the world on a number of different topics, with CBDCs being one that's gaining increasing interest." Cuy believes that the development and issuance of a CBDC will be accompanied by tons of questions bordering on accessibility, acceptability by merchants, and usability of the issued currencies all of which add up to create a big opportunity for the company to leverage.
The words of Cuy with respect to Visa's dig into CBDCs consolidates the previous report in which Visa filed a patent application to create a blockchain-based digital currency on a centralized computer. Consequently, Cuy affirmed that Visa engages "very closely" with central banks across the world on the topic of CBDCs.
Image source: Shutterstock
Read More