Beyond Banking: DBS Bank's Digital Transformation into Smarter 'Phygital' Banking Services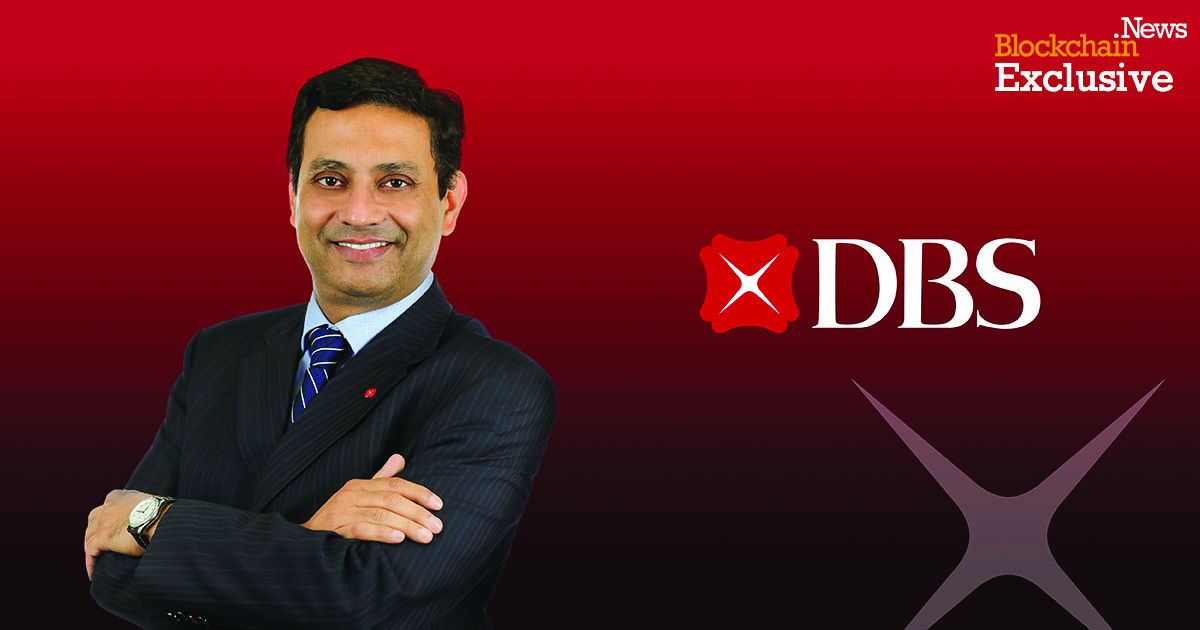 Virtual banking services have been emerging in Hong Kong in the past few years and is set to be a gamechanger and a disruptor for the financial services industry. Virtual banks have been popular in Europe, and the United Kingdom has coined an alternative term for virtual banks, known as the "challenger banks," which have already provided a suite of services, including quick approvals for loans and efficient account opening within a few seconds. Hong Kong Monetary Authority (HKMA) has brought Hong Kong into a new era of smart banking and issued eight virtual banking licenses.
In 2019, despite facing an increasingly challenging and uncertain environment, especially the second half of last year, DBS achieved a record performance and successfully launched DBS' First Fully Virtual Wealth Management Account Opening Solution. Ajay Mathur, the Head of Consumer Banking and Wealth Management at DBS exclusively spoke with Blockchain.News to elaborate on a two-year process to taking the leap into FinTech and roll out virtual banking and wealth management services.
DBS' digital transformation efforts have been widely recognized as at the end-2018, return on equity, at 12.1%, was among the highest for a developed market bank. Over 80% of DBS' open systems were cloud-ready; its API platform had over 350 APIs, business and tech teams were co-drivers in 33 platforms, and over 10,000 employees were trained on a data-driven curriculum.
In the nascent virtual banking landscape, providing virtual banking breakthrough technology enabling biometric recognition is a leapfrog forward, said Mathur. With state-of-the-art digital security, assisting customers to easily set up a new Multi-Currency Savings and Wealth Management Account completely digitally, with investments and financial needs managed from the comfort and convenience of a smartphone. "This first-in-market innovation offers our new customers a truly digital journey and enables them to be in control of their finances at all times," explained Mathur.
With the emergence of virtual banks, there will be increased competition in the banking industry where consumers will benefit from lower banking fees and redefined customer journeys with greater convenience and flexibility. DBS began its digital transformation journey a few years ago, building out its digital capabilities and ecosystem so customers could also have full access to DBS branches. "We believe consumers will continue to use traditional banks for their wealth management needs due to the personal touch and trust that relationship managers can offer," said Mathur.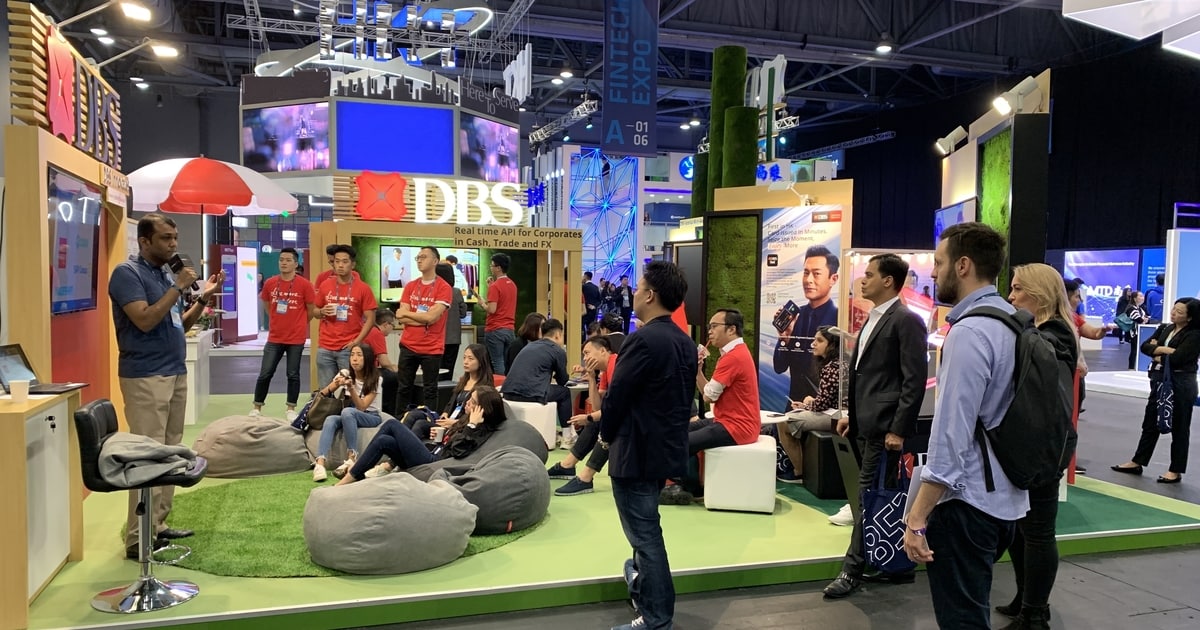 DBS at Hong Kong FinTech Week November 2019. 
By saving customers time previously spent at branches and filling in paper forms, according to Mathur, it also marks a turning point for time-pressed affluent customers in Hong Kong. Customers could now open a Wealth Management Account and start investing using an app, the DBS iWealth app on their smartphone. "I suppose, you could say, we're offering smarter, more efficient processes to create an easier and more convenient way of smart banking," said Mathur.
'Phygital' experience: Integration of FinTech
The integration of FinTech into banking services allows the customers at DBS to have full access to our branches with a "phygital" experience providing customers with a more tailored experience as well as a virtual digital banking and wealth management experience.
In 2019, DBS also launched another first in Hong Kong– an instant credit card 'over the air,' providing customers with immediate use of their credit card using their mobile phone. This leverages FinTech innovation through the entire customer journey–starting with an immediate credit card application and approval process to just a matter of minutes, eliminating the HKID, hassle of providing income, and address proof. With instant in-app provisions, it is seamlessly integrated with Apple Pay and Google Pay, where customers can use to spend instantly. Mathur added:
"We've made banking smarter and effortless so that customers can simply just live more and bank less."
Credit card applications used to take at least three weeks as it takes time for the application process, DBS has shortened this time down to an instantaneous process through the DBS Omni app. "It's just about needed these days to make our customers feel at ease when conducting any and every banking transaction online," said Mathur.
Taking the road less traveled
In a previous article released in July 2018 by SCMP, DBS stated that the bank is not looking to apply for a virtual banking license in Hong Kong, although many banks, including Ant Financial, Standard Chartered, and ZhongAn have been granted the virtual banking licenses. Re-affirming not to apply for a virtual banking license in Hong Kong, Mathur said, "We've made significant progress in our digital capabilities across both wealth and card business, giving our customers a holistic platform to transact and manage their wealth needs digitally. Our decision for not looking to apply for a virtual bank license has been re-affirmed and strategically proven to be a wise decision."
Mathur further added that DBS is already a digital bank, and with the existing physical branches, with investment advisers, DBS already has a competitive edge over virtual banks.
Future FinTech development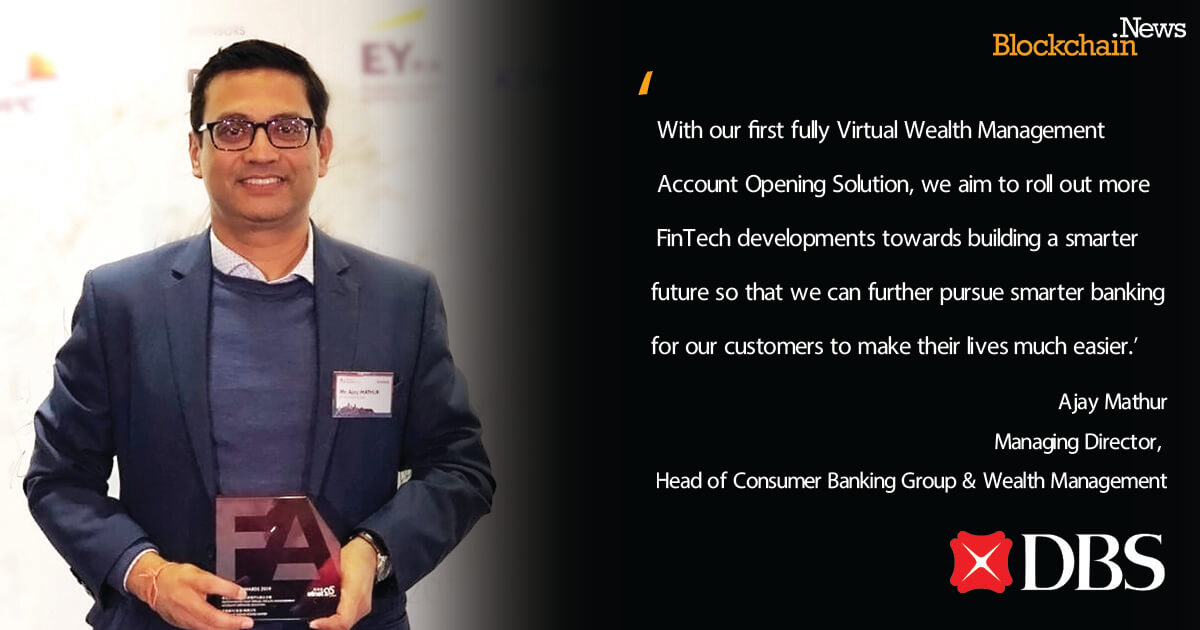 The FinTech Awards 2019 organized by ETNet, Cyberport, and Hong Kong Science Park recognizes innovative solutions or strategies that potentially change citizens' lives by increasing efficiency, generating business, and improving the quality of life. DBS Bank Hong Kong won the Outstanding Fully Virtual Wealth Management Account Opening Solution.
"With our first fully Virtual Wealth Management Account Opening Solution, we aim to roll out more FinTech developments towards building a smarter future so that we can further pursue smarter banking for our customers to make their lives much easier," Mathur stated.
With the industry's first fully virtual wealth management account opening in Hong Kong, DBS is using biometric scanning, including fingerprint and facial recognition and digital identity verification for HKID authentication. "In 2020, we're also looking to implement DigiPortfolio Services (DPS) for wealth management, which will deploy Robo Investing (Robotic programming services) for investment-related operations," Mathur added.
World's Best Bank based in Asia with a purpose beyond banking
DBS has become the first bank to concurrently hold three global best bank awards. This was achieved after DBS was named "World's Best Bank" by leading global financial publication Euromoney in its 2019 Awards for Excellence. It follows the Bank's wins of Global Finance's "Best Bank in the World" in August 2018 and The Banker's "Bank of the Year – Global" in November 2018.
"It was the first time an Asian-headquartered bank was named the "World's Best Bank" by Euromoney since the award was launched in 1993. I believe we were chosen for these awards because it represents what a bank should look like for today," explained Mathur. With immense efforts to embrace and lead digital disruption, DBS has embedded digital innovation into everything it does, according to Mathur. "We achieved this with a clear-sighted focus on sustainability that positions it well for the years ahead."
"This achievement underlines widespread recognition for our leadership in defining the future of banking and our commitment to delivering a purpose beyond banking to create a more sustainable future." The bank has also leveraged its strengths in digital to advance the sustainability agenda, with innovations aimed at promoting financial inclusion and multiplying its social impact.
Read More