Executive Director of the Crypto Valley Association Talks Long-Term Vision of the Crypto Ecosystem
Blockchain.News spoke exclusively with Alexander Schell, the Executive Director of the Crypto Valley Association, to dig deeper regarding the association's work in the industry. In the first part of our interview with Schell, we learned that the CVA has over 1500 members in over 56 countries, and has been supporting the needs of startups and connecting players in the industry to build a cohesive ecosystem.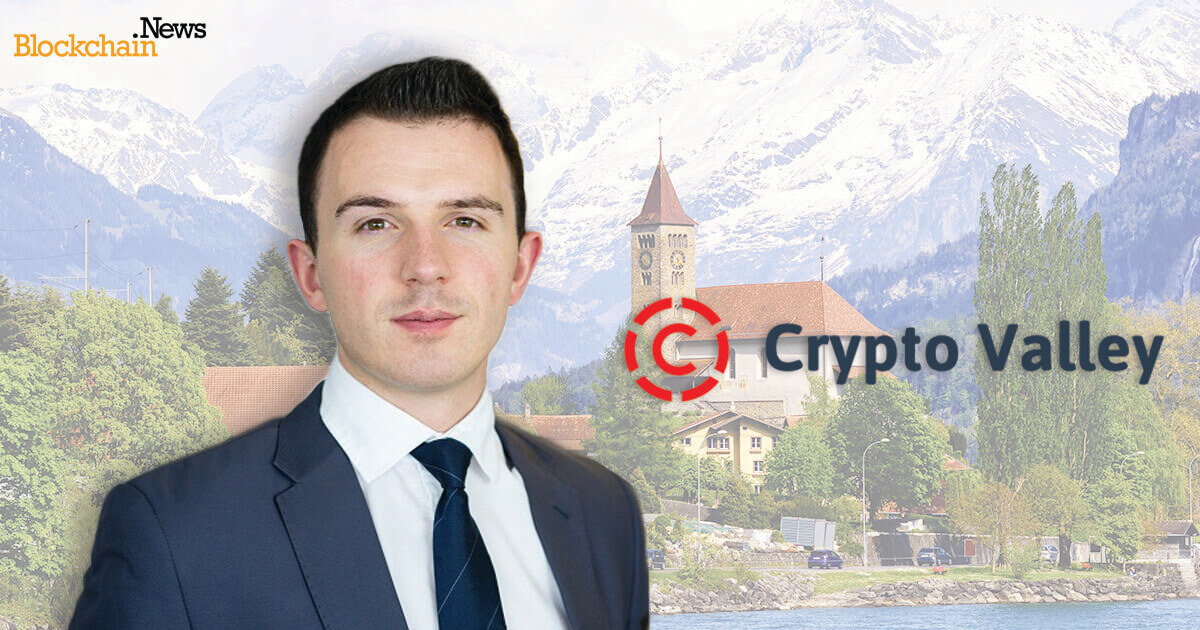 Standards and framework
As a lot of transactions are currently international, Schell states that it is "extremely important to understand how to transfer user data and information on-chain."
"For example, an Ethereum token is used in order to keep data, including the beneficiaries name, address, and other sensitive data private, at the same time you may not be complying with General Data Protection Regulation (GDPR)," said Schell. He suggested that there has been a lot of assessment to create a kind global SWIFT (Society for Worldwide Interbank Financial Telecommunication) system. "SWIFT took years and years of negotiations between many different parties. We want to build a global SWIFT system, that not only is supported by all entities but is also accepted," Schell explained.
International collaborations
The CVA has collaborated with the Association of Cryptocurrency Enterprises and Startups Singapore (ACCESS), the largest association in Singapore, as well as the International Digital Exchange Association based in Australia to establish international standards for digital assets and the transfer of those assets.
"What recently happened is that the regulator was asking for different kinds of companies and individuals who are involved in trading digital assets to not only transfer the token and value itself but also to transfer the beneficiary data of the respective sender and receiver," explained Schell. "There are a couple of solutions in place, but there isn't a standard in place. In order to be successful as companies and also as an industry, there must be a standard and framework that we can operate it."
Digital exchanges
According to Schell, the CVA has been meeting with a lot of the different stakeholders in the Swiss SIX Exchange, to work with them on the digital exchange arm. Looking at the initial impetus of digital exchanges, Schell said, "In countries such as Switzerland, Germany, Thailand, and Canada, there are people who are looking to establish a degree of change. Digging deeper into the reasons behind establishing a digital exchange, I think the long-term vision for many central banks and governments all over the world is to issue their own central bank-issued digital currency. When you have a national digital currency that you can trade of the exchange, combined with having digital assets, different assets including property, alternative assets can be made interchangeable."
Representing different assets in the form of tokens could be representative values of said assets, allowing the exchange to be processed directly without adhering to another currency in between. "With stocks traded on different national exchanges, there is no way to show one against another. When you have virtual representative values, it's going to make everything more efficient and streamlined, allowing for much more convenience for customers and individuals," Schell added.
Central bank digital currencies
Schell believes that there are positive and negative aspects when governments issue central bank digital currencies. "When you look at the overall structure of the governments all over the world, especially in China, leveraging technology may not be only something positive, or it could also be a tool that might be used to suppress freedom or control a large audience or even the entire population of the country."
Schell further explained, "Digital national currencies are kind of scary. With technology, you can do incredibly great things with it and empower people using technology, while also oppressing them and restricting them by not giving them access to any kind of financial services. That's why you see this trend with cash slowly disappearing everywhere. This is strengthening and enabling governments to restrict access."
With the new regulation in the Chinese constitution, citizens in China would need to share their data with the government regardless of where the operations are held in the nation. "With the central bank digital currency, you bring everything together; then, you have a perfect future that you can construct, with the Chinese Communist Party sitting in the center of everything."
Predictions for blockchain
Schell believes that there are several ways of looking at digital assets. "Cryptocurrencies such as Bitcoin, which is not issued by anyone, is something that no one has control over. On the other hand, other currencies that are issued by central banks all over the world are a more traditional approach," said Schell. "Then you have Libra and other currencies coming out, which is a completely new kind of system that may be widely adopted and going to be successful." He further added that he expects a lot of change to happen, and that "nobody can predict the future, and if there's anybody who says so are lying."
"A lot of things are moving forward, and it's the responsibility of everyone to make sure that it goes in the right direction. The only thing I can predict is change," concluded Schell.
Read More