Mastercard VP On Blockchain, Digital Assets and CBDC: "Everything Ends in Transactions and Payments"
Ashok Venkateswaran has global experience in the digital world. After 12 years of managing technology solutions for financial services clients, he moved to Ernst and Young, where he focused on digital transformation to automate internal and client-facing processes for large organizations. After a stint at a blockchain company, his move to Mastercard in early 2019 was a natural progression.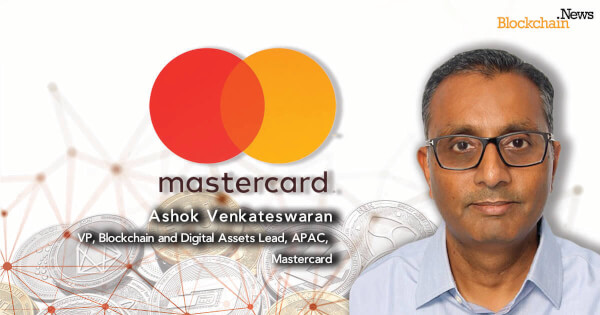 In this exclusive interview with Blockchain.News, Venkateswaran – Mastercard's Blockchain and Digital Assets Lead for Asia Pacific – shares valuable insights into some of the more innovative developments in the blockchain and digital space by the most recognizable name in payments.
Mastercard Recognizes the Value of Cryptocurrency Payments
Mastercard is one of the most dominant and trustworthy payment systems in the world, so its recent recognition of crypto and digital assets carries significant weight.
Venkateswaran stated that the company had been eyeing the blockchain community for the past four years, thinking of how it could potentially leverage some of the technologies. Mastercard eventually decided to build its own platform. He said, "We had a couple of choices on how to move forward – we could either adopt some of the existing technologies out there, like Ethereum or Hyperledger, or build something of our own."
To get a sense of how much stake Mastercard has in the game, Venkateswaran informed Blockchain.News that the firm currently has over 90 blockchain-specific patents being processed. These patents relate to the ways blockchain can be used, from digital identity to payments and product provenance.
Mastercard has shown how innovation and solutions in the blockchain sector can carry over and influence the mainstream financial industry. Due to the rise of stable coins and of people trying to transact with them, many merchants have begun to accept these forms of payment. Venkateswaran explained that due to the changes in consumer preferences, Mastercard has found a new niche where it can provide a service by facilitating digital payments.
Venkateswaran said:
"Mastercard's tagline is always about making transactions more efficient. This includes getting around cash. The question is, how do we make digital payments, and how do we realize the day-to-day use of digital currencies?"
Regarding the use and promotion of digital currencies, Venkateswaran explained that Mastercard is taking a "holistic" approach, looking at everything from central bank digital currencies (CBDC) to cryptocurrencies like Ethereum or Bitcoin, as well as stable coin options.
An important way to increase adoption of new payment technologies and digital currencies in the mainstream, according to Venkateswaran, is by changing the regulatory environment. "Regulations are still trying to catch up to a lot of these things. We're following the regulatory principles, but also trying to see how we can help some of those regulations get formed … As one of the largest networks in the world, we want to make sure that we can support any kind of transaction."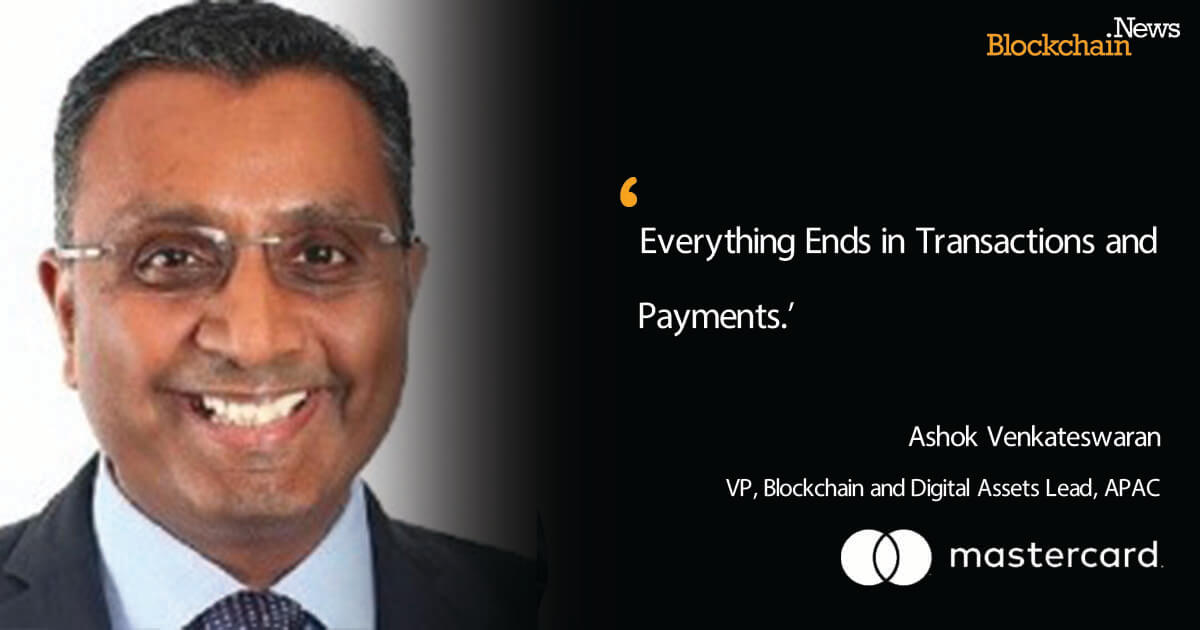 Accelerate Program that Supports Fintech Companies
Mastercard has already demonstrated a strong interest in fintechs by launching the Accelerate program in October 2019, a global initiative to offer industry-leading resources and knowledge to start-ups in that space. The impetus behind the program, according to Venkateswaran, is Mastercard's interest in the growth and success of the fintech scene. "The initial purpose of the program was to help some of these fintechs grow their products, and to give them an environment where they could actually test their products and have access to our clients. So, it provided them more visibility than they would have had on their own," said Venkateswaran.
There are several different programs within the Accelerate initiative. "Start Path" offers technical guidance, operational support and commercial engagements within Mastercard's ecosystem to help fintechs grow and scale sustainably. The "Engage" program identifies and promotes a network of strategic partners who comply with Mastercard certification and rules to build and deploy new solutions on behalf of fintechs, banks and merchants. "Developers" offers a way for engineers to interface with Mastercard's payment and analytics services, as well as develop their software based on these APIs.
Expanding Payment Options: Mastercard's Accelerate Invites Crypto Card Fintechs
The Accelerate program is also seeking to license a number of companies that offer a seamless way to make payments using digital and cryptocurrencies. The first cryptocurrency example was Wirex.
"We've been watching and monitoring all of these different [fintech] companies. As they get to a certain level, we figured it is important for them to be included in our program. The crypto card program was actually started a couple of years ago, but it just wasn't as adopted as we've seen more recently," said Venkateswaran. He continued to explain how the landscape in the last few years has changed, to the point where large companies like Starbucks, Subway, and McDonald's have started accepting digital payments. Given the improvement of the technology, more rigorous regulations, and the increasing rate of adoption, this is the right time for Mastercard to get involved.
Wirex became Mastercard's first crypto card company to be licensed as a principal member, standing as a beacon of light for other brands. While a debit card connects straight to your bank account, a Wirex card connects to your crypto wallet. Venkateswaran explained, "Mastercard allows the wallet holders in Wirex to use their cryptocurrency for day to day transactions. So, we become a network where Wirex will convert the funds into fiat currency, so they can use that at their local merchants." The hope is to "bring in a new customer base who are looking to start using their digital currency for day-to-day transactions." Now, what is left is for other companies to pass the regulatory requirements and receive a license. Mastercard is currently in conversation with a number of other exchanges.
Mastercard Uses Blockchain for Financial Inclusion
One of Mastercard's key goals is to foster financial inclusion. Currently, there are around a billion people, especially in developing countries, who are not involved in the mainstream banking system. Mastercard aims to solve this problem so that people can have access to banking and payment services, which in turn equates to more economic opportunities. One of its solutions is the Mastercard Provenance Solution, which leverages blockchain technology to "track and trace" products in the supply chain, verifying a product's authenticity and source. By tracing products, Mastercard brings key initiatives to the fore, such as supporting minority-owned businesses and not taking advantage of child labor.
Inclusivity also comes in the form of payment solutions for those in developing nations without a smartphone. Mastercard has implemented debit cards and payment solutions for more basic mobile phones, allowing users to send money across borders, purchase goods, and even pay for electricity. The company is staying proactive and isn't waiting for cryptocurrency solutions.

Venkateswaran said:
"Until cryptocurrencies become a mainstream solution, we look at what we can use today to include people. We aren't waiting until cryptocurrencies become a lot more prevalent."
Things to Look Forward to By the End of 2020
Mastercard has programs in the works helping undisclosed central banks with their digital currency strategies, with a lot of interest coming from the European sector. One initiative is the Central Bank Digital Currencies Testing Platform, launched by Mastercard in early September. This new platform supports central banks in decision making by helping them to evaluate and test strategies for digital currencies, including simulations of issuance, distribution, and exchange of CBDCs between banks, financial service providers and consumers.
China recently unveiled its CBDC in a few cities, and Europe looks to follow suit. "It seems that China and Sweden are the farthest along. A lot of them are still in the exploratory stages of figuring out whether it will really add value. What we're doing as Mastercard is coming up with thought leadership regarding how to make digital currency, once it's issued, more user-friendly and broadly accepted," Venkateswaran explained.
Mastercard is also working with a number of different exchanges on crypto cards and is continuing to make progress within the Provenance Solution track and trace program. Other solutions that are being developed and released to the market are designed to increase the speed and efficiency of global monetary transactions.
On whether he is personally invested in cryptocurrencies, Venkateswaran said, "I do hold them because I used to be in the blockchain space, so I have the major ones. I also have a couple of small ones that are not really mainstream." For privacy reasons, he did not elaborate on which specific coins he owns.
Mastercard continues to make strategic investments in fintech and cryptocurrencies, likely as a means of proactively adapting to changes in the financial world. By having this thoughtful awareness, it is able to influence innovation in the financial industry and further the adoption of digital currencies.
Read More