Central Bank of Brazil Forms a Digital Currency Study Team to Drive CBDC Research Forward
The Central Bank of Brazil is planning the potential issuance of a Central Bank Digital Currency (CBDC) carefully by setting up a research team dedicated to evaluating the benefits of launching a digital format of 'Brazil real' currency.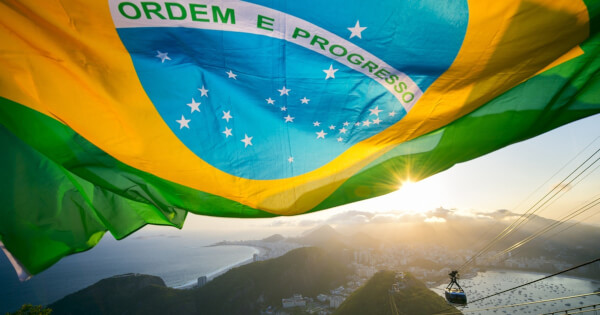 Brazil looks into CBDC issuance and its benefits
The objective of the research and development team for the Central Bank of Brazil is to assess whether the issuance of a CBDC would fit and benefit the natural payments ecosystem already set in place in the country. Also known as Banco Central do Brasil, the central bank has put in a place 12 members dedicated to cryptocurrency and central bank digital currency research.
Speaking up on the matter was Information Technology (IT) Department of Banco Central do Brasil executive, Rafael Sarres de Almeida.
He addressed the fact that China seemed to be ahead in the development of its own CBDC, dubbed Digital Currency Electronic Payment (DCEP), and that China was entering its final testing phase. The Central Bank IT executive also mentioned that many other central banks have actively been researching digital asset benefits for a while now, but this year, many monetary institutions appeared to emphasize the practicality of digital currency issuance, perhaps given the coronavirus pandemic worldwide. On behalf of Brazil's Central Bank, Rafael stated:
"The subject of digital currencies addressed by central banks has been on the research agenda of many central banks for some time. However, this year, there was a greater focus on a more practical approach."
Central Bank of Brazil creates CBDC study group
The new group formed to drive central bank digital currency research forward in Brazil is to examine how much money could be saved economically with the potential issuance of a digital form of Brazilian real through a CBDC prototype. The question of whether digital assets would be beneficial for the overall national economy was raised.
The team coordinator for the CBDC research group also mentioned that with a digital currency set in place, this can "facilitate the safe and safe use of money," referring to the security and efficiency offered by electronic digital coins.
Though a group for CBDC research has been approved and set in place, Rafael said that it does not necessarily mean that the Central Bank of Brazil will jump into the global race against other central banks for digital currency issuance. Rather, the approach that the Brazilian monetary institution hopes to adopt seems to be a more careful stance. Rafael said, "The monetary authority will study the issue and give society a response on the topic."
Ripple's financial motives
Recently in May, Ripple Labs and the Central Bank of Brazil had a private talk regarding institutional matters. According to the bank, its president had an online meeting with Ripple CEO Brad Garlinghouse.
Ripple is currently facing a lot of backlash from National Payments Platform Australia, a consortium of major Australian banks who filed a lawsuit against the cryptocurrency company for copyright infringement of the branding of 'PayID.'
Image source: Shutterstock
Read More