Chainlink Is Rallying Bullishly, Up 15% in The Last 7 Hours
Historically, altcoins follow Bitcoin's momentum and fluctuations closely, surging and losing depending on the mainstream cryptocurrency's movements. Things are a bit different this time because Chainlink (LINK) is one of the altcoins trading in the green despite Bitcoin's continuous pullbacks after its surge to a record-high of $41,500 earlier this month.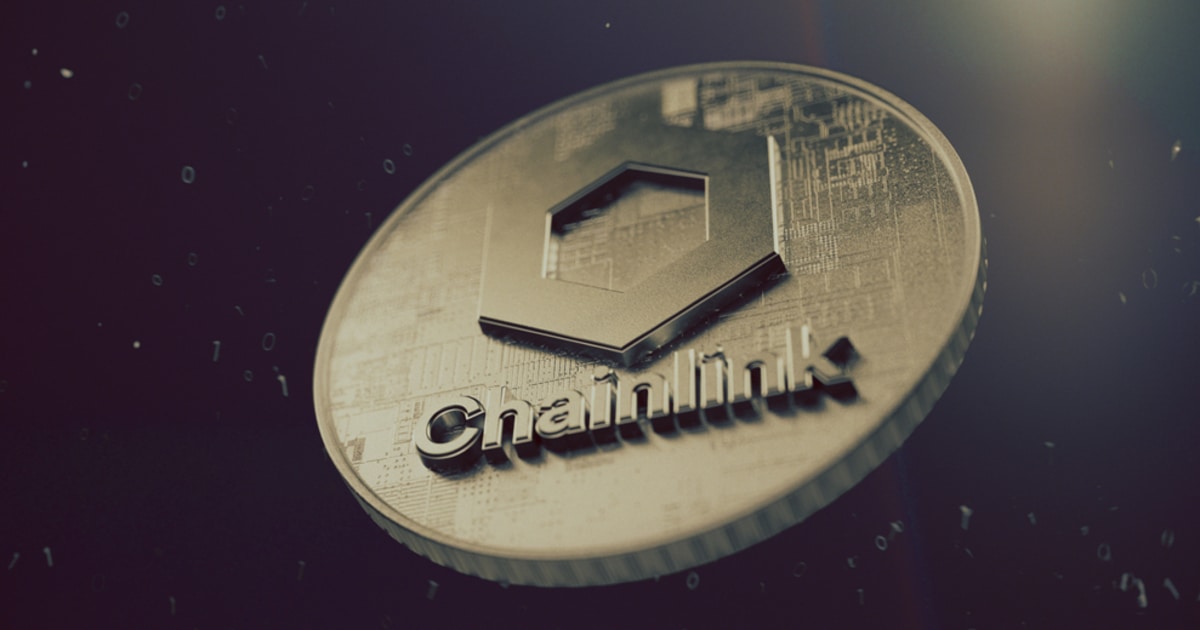 New data by Santiment reveals that LINK is back to its winning ways as it is up by nearly 15% in the last 7 hours. The on-chain metrics provider noted:
"Chainlink is back to its usual surging ways, up approximately 15% in the past 7 hours alone. The ratio between longs and shorts on platforms like BitMEX continue to predict where prices head."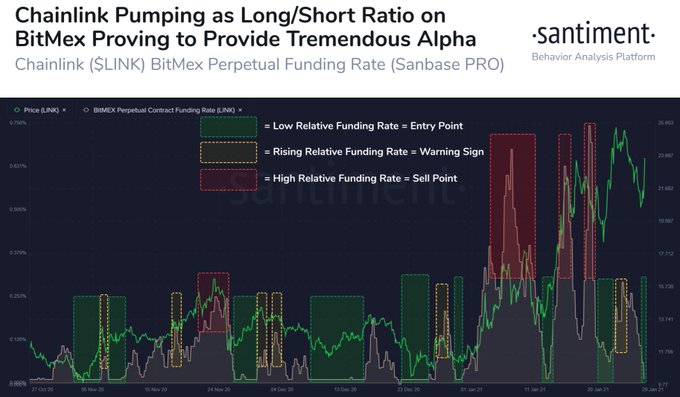 LINK, a decentralized oracle network built on the Ethereum network, is continuously stamping its authority in the crypto space. Its platform is one of the sought after in providing reliable tamper-proof data for complex smart contracts on any blockchain.
For instance, Equilibrium, a decentralized cross-chain money market, chose Chainlink to power synthetic assets, lending, and stablecoins using its smart contracts in November 2020. The decision to settle on LINK was propelled by its time-tested solution as a decentralized oracle provider.
This explains why more investment inflows are trickling into this network as the number of crypto whales holding at least 1,000 Chainlink grew by more than 445 in November last year.
Chainlink hits new record-high of more than $25
On Jan 22, Chainlink surged to an all-time high (ATH) of $25.51, making it the seventh-largest cryptocurrency based on market capitalization after unseating Litecoin (LTC). LINK is still in the seventh position and trading at $23.39 at the time of writing, according to CoinMarketCap.
Crypto analyst Michael van de Poppe believes that altcoins like Chainlink have the likelihood of climbing further if Bitcoin stabilizes. He explained:
"As a matter of fact, altcoins could still be climbing some more if Bitcoin doesn't go crazy on the downside. Chainlink is an example of: so far, so good."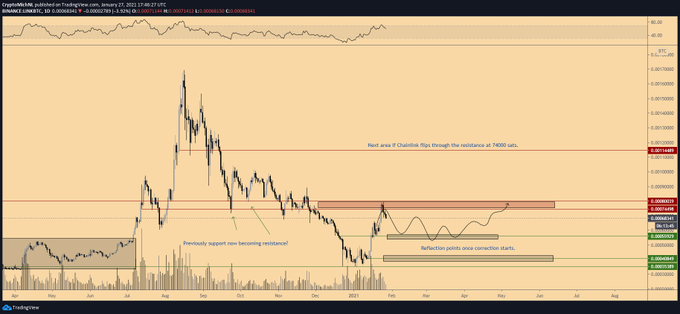 Oracles are used to bring real-world data onto the blockchain through smart contracts. This could be anything from a weather forecast, a price feed, or the result of a football match. Therefore, with Chainlink being one of the most sought after oracles, time will tell how its price trends moving forward.
Image source: Shutterstock
Second Bitcoin Whale Spotted Holding At Least 100,000 BTC Worth $2.8 Billion
Read More