China's Crypto Adoption is Ahead of the US, According to Chainalysis' On-Chain Metrics
Chainalysis recently published a report on the global adoption of cryptocurrencies and found that China is ahead of the US on the list.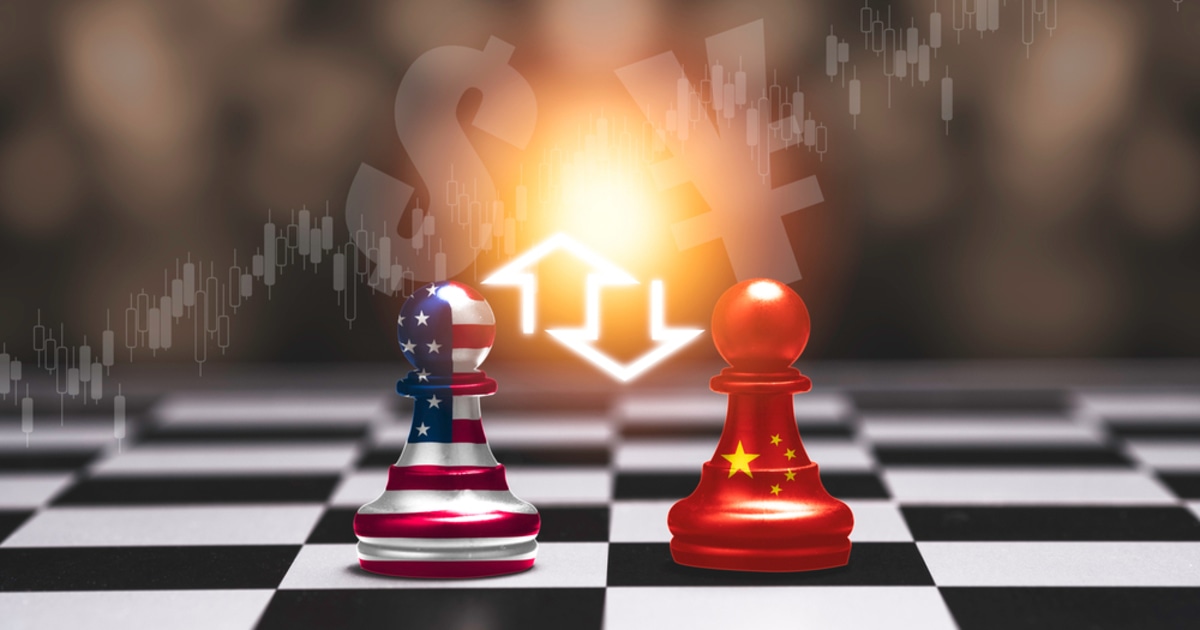 Cryptocurrency data analytics firm Chainalysis recently published its Global Crypto Adoption Index 2020, which looks at four on-chain metrics. These on-chain metrics include the total value of on-chain crypto transactions weighted by purchasing power per capita (PPP), the value of on-chain retail transfers weighted by PPP, the number of on-chain crypto deposits by the number of internet users, and peer-to-peer (P2P) exchange trade volume, weighted by PPP per capita and the number of internet users.
Chainalysis also estimates each country's cryptocurrency transaction value by measuring the cryptocurrency activity on each platform and distributing it by country based on the web traffic from each country to the website. Website language options and headquarters location further helped the firm to refine their analysis.
154 countries were analyzed, according to the report, and only 12 of them had very little cryptocurrency activity, that amounted to a score of zero. This indicates that cryptocurrency has truly gone global and that most countries are turning to crypto as a means of value storage and medium of exchange.
According to Chainalysis' Global Crypto Adoption Index ranking, Ukraine, Russia, and Venezuela took the top three spots, ahead of China and the United States of America. China ranked fourth, ahead of the US, which ranked sixth. China ranked poorly for its number of on-chain deposits and P2P exchange trade volume.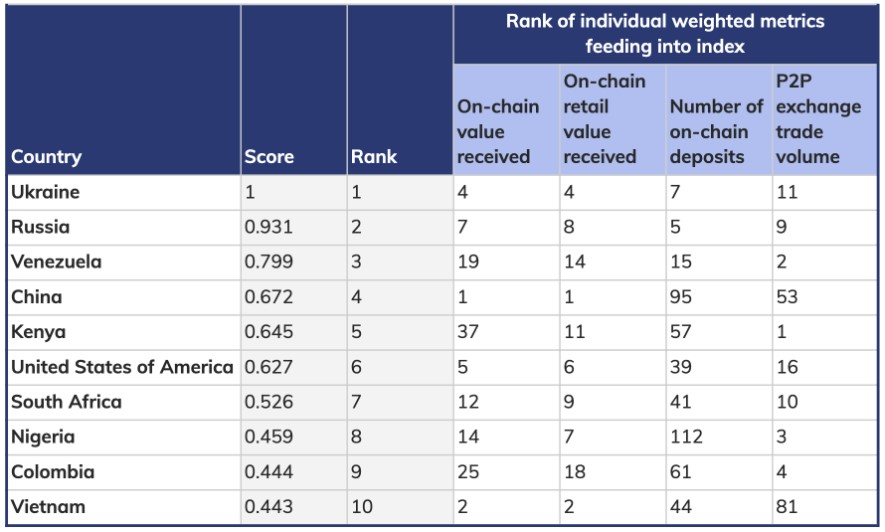 Source: Chainalysis
Due to recent economic factors, Kenya and Venezuela both ranked very high for P2P exchange volume. Venezuela has been witnessing one of the worst economic crises ever seen, with its currency, the Bolivar going through hyperinflation and becoming almost worthless last year.
Digging into the data from financial intelligence service Sayari, Chainalysis pointed out that Criptolago, a Venezuelan state-owned cryptocurrency exchange is not actually helping struggling Venezuelans. An average Venezuelan earns 72 cents a day. Chainalysis highlighted that more than 75 percent of transfer volume is moved in transactions of over $1,000 of cryptocurrency in Criptolago.
Most of the cryptocurrency activity is driven by peer-to-peer (P2P) exchange activity, with the most being on LocalBitcoins. Venezuela is also the third-most active country on LocalBitcoins, and the second-most active when taken into consideration of the number of internet users and purchasing power parity per capita.
Image source: Shutterstock
Read More