Coinbase to Suspend XRP Token Trading in January as SEC Sues Ripple
Coinbase will be joining the growing list of exchanges to delist XRP, following the US Securities and Exchange Commission (SEC)'s lawsuit against Ripple.
SEC lawsuit bites as exchanges exiting XRP grows
The SEC's lawsuit against Ripple has caused many crypto exchanges to pull their listing of XRP. As attorneys familiar with the talks have said, listing XRP when Ripple is being pursued for violating federal securities laws for the sale of XRP tokens may potentially put crypto exchanges in danger of being sanctioned by the Commission as well.
Coinbase now joins the growing list of exchanges to announce plans for halting XRP trading on their platforms, with the current ones being Bitstamp, B2C2, Simplex, OkCoin, CrossTower, OSL, and Beaxy. Bitwise Crypto Index Fund, who previously had 3.8% of its fund invested in XRP, had also announced that it had liquidated its position.
Coinbase delists XRP, token tanks
Per Coinbase's announcement, XRP trading will officially stop on January 19, 2021, at 10 am PST in light of the lawsuit directed towards Ripple. Currently, although not fully suspended, XRP trading pairs are already limited on Coinbase.
XRP could still be held on Coinbase's wallet, which means that the withdrawal and deposit functionality will still be available for XRP holders. The US-based crypto exchange also reassured its clients and said that this will not prevent them from benefitting from the Spark Token Airdrop, through which participating XRP holders can receive free Spark (FLR) tokens. Per the exchange's official statement:
"We will continue to monitor legal developments related to XRP and update our customers as more information becomes available. Trading may be halted earlier as needed to maintain our market health metrics."
Following Coinbase's announcement, XRP's price took a huge hit and tanked by approximately 10%. Crypto analytics Messari said:
"XRP dives nearly 10% immediately following the announcement."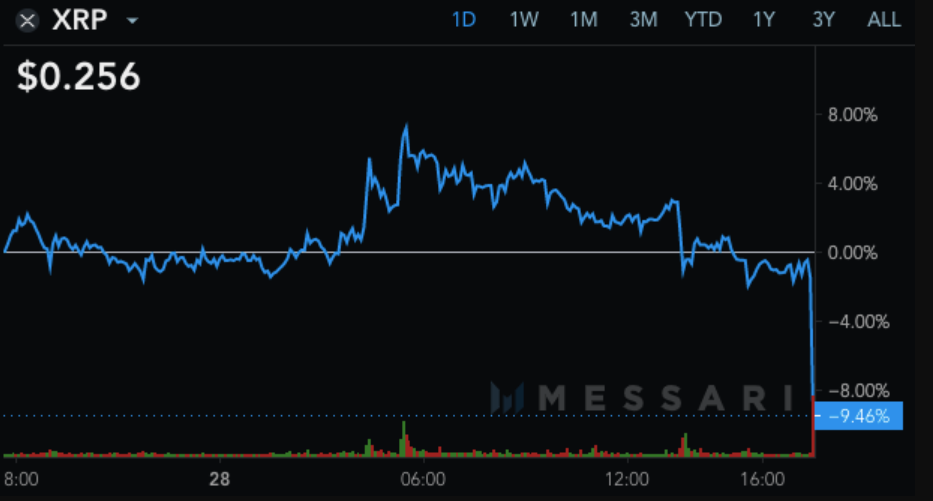 Source: Messari via Twitter
On CoinMarketCap, the token has sunk to $0.22, down approximately 13% from yesterday.
Will XRP be alright? XRP HODL-ers say yes
Following Coinbase's official announcement, XRP supporters were quick to criticize the coin exchange, with a pseudonymous XRP advocate taking to Twitter to say, "Fuck Coinbase! Everyone switch over to Bitrue since they will never suspend trading for #XRP!"
Coinbase delisting XRP has been seen as an eventuality by many industry experts. The leading cryptocurrency exchange has bigger plans up its sleeve, as it is currently awaiting the SEC's approval for its requested initial public offering (IPO). Given the exchange's unique position, its removal of XRP from its trading pairs should come as no surprise, as Coinbase will want to do everything to further the IPO, including eliminating potential risk factors.
Coinbase delisting XRP may just be the tip of the iceberg, as a glum premonition is hanging over XRP as a result of cryptocurrency exchanges halting XRP operations. Will the token plummet to depths of no recovery? XRP supporters don't seem to think so. David Gokhshtein tweeted:
"If $KIN went up like 2,000% after it's (sic) case with the SEC, what do you think $XRP is going to do? I'll leave it here."
Gokhshtein's comments refer to Kin Foundation, a non-profit organization which faced a similar predicament as Ripple. The SEC alleged that the Foundation was in violation of federal securities law for their native Kin cryptocurrency.
Image source: Shutterstock
XRP Treated Differently Than Bitcoin and Ethereum in the US and Why It Matters, According to Ripple CEO
Read More