European Central Bank Assesses Potential Digital Euro CBDC Issuance
The European Central Bank (ECB) has been looking into central bank digital currency issuance for quite some time and evaluating whether a digital euro would be a beneficial addition to its financial system.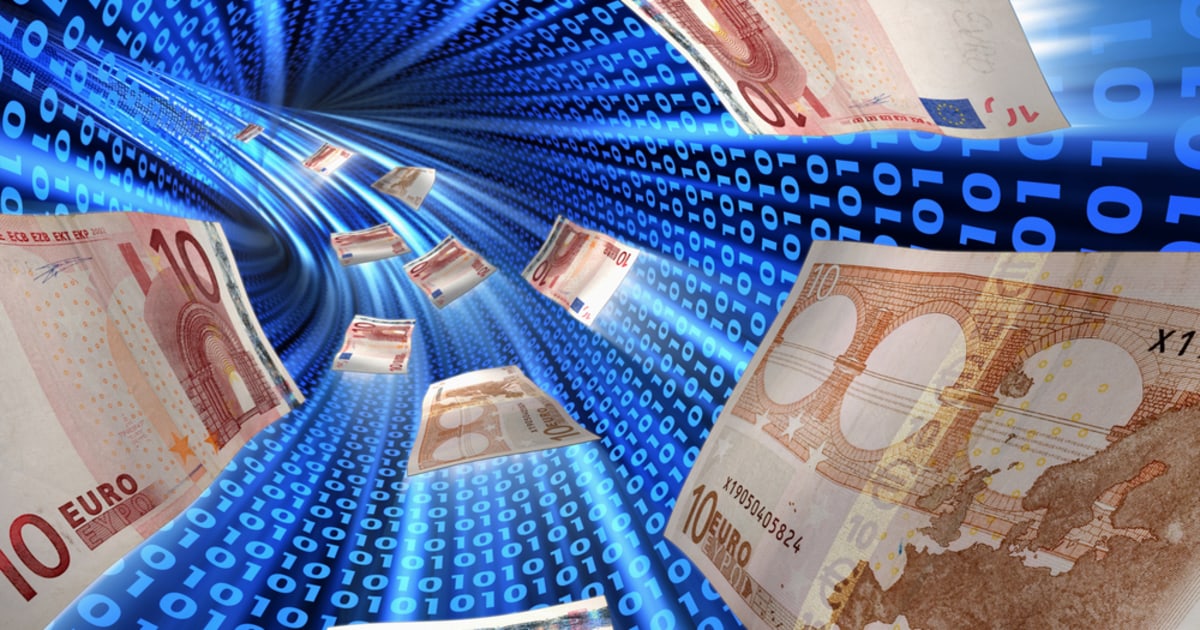 Reasons for a CBDC issuance
A report assessing the implementations behind a potential central bank digital currency (CBDC) issuance was recently released by the European Central Bank. The report detailed that for a digital euro to thrive, it must comply with the existent financial regulations of the Eurosystem and provide more financial accessibility and efficiency in an increasingly digital age.
The report read:
"A digital euro could support the Eurosystem's objectives by providing citizens with access to a safe form of money in the fast-changing digital world. This would support Europe's drive towards continued innovation. It would also contribute to its strategic autonomy by providing an alternative to foreign payment providers for fast and efficient payments in Europe and beyond."
A potential digital currency issuance could enhance the digitalization of the European economy and be introduced in response to a decline of cash payments, according to the report.
In addition, as the pandemic has changed consumer behavior globally, increased adoption of digital payments caused by social distancing should also be taken into consideration. Therefore, a digital currency for contactless payments could be attractive to consumers. The report read:
"Consumers may even perceive cash to be a vector of infection […] They might therefore become less willing to use cash and more inclined to use contactless and online payments."
The report depicted that there were still many questions to be answered before a research and development phase could be implemented by the European Central Bank.
Requirements for future CBDC
Before a CBDC could be launched, several key requirements were detailed by the ECB. Based on the report, the digital euro must be in stride with current technology, "be available through the entire euro area and be interoperable with private payment solutions." The digital currency must possess cash-like features and "provide functionalities that are at least as attractive as those of payment solutions in foreign currencies;" It must also be a tool for improving monetary policy transmission.
A digital euro must "improve the overall resilience of the payment system" and be accessible outside of the Eurozone, all the while remaining consistent with Eurosystem standards. A potential digital currency should provide offline payment alternatives, as well as be free of charge, secure and have a strong European branding; it must also comply with the Eurosystem landscape and provide more financial accessibility.
If a digital euro was to be launched, it must be available outside the Eurozone as well, be secure, cost-efficient, and run on environment-friendly technology aimed at minimizing one's ecological footprint.
Next experimentation phase to start in 2021?
The report released by the European Central Bank provided a comprehensive assessment of what the Eurosystem landscape should expect if a CBDC was to be issued. However, before moving forward with the experimentation phase, the ECB also expressed the importance of taking into consideration stakeholders and citizens' stances as well on introducing a hypothetical digital currency within society.
If the project is cleared by European financial authorities, the research and development phase of the digital euro may start sometime in mid-2021, led by the High-Level Task Force on CBDC. As per the report, "Towards mid-2021 the Eurosystem will decide whether to launch a digital euro project, which would start with an investigation phase."
Digital currency to complement fiat
On several occasions, European Central Bank President Christine Lagarde stressed the importance of keeping in stride with the booming digital age. However, she rectified that though Europe may potentially benefit from a digital euro if the central bank decides to go forward with the project, it will most likely complement fiat currency, "it would not replace it."
Image source: Shutterstock
Read More