Firstblock Introduces Firstblock Labs To Support The Next Generation Of Web3 Innovators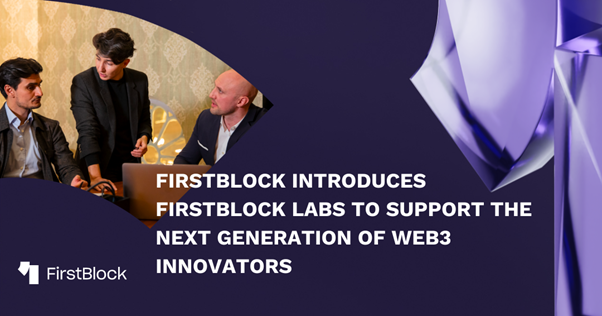 FirstBlock, a leading blockchain solutions provider, announces the launch of FirstBlock Labs, a virtual laboratory designed to support and help Web3 startups thrive in the rapidly growing blockchain industry.
The FirstBlock Labs platform offers various resources and support services, including technical, legal, strategy, marketing, community, and PR support, to help companies overcome the challenges of launching a Web3 project. The platform has a team of experienced Web3 industry professionals, including FirstBlock co-founders Richard Larsson, Fati Hakim, and Elvin Sababi, who are committed to driving innovation and spreading blockchain technology.
"We believe that innovative ideas are key to unleashing the industry's full potential, and we want to help them overcome the challenges of launching a Web3 project," said Richard Larsson in a recent interview. "Our goal with FirstBlock Labs, our virtual laboratory, is to accelerate the growth of the Web3 industry by working with the most promising talent and startups in the field. Launching a new project can be challenging, especially in a complex and ever-changing industry like Web3, which is why FirstBlock Labs offers a mentoring program. With the right support and resources, we believe that startups can overcome the challenges of launching a Web3 project and start seeing the fruits of their hard work."
This platform is where the brightest minds in the Web3 ecosystem come together to create and innovate. To achieve its goals, FirstBlock Labs offers a mentorship program and access to industry experts from all areas of the blockchain industry. The program also provides strategic consulting services to help startups make the right decisions early on, as these can significantly affect their chances of success.
FirstBlock Labs has already added two promising projects to its program, LiquidOS and Cora, and is looking forward to seeing them grow and succeed.
For more information about FirstBlock Labs and its mission to accelerate the growth of Web3 startups, visit its website or follow it on LinkedIn.
About FirstBlock
FirstBlock is a full-service blockchain consulting firm that provides tailored blockchain solutions to businesses across industries. It offers clients a full range of consultancy services in the Web3 space, including blockchain strategy, software development, Web3 legal advice, marketing, community, and PR. FirstBlock's team of experts provides comprehensive solutions to help clients develop successful Web3 projects and navigate the complex legal and regulatory landscape.
Media Contact
Name: Fati Hakim
Email: PR@firstblock.cc
Read More