Global Web3 Projects Assemble! Hong Kong Web3 Festival 2023 Releases Sponsor List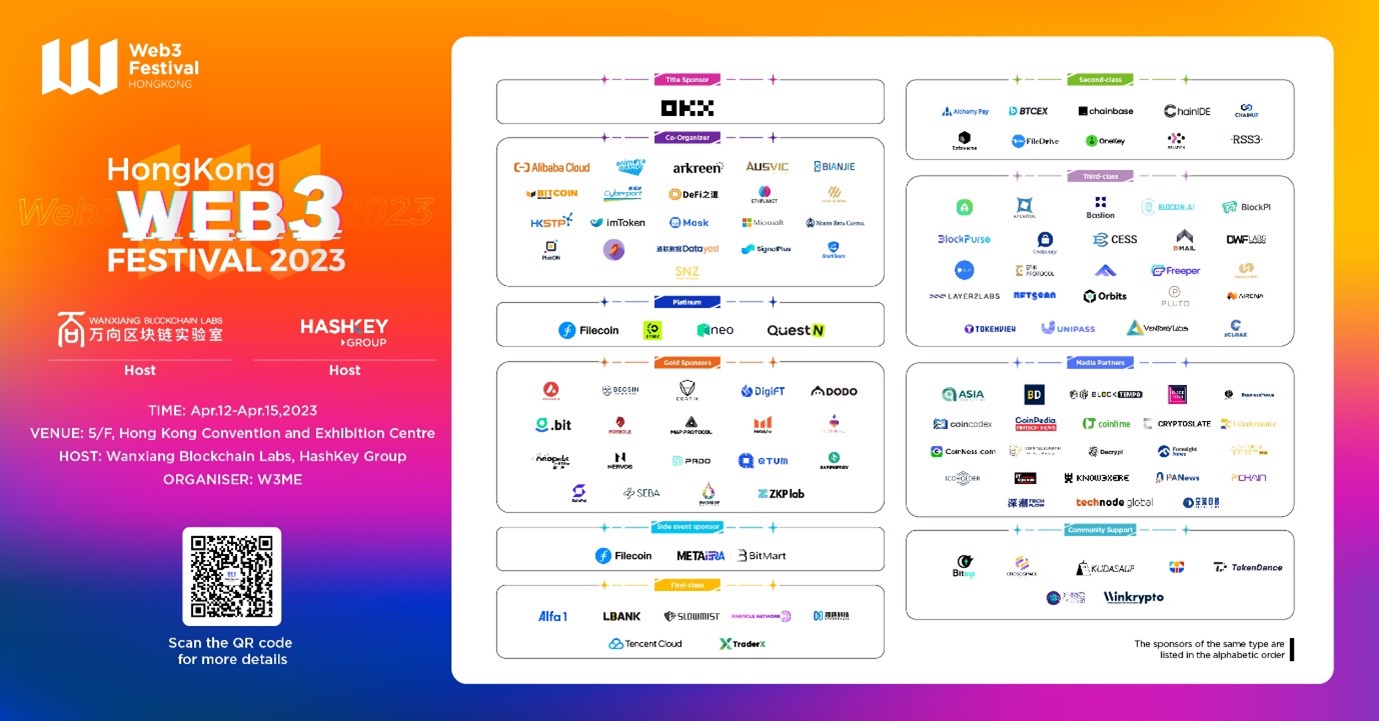 HONG KONG, 22 March 2023—More than a hundred renowned Web3 projects from around the world have confirmed their attendance at the Hong Kong Web3 Festival 2023, which is jointly hosted by Wanxiang Blockchain Labs, HashKey Group and organised by W3ME. The festival will be held at the Hong Kong Convention and Exhibition Centre (HKCEC) from April 12th to 15th. We are honoured to announce the participation and sponsorship of large organisations in the Web3 industry, blockchain, and cryptocurrency fields from around the world. Together, we will explore the bright future of Web3.
The Hong Kong Web3 Festival 2023 aims to create a world-class stage for outstanding projects, bringing together global top talents, technologies, and innovative applications in the Web3 field. It will showcase the recent developments in the Web3 ecosystem and provide opportunities for Web3 enthusiasts to immerse themselves in this thriving ecosystem.
The latest sponsors and exhibitors of the Hong Kong Web3 Festival 2023 include:
(Sponsors in the same tier arranged in alphabetical order of their names in English.)
Title Sponsor: OKX.
Platinum Sponsors: Filecoin, L2 Labs Foundation, Neo, Quest3.
Gold Sponsors: Avalanche, Beosin, CertiK, DigiFT, DODO, .bit, Forbole, Map Protocol, Metaalpha, MixMarvel, Neopets Metaverse, Nervos Network, PADO, QTUM, Safeheron, SafePal, SEBA, Waterdrip Capital, zkplab.com.
Primary Exhibition Sponsors: Alfa1, Combo, HyperChain, Lbank Labs, Particle Network, SlowMist, Tencent Cloud, TradeX.
Secondary Exhibition Sponsors: Alchemy Pay, BTCEX, Chainbase, ChainIDE, chainUP, Dataverse, FileDrive Labs, OneKey, Relation, RSS3.
Tertiary Exhibition Sponsors: Alaya, AP Capital, Bastion, Blockin, BlockPI, BlockPurse, Chatpuppy, CESS, Dmail, DWF Labs, Ellipay, Epik Protocol, Fibonacci, Freeper, Hotcoin, Airena, LayerTwo Labs, NFTScan, Orbits, Pluto Studio, Tokenview, Unipass, Ventory Labs, zCloak.
Key Themes of Web3 Development
Nearly a hundred renowned Web3 projects and team representatives from around the world are attending to the mega event. They will provide in-depth analyses and research on Web3 and decentralised technologies, encouraging developers and users to participate in the emerging decentralised economy, and jointly promote the development and application of Web3 technologies.
In addition to the events previously introduced by the co-organisers Mask Network, SNZ, SharkTeam, imToken, BianJie, and Arkreen, more panel discussions and events have been announced.
April 12
· Sub-stage 1: The " Technology Frontier: Integration of Web3, AIGC and Privacy Preserving Computing" co-organised by Datayes and Hong Kong Science & Technology Parks Corporation (HKSTP) will take place.
· Sub-stage 2: Hash Global, North Beta Capital, Alibaba Cloud, and Cyberport will explore the boundaries between traditional Internet and decentralised Web3 at "Web3 in Hong Kong: From Web2 to Web3".
· Sub-stage 3: SignalPlus will also bring a panel on "Digital Finance and Cross-border Trade" for Web3 financial technology enthusiasts.
· Sub-stage 4: Microsoft and Mask Network will jointly host the "DeSoc in Trend—SBT, DAO and SocialFi" panel sharing the social media innovation of Web3.
April 13
· Main stage: Both morning and afternoon sessions on the main stage will focus on the popular track of the past two years—the Metaverse.
o Morning Session—Ausvic Capital, as the lead organiser, will invite builders and technical elites of Web3 infrastructure to collide and come up with technical breakthrough solutions for the future development of Web3.
o Afternoon Session—The theme will be " The Hitchhiker's Guide to Metaverse: NFT, GameFi and Infrastructure," inviting industry elites in blockchain, Metaverse, Web3, and other related underlying technologies and upper-layer applications to discuss the development bottlenecks and future trends of NFT, GameFi, and infrastructure together with the co-organisers Parrot, Animoca Brands.
· Sub-stage 4 (Afternoon Session): PlatON will invite senior practitioners and regulators from the payment industry to explore "Blockchain and Payment: Technology, Regulation, and Practice.
Morning Session, April 15
· Sub-stage 3: SharkTeam will invite hardcore experts closely related to the development of underlying security technologies in the Web3 industry to explain the importance of security to the development of Web3 in an easy-to-understand way and share new security technologies with Web3 enthusiasts.
Gathering of Global Web3 Media and Communities
The Hong Kong Web3 Festival 2023 will also collaborate with partners such as Filecoin and Meta ERA to bring passionate and creative Web3 content co-creation activities to Web3 enthusiasts. In addition, we have received strong support from well-known media and blockchain communities from around the world.
Media partners of the Hong Kong Web3 Festival 2023 include:
(Arranged in alphabetical order of their names in English)
Asia Token Fund, Business Digest, Blocktempo, BLOCKTIDES, PressLogic, Coincodex, Coinpedia, Cointime, CryptoSlate, Coinfomania, CoinNess, Cointelegraph, Decrypt, ForesightNews, Fortune Insight, ICOHOLDER, IT Square, KNOW3HERE, Odaily, PANews, PICHAIN, TechFlow, Technode Global.

Blockchain community support partners include:
(Arranged in alphabetical order of their names in English)
Biteye, CROSSSPACE, KudasaiJP, SeeDAO, ThreeDAO, TokenDance, Winkrypto.
Participation from Web3 Leaders and Heavyweights
The Hong Kong Web3 Festival 2023 will last for four days, with five venues covering nearly 9,000 square meters. It is expected to attract more than 10,000 on-site audiences, over 300 globally influential speakers, and over a hundred popular Web3 projects, communities, and media.
The Honourable Paul CHAN Mo-po, GBM, GBS, MH, JP, Financial Secretary of the Government of the Hong Kong Special Administrative Region, will attend the opening ceremony of the 2023 Hong Kong Web3 Festival on the morning of April 12th along with Dr. Xiao Feng, Chairman and CEO of Wanxiang Blockchain and Chairman of HashKey Group, and Ms. Hong FANG, President of OKX. Meanwhile, at the closing the first day of the event, Mr. Zhao Changpeng, the founder and CEO of Binance, will give the keynote speech virtually.
For more information on the guest speakers and participating projects, please scan the QR code below the image and follow the official Twitter account of the Hong Kong Web3 Festival 2023 to stay up to date with the latest developments.
Contact the Organiser: w3@blockchain.org
Apply for: Business collaboration and sponsorships | Speaker and Panel Session | Sub-stage Event Host
Read More