Has the DeFi Bubble Burst? Top DeFi Tokens Crash by 50%
The decentralized finance (DeFi) industry appears to be crashing, with DeFi tokens plummeting and dropping by 50% and more, over the past seven days.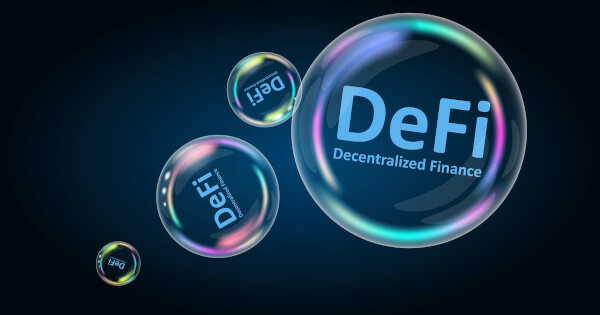 The recent crypto market has suffered incredible fiat losses, and market experts have speculated that the DeFi bubble has burst. With several top DeFi tokens such as Curve (CRV) and Meta (MTA) losing more than 50% of their crypto value over the past seven days, speculations on whether recovery will be possible have been brought into question.
What goes up must come down- DeFi assets plummet
Data from crypto market analytics firm Messari surveyed several DeFi assets. According to the official report, 32 of 34 DeFi tokens were down over the past week, crashing by 50% and more for certain assets.
The only DeFi digital assets that seem to have experienced market price gains are PowerPool (CVP) and SushiSwap (SUSHI). However, even SUSHI experienced a price plummet of its own, after SUSHISWAP founder Chef Nomi liquidated his SUSHI monetary gains for Ether (ETH), sending the token from a price value of around $7 to lows of $2. At the time of writing, SUSHI is trading at $2.37, according to data from CoinMarketCap.
With at least 6 DeFi assets dipping more than 50% over the past week, it has been rough for DeFi. Data from Messari indicated that Curve (CRV) is down 65% this week, and other governance tokens have followed suit, with Meta (MTA) experiencing a 59% loss, REN with a 52% dip, and AirSwap plummeting and losing 51% of its fiat value.
The high volatility levels and the huge sell-offs experienced by the DeFi industry has got many investors wondering whether the decentralized finance craze is approaching an end, after an incredible run. At the time of writing, more than 60% of DeFi tokens surveyed by Messari has posted a 30-day loss, with Curve (CRV) leading the pack.
Ethereum (ETH) tokens have also dipped and fallen back in pricing. According to Messari's findings, only 14 of 178 markets have experienced surges this past week, seven of which were reported to be stablecoins.
DeFi to keep dominating the market?
The UMA DeFi token seems to be consolidating around the $15 price level, and is as of now the largest DeFi project in the industry, with a $1.3 billion worth in market capitalization, according to CoinMarketCap.
While the DeFi bubble appears to have popped, some traders have seized the opportunity to stock up on discounted tokens. Investors are hopeful for a recovery, despite price slumps and 95% of DeFi digital assets recording a dip in value over the past seven days.
Image source: Shutterstock
Read More