Investor Continue Losing Interest on Crypto products in July, Report says
Depressed sentiment continues to override amid investors and the crypto market. A monthly report shows that data of assets under management (AUM) declined 14% compared to the previous month, according to the CryptoCompare report. Meanwhile, the total trading volumes plummeted by 35.4% across all digital-asset investment product markets.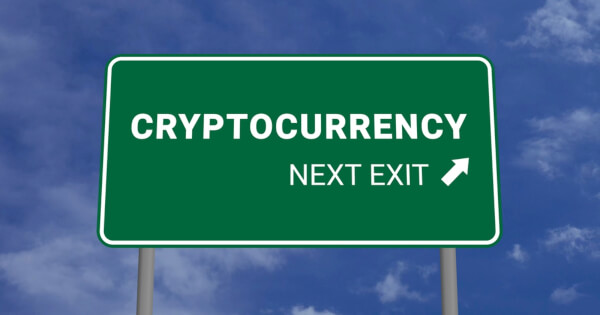 In the July edition of the Digital Asset Management Review released by CryptoCompare Thursday, the report highlights the decline of the total AUM sank by 14.0% to $34.8 billion in the digital asset investment sector, compared to last month.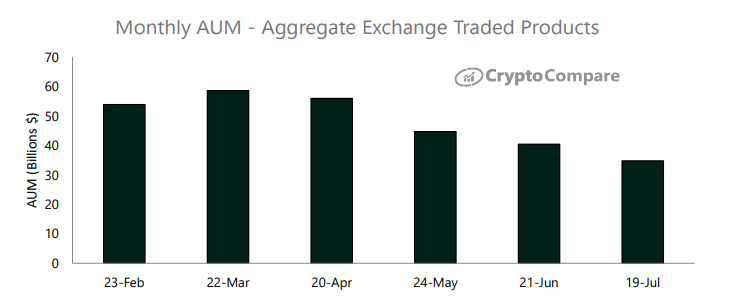 image source: CryptoCompare
In terms of company and product, Grayscale's products continue to dominate the majority of AUM, "occupying more than 80% at $27.9 billion, followed by XBT Provider, taking 7.8% at $2.7 billion and 21Shares weighting for 2.7% of the total with$949 million," according to the report.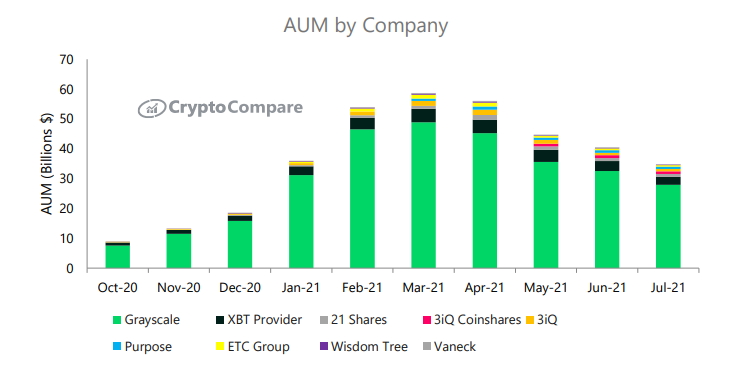 image source: CryptoCompare
Meanwhile, the aggregate daily volumes across all digital asset investment products types dropped by an average of 35.4% from June to July. The average daily volumes now stand at $319 million.
Yet, the average weekly inflows improved and returned to a positive net inflow of $58.5 million in July, in comparison to net outflows of $59.5 million last month.

image source: CryptoCompare
The crypto market has lasted a low volatility period for serval weeks. Bitcoin even fell below the $30,000 support level recently. Bitcoin price was rebound after stimulated by comments from the CEO of Tesla, Elon Musk, concerning the possibility of Bitcoin payment for Tesla.
Bitcoin was trading at $32,636 at 11:15 a.m in Hong Kong, up by 1.89%. The highest point of BTC reached to $32,787 level in 24 hours, according to Datamish.
Image source: Shutterstock
Read More