OKX announced as title sponsor and exclusive NFT ticket distribution partner for the Hong Kong Web3 Festival 2023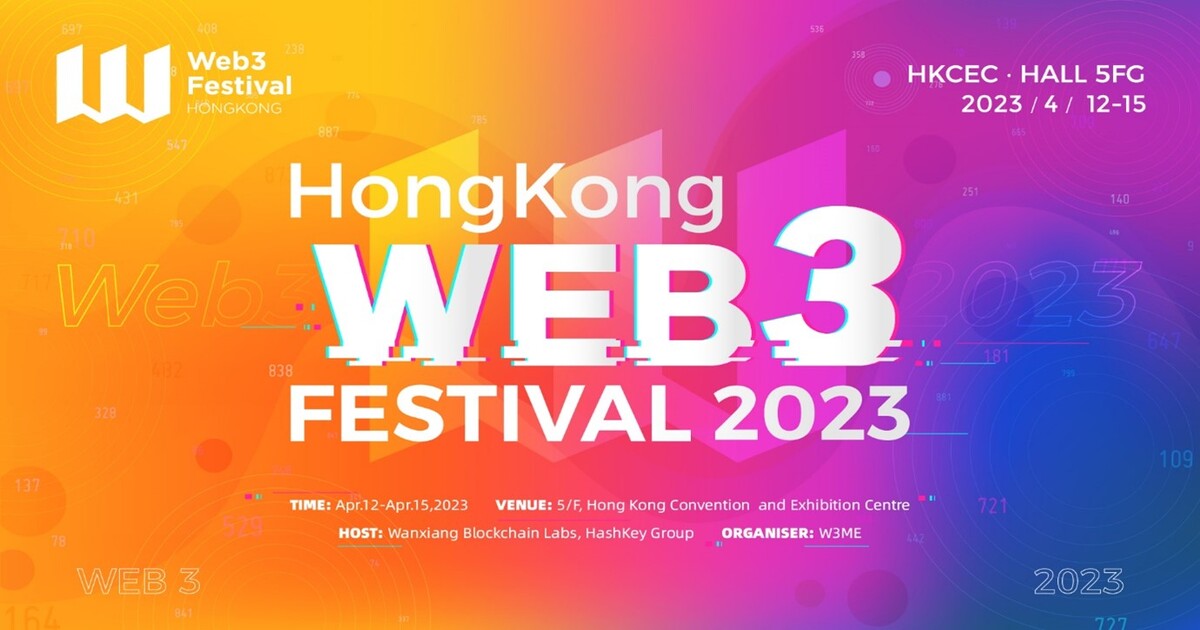 HONG KONG, 9 March 2023 – OKX, the world's second-largest crypto exchange by trading volume and leading Web3 technology company, has been named title sponsor and exclusive NFT ticket distribution partner of the Hong Kong Web3 Festival 2023.

The Hong Kong Web3 Festival 2023 is co-organised by Wanxiang Blockchain Labs and HashKey Group, and hosted by W3ME from April 12th to 15th, 2023. The event will be in sync with the "Hong Kong International Innovation and Technology Exhibition (InnoEX)" cosponsored by the Hong Kong Special Administrative Region Government and the Hong Kong Trade Development Council (HKTDC) at the Hong Kong Convention and Exhibition Centre (HKCEC), and together with other activities to form the "Innovation and Technology Business Week (BITWEEK)".

Lennix Lai, Managing Director of Global Institutional at OKX, said: "We're pleased to be title sponsor of the Hong Kong Web3 Festival 2023, an event that will bring together the best talents and brightest minds in Web3 to Hong Kong, a place that is once again surging to the forefront of Asia's technology and innovation scene. OKX is committed to the development of Web3 in Hong Kong, and we are looking forward to engaging with people from all over the world who will be attending the conference."

The meaning and scope of "cryptocurrency" has shifted significantly since its inception. Today, the term "crypto" generally encompasses a broader definition of digital assets that form a digital asset ecosystem powered by decentralised and encryption technology. In the Web3 era, a robust digital asset ecosystem depends on secure and reliable financial infrastructure, such as digital wallets and decentralised identity (DID) technology. Blockchain technology, as the core underlying technology of Web3, facilitates the implementation of DID technology to prevent disputes and maintains data reliability at a lower cost.

The Hong Kong Web3 Festival 2023 includes five venues with an area of nearly 9,000 square meters. It is expected to attract more than 10,000 on-site participants, more than 300 globally influential speakers, and more than 100 promising Web3 projects, communities and media. Regular tickets for the event are on sale - please go to the official website of the event (www.web3festival.org) to purchase.

For media enquiries and more information, please contact:
Media@okx.com
hkmarketing@hashkey.com


Links to join the Event:
Purchase Tickets | Business collaboration and sponsorships | Speaker and Panel Session | Sub-stage Event Host


About OKX
OKX is the second biggest global crypto exchange by trading volume and a leading web3 ecosystem. Trusted by more than 50 million global users, OKX is known for being the fastest and most reliable crypto trading app for investors and professional traders everywhere.

As a top partner of English Premier League champions Manchester City FC, McLaren Formula 1, golfer Ian Poulter, Olympian Scotty James, and F1 driver Daniel Ricciardo, OKX aims to supercharge the fan experience with new financial and engagement opportunities. OKX is also the top partner of the Tribeca Festival as part of an initiative to bring more creators into web3.

Beyond OKX's exchange, the OKX Wallet is the platform's latest offering for people looking to explore the world of NFTs and the metaverse while trading GameFi and DeFi tokens.

To learn more about OKX, download our app or visit: okx.com


About HashKey Group
HashKey Group is an end-to-end digital asset financial services group in Asia. The Group provides a complete ecosystem across the entire digital asset landscape, ranging from trading, custody, venture investment, technologies to Web3 infrastructure. HashKey's senior team has decades of investment and trading experience and deep market insights gained from tier-one banks, regulators and FinTech ventures. By bringing together the most advanced blockchain research and development and technologies, HashKey identifies potential opportunities and delivers end-to-end solutions that operate within regulatory frameworks with the highest compliance standards. The Group has operations in Hong Kong, Singapore and Japan, and extensive partnerships with FinTech and blockchain solutions providers, academic institutions and associations.

About Wanxiang Blockchain Labs
Funded by China Wanxiang Holdings in Sep.2015, Wanxiang Blockchain Labs is a non-profit research institution with Vitalik Buterin, Founder of Ethereum as its Chief Scientist. Aiming to accelerate socioeconomic development with blockchain technologies, Wanxiang Blockchain Labs has been gathering global experts together to research such topics as blockchain technology R&D, commercial application, industrial strategies, etc. and providing practical instructions for startups and useful references for policy makers.
Read More