President Donald Trump Approves Oracle Deal, Ban Averted for TikTok but not WeChat
President Donald Trump approved the TikTok deal that Oracle and Chinese parent company ByteDance have been working on all week, steering the video-sharing platform clear from its scheduled app store ban set for September 20.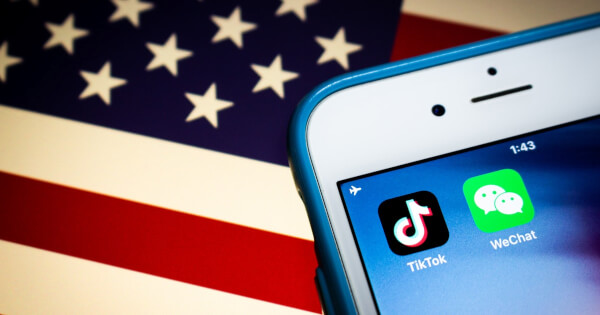 The US Department of Commerce had announced that both WeChat and TikTok would be prohibited from operating in the US through an official country-wide app store ban, starting September 20. Though TikTok US operations appear to be saved for now, WeChat's ban is still in effect and the messaging app is currently unavailable for download in the US.
Donald Trump approves Oracle-TikTok deal
The approval of TikTok by President Trump came at a campaign rally in Fayetteville, North Carolina. The new company that was birthed from the negotiations will be called TikTok Global and will be owned predominantly by American companies. Oracle is to take a 12.5% stake in TikTok Global, while Walmart will potentially own up to 7.5% of company shares.
On top of the fact that four of the five board chairmen will be American, TikTok Global has also agreed to invest $5 billion into creating a new educational fund, an agreement that Trump had said would satisfy his demands that the US government receive a payment from the Oracle-ByteDance deal. As shared by CNBC and Bloomberg, Trump said:
"We're going to be setting up a very large fund for the education of American youth and that'll be great. That's the contribution I've been asking for."
Oracle and Walmart to have stakes in TikTok
According to a source familiar with the talks, ByteDance is looking for a total of $60 billion for the video content app. For the deal to go through, Oracle and Walmart are to pay a combined $12 billion to acquire their shares in TikTok Global. Discussions for the asking price are still being worked out at the time of writing.
Although TikTok's parent company ByteDance seemed extremely confident that Chinese regulators would pass the proposal and that it will still have the upper hand, with it retaining the majority of the app's assets and having control over the algorithms, President Trump appeared to think otherwise. He said:
"It will have nothing to do with China, it'll be totally secure, that'll be part of the deal. All of the control is Walmart and Oracle, two great American companies."
Speaking about the deal for TikTok, US Secretary of State Michael Pompeo said that the app's China-based parent company ByteDance will have "no decision-making authority, no ability to peer into" the US company's activities, and will just act as a "passive shareholder," as shared by Bloomberg.
During his rally, President Trump spoke about the deal for Oracle to acquire US operations of TikTok and said: "I approve the deal in concept. If they get it done, that's great. If they don't, that's OK too." Adding on to the president's public announcement, TikTok also released an official statement, stipulating Trump's wishes:
"We are pleased that the proposal by TikTok, Oracle, and Walmart will resolve the security concerns of the US administration and settle questions around TikTok's future in the US."
The new company birthed from Oracle and ByteDance's agreement will host an initial public offering in which future investors would be able to take up as much as a 20% stake in the company. Walmart, Oracle, and TikTok are still currently working on perfecting their partnership agreements.
What is Oracle's role in TikTok Global?
Oracle's role in TikTok Global will be to host all US data and to secure the computer systems. The data from TikTok will be run through Oracle's cloud servers and this will enable security threats to be dealt with systematically, securing American users' data and preventing foreign governments from spying on TikTok's US operations. Speaking about the tech giant's role in the TikTok deal, CEO of Oracle Safra Catz said:
"Oracle will quickly deploy, rapidly scale, and operate TikTok systems in the Oracle Cloud. We are a 100% confident in our ability to deliver a highly secure environment to TikTok and ensure data privacy to TikTok's American users."
Trump sees China as a threat to national security
Trump's seal of approval for the Oracle-TikTok deal comes at a crucial time, with the presidential elections set for November 3 and the current president trailing behind his counter rival Joe Biden in votes. The President of the United States has used his stance regarding China as a winning point for his campaign.
Trump has alleged that China had been illicitly deploying spyware directed at the US, through applications such as Tiktok and WeChat. Over the weekend, the US Commerce of Department had decreed that as of September 20 for WeChat and November 12 for TikTok, the Chinese-based applications will be prohibited on American soil. "Any provision of content delivering network services enabling the functioning of the mobile application in the US is prohibited," the statement read.
WeChat downloads prohibited starting Sunday
While TikTok's ban seems to have been temporarily lifted with the Trump administration's approval, WeChat's prohibition appears to be ongoing. Accusations directed towards WeChat are similar to that of TikTok. The Chinese-based messaging and multi-purpose platform has been accused of collecting data form users that involve their network activity, location data, browsing history and more.
The US is not the only country that has moved to ban TikTok and WeChat operations. India has already banned both China-based social media applications, referencing that it poses national security concerns.
Image source: Shutterstock
Read More