President Trump Ends COVID-19 Stimulus Negotiations, Bitcoin Price Plummets
President Donald Trump has decided to delay negotiations regarding a second coronavirus stimulus package until after the 2020 presidential elections.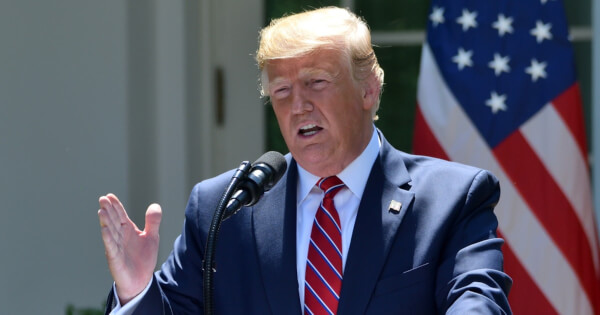 Second Round of Stimulus Package Postponed
The announcement comes at a crucial time, with the US presidential elections approaching and set for November 3. President Trump, currently recouping from having contracted coronavirus himself, took to his Twitter today and said:
"We made a very generous offer of $1.6 Trillion Dollars and, as usual, she (Nancy Pelosi) is not negotiating in good faith […] I have instructed my representatives to stop negotiating until after the election when immediately after I win, we will pass a major Stimulus Bill that focuses on hardworking Americans and Small Business."
As shared by CNBC, the president of the United States appears to have contradicted himself, after having urged both Democratic and Republican parties to conclude a deal for a stimulus package roll out three days ago. COVID-19 stimulus negotiations have been ongoing for months, with the US economy flailing and millions of Americans suffering from unemployment due to the coronavirus pandemic.
Though House Speaker Nancy Pelosi and US Secretary of the Treasury Steven Mnuchin have been in talks for months in an attempt to agree on a stimulus package price, it has been reported that Trump has not been implicated in them.
Bitcoin Price Goes Down
Shortly after his tweet, President Trump's announcement appears to have triggered a downtrend on the stock market, with the Dow Jones Industrial Average down by 1.3%.
With crypto markets surging in tandem with mainstream markets, Bitcoin's price also fell by 1.6% in the last 24 hours. It is currently trading at around $10,592.64 as of press time, dropping by approximately $200.
Bitcoin's drop suggests that it is still surging in tandem with traditional markets. It has previously been speculated by market analysts that it would take a couple of years before Bitcoin completely decoupled from traditional markets, perhaps because fiat currencies in particular the US dollar, remains the benchmark and reference of value for cryptocurrencies.
Traders have been anticipating the stimulus deal agreement on both political sides, as many businesses have struggled to stay afloat amid the coronavirus pandemic. However, ending the stimulus talks appears to have dried up the liquidity supporting the markets.
Image source: Shutterstock
Read More