Ripple's XRP Crashes Following Pump and Dump Scheme Coordinated by Telegram Group
Ripple's XRP has crashed following its temporary ascent to $0.74 yesterday.
After weeks of consolidating below the $0.30 level following the SEC lawsuit, XRP surged over the weekend thanks to a coordinated buying attack orchestrated by a Telegram group called "Buy & Hold XRP FEB 1st, 2021."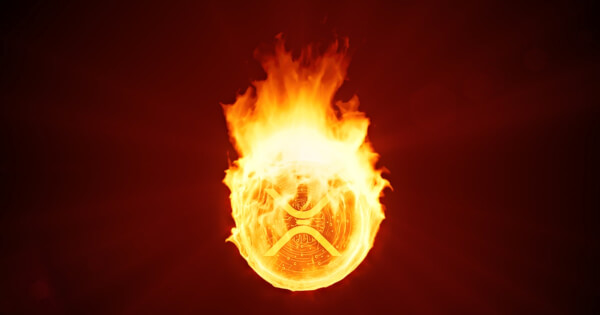 The traders were inspired by WallStreetBets, a Reddit forum who launched a coordinated buying attack last week causing GameStop (GME) shares to shoot through the roof. The bull run, triggered by amateur day traders, had caused a short squeeze which resulted in heavy losses for hedge funds like Melvin Capital.
Pump and dump causes XRP to retrace
The surge in GME shares has also ricocheted off the cryptocurrency sector, as following the surge of GameStop, Dogecoin underwent a bull run as well. As some noted, the focus quickly shifted from DOGE to XRP. The distinction between the two may be that Dogecoin's price surge could be attributed to retail investors' fear of missing out, while in XRP's case, it is a classic example of a pump and dump. Founder of Nugget News, Alex Saunders, said:
"FOMO vs PUMP & DUMP: When $DOGE retraced 78.6%, On Balance Volume showed bullish divergence. It then went up. In comparison, heavy selling of $XRP at higher prices has created bearish divergence in On Balance Volume. As I said yesterday, expect a full retrace on XRP."
Analyst says XRP surge not due to Telegram
Although most attributed XRP's price rise to be due to the efforts of the Telegram Group pushing the XRP price higher, others were not as convinced. Credible Crypto said:
"For some context – let's run the numbers. 24H volume on XRP today was over 26B. Even if EACH of the groups members dropped $5,000 on XRP today that equates to 2% of total daily volume. Let's be rational here – no telegram group is pumping the 5th largest coin in space."
The pump and dump was short-lived in any case, as the digital token lost more than half of its value within a matter of hours.
The fact that XRP gained over the weekend has also been speculated to be a strong response to the United States Securities and Exchange Commission (SEC)'s lawsuit. The agency is currently suing Ripple for the sale of unregistered securities in the form of XRP tokens.
Liquidity in XRP
Currently, XRP is trading at $0.3433 on CoinMarketCap, falling sharply after having experienced a rise of more than 100% over the weekend. Nevertheless, its current price level may still be somewhat of a win, as it has managed to break through the psychological barrier of $0.30.
Jesse Proudman, CEO of crypto hedge fund Strix Leviathan, attributed the sharp drop in price to be due to XRP's lack of liquidity. He explained that the only reason that pump and dumps could occur for XRP were because XRP's liquidity has "become incredibly thin," with major exchanges delisting the digital token. He added:
"This lack of liquidity creates opportunities for global communities to coordinate pump and dumps which is exactly what the price action appears to indicate is happening."
Image source: Shutterstock
WallStreetBets and Telegram Group Plan Coordinated Buying Attack on Ripple's XRP For February
Read More