SEC to Make a Move on Suing Ripple over XRP Cryptocurrency as Christmas Holidays Kick In
Ripple CEO Brad Garlinghouse revealed that a lawsuit may be in the works against his fintech company for the XRP cryptocurrency sooner than later.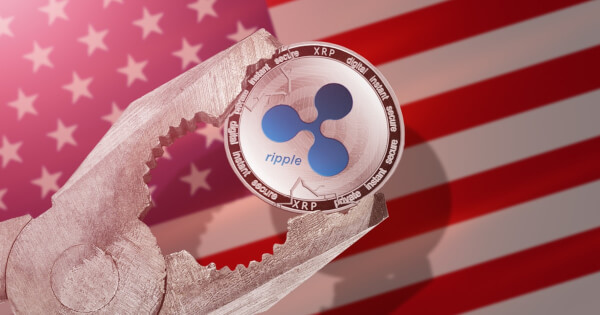 It may not be such a Merry Christmas for Ripple after all. According to Fortune, the United States Exchange and Commission (SEC) may soon be filing a lawsuit against Ripple, just before the holidays. Ripple's CEO has argued that this was "preposterous" and criticized the SEC to be "wrong in matter of law and fact."
The SEC's plan to regulate the XRP token comes at a time when the SEC chairman, Jay Clayton, has announced that he will be resigning at the end of the year. Should a lawsuit be filed against Ripple, the legal decisive work will fall on the next administration, under Biden's presidential rule. Garlinghouse has criticized that as well as the SEC's decision to sue right before the holidays kick in. He said:
"It's not just Grinch-worthy, it's shocking. It's an attack on the entire crypto industry and American innovation."
Why Ripple is being sued by the US SEC
XRP cryptocurrency has long been caught in the crosshairs of the SEC and Ripple over how it should be classified. Unlike its counterparts Bitcoin and Ethereum, XRP has been heavily scrutinized by the US government, on the grounds that it is a security and should therefore be filed as one. Unlike Bitcoin and Ethereum, which are exempt from securities laws as they are decentralized cryptocurrencies with no central governance, XRP is released from escrow on a monthly basis from Ripple's treasury reserves, something that many have viewed as evidence that XRP is similar to shares owned by a company.
Although Ripple has attempted to make a name for itself and disassociated from its native XRP cryptocurrency, putting it into the hands of an open-source network, the fact that many of its owners and co-founders still hold XRP and can sell it on demand has been questioned as well. Most of the cryptocurrency's units are still owned by Ripple, as the bulk of XRP cryptocurrencies are yet to be distributed. Currently, 45 billion XRP has been distributed since their inception in 2012.
Ripple bites back, says XRP is not a security
The fintech firm has fought back and has reiterated that the company is not allowed to tap into its XRP reserve funds as it wishes, under the notion that the virtual currency is increasingly used by banks and merchants now for secure cross-border transactions. Additionally, XRP is released from escrow on a carefully scheduled plan. Garlinghouse has reiterated that it was hard to view XRP as a security and previously has pinpointed that the US may be the only G20 member that views XRP as they do.
As reported by Blockchain.news, he previously said: "IF XRP were deemed a security here in the United States, we have other G20 markets that have taken a different view. I'm not aware of any market globally that thinks that XRP is a security."
The constant legal pressure exerted on XRP by the SEC has caused Ripple to look into placing its headquarters elsewhere this year, although it has reiterated time and again that it is a proud US-based firm.
Image source: Shutterstock
XRP Treated Differently Than Bitcoin and Ethereum in the US and Why It Matters, According to Ripple CEO
Read More