US Legislators Approve Digital Taxonomy and American COMPETE Blockchain Bills in Tech Race with China
US lawmakers approved two bills, the American COMPETE Act and the Digital Taxonomy Act, raising the stakes in an active race against China for innovation in the blockchain and technological development sector.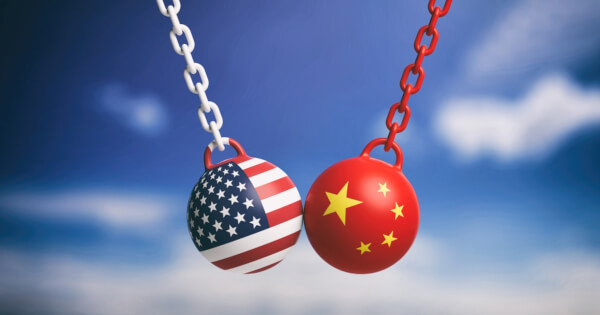 Lawmakers push for blockchain advancement
The two bills proposed will then go on to the US House of Representatives for a vote. Through a webinar moderated by the Chamber of Digital Commerce, the American Competitiveness of a More Productive Emerging Tech Economy Act (American COMPETE act) was discussed. The legislative act advocated for research and development for the purposes of furthering blockchain technology implementations in the United States. It appealed to the Department of Commerce and Federal Trade Commission (FTC) at a crucial time, as China-US tensions continue to escalate due in their emerging tech cold war.
Through the American COMPETE act, US lawmakers wish to further research on all disruptive and emerging technologies, including the Internet of Things (IoT), Artificial Intelligence (AI), and quantum computing. The bill has been advocated for by Democratic Representative Darren Soto and his co-sponsors.
Digital Taxonomy Act
In addition to passing the American COMPETE Act, the Committee on Energy and Commerce also approved the Digital Taxonomy Act. If the bill passes in US Congress, the Department of Commerce and the FTC would be given the green light to research and report on the state of blockchain technology in the country. In addition, it would enable the Federal Trade Commission to propose regulatory measures regarding digital token transactions, as well as monitor illicit crypto activities.
Will China be the first to deploy a functional CBDC?
US lawmakers have been pushing for a national blockchain development strategy with the federal US government for quite some time, using China's Blockchain Service Network as a reference to back the argument that the country needed innovative technological implementations.
China is currently in the lead in the blockchain sector, in terms of research, framework, and regulation. A national blockchain strategy has already been implemented by the economical giant, with a State Blockchain Service Network (BSN). Pilot projects on digital currencies are also in the works, as China is reported to be in the final steps of implementing their digital currency electronic payment (DCEP), stating that it will be ready in the upcoming months.
Ripple co-founder Chris Larsen has said that China has placed itself in the optimal position to become the global financial leader, through a series of strategic long-term developments. The Chairman had disclosed in the past:
"China should make the US paranoid about maintaining our lead. It has already achieved near-universal use of digital payments domestically through financial tech giants such as Alipay and WeChat, and it's on the cusp of issuing a state-controlled digital currency-the digital Yuan."
With the American COMPETE act and the Digital Taxonomy Act, the US is aiming to advance in the race for global blockchain dominance.
Image source: Shutterstock
Read More