Vitalik Buterin Sceptical About DeFi Yield Farming, Compares It to US Federal Reserve Money Printing
Vitalik Buterin has criticized the yield farming craze that has been ongoing in the decentralized finance (DeFi) sector, comparing it to the US Federal Reserve's mass printing strategy.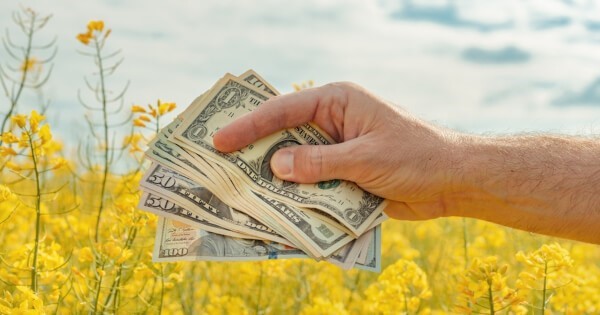 Buterin thinks yield farming is unsustainable
The Ethereum co-founder has advised against the yield farming strategy that has gained increasing popularity among the DeFi community and that has partially enabled digital assets such as the Yield.finance (YFI) governance token to gain traction in the market. The DeFi token recently experienced a new record-high of $39,600 on coin exchange Binance, surging by 25%.
Buterin called out the craze of yield farming and said that it was a short-term thing, implying that it was not realistic in the long run. He addressed the sharp supply inflation of many governance tokens, indicating that coins would have to be constantly printed for the ecosystem to keep on running, which was far from ideal for sustainability issues. Taking to his Twitter, Buterin said:
"Seriously, the sheer volume of coins that needs to be printed nonstop to pay liquidity providers in these 50-100%/year yield farming regimes makes major national central banks look like they're all run by Ron Paul."
Ron Paul is a retired politician who criticized the establishment of the Federal Reserve and who ran for President of the United States on three separate occasions. Buterin, who is currently working on a multiclient testnet project "Medalla" to attain a full proof-of-stake protocol, is a solid advocate of staking – a software protocol that rewards you with more crypto when you use your digital assets to verify transactions and support the blockchain network.
Scalability issues with DeFi run on Ethereum?
As with yield farming, the DeFi platform awards governance tokens to users who generate liquidity, either through borrowing, lending, or token exchange. These tokens can be used to vote on proposals to update a blockchain network. Governance tokens offer a large monetary reward, as evidenced by DeFi tokens Yearn.finance (YFI) and Aave (LEND)'s digital yields. However, as more tokens have been locked into DeFi projects, their supply is limited.
As DeFi protocols operate mainly on the Ethereum blockchain and the DeFi industry is currently booming and increasingly leveraged by emerging economies, concerns about the Ethereum network's scalability have once again resurfaced. Due to the complexity of smart contract protocols on Ethereum and most DeFi projects running on the open-source blockchain platform, transaction fees to unlock basic operations have hit triple-figures.
Buterin has announced that "sharding" will be tested out in Phase 1 of Medalla testnet, which is the final testnet set in place before a complete transition to proof-of-stake is adopted by Ethereum. Buterin hopes that bugs and scalability issues can be worked out with Medalla test chain, before Ethereum 2.0 mainnet's anticipated launch, anticipated for the end of 2022 if all goes well.
USD is dropping, investors looking for hedges
As the US dollar keeps depreciating with the Federal Reserve's mass money printing strategy to deliver COVID-19 stimulus relief, big-name investors such as Warren Buffett have sought out other hedges to secure their funds. Warren Buffett has recently announced that he was investing in the Japanese market and moving his assets out of USD.

As for the Winklevoss twins, the Gemini co-founders have long touted Bitcoin's horn and advised people to invest in the digital asset, as they assert that the cryptocurrency is only going to keep soaring in value. The Winklevoss brothers have repeatedly said that Bitcoin was the way to go, backing their belief by saying that the "digital gold" asset had a limited supply of 21 million, and its value will consequently rise.
Image source: Shutterstock
Read More