XLM Price Surges as Ukraine Selects Stellar Lumens for CBDC Development
Stellar network's native token XLM has soared by approximately 30 percent in a day.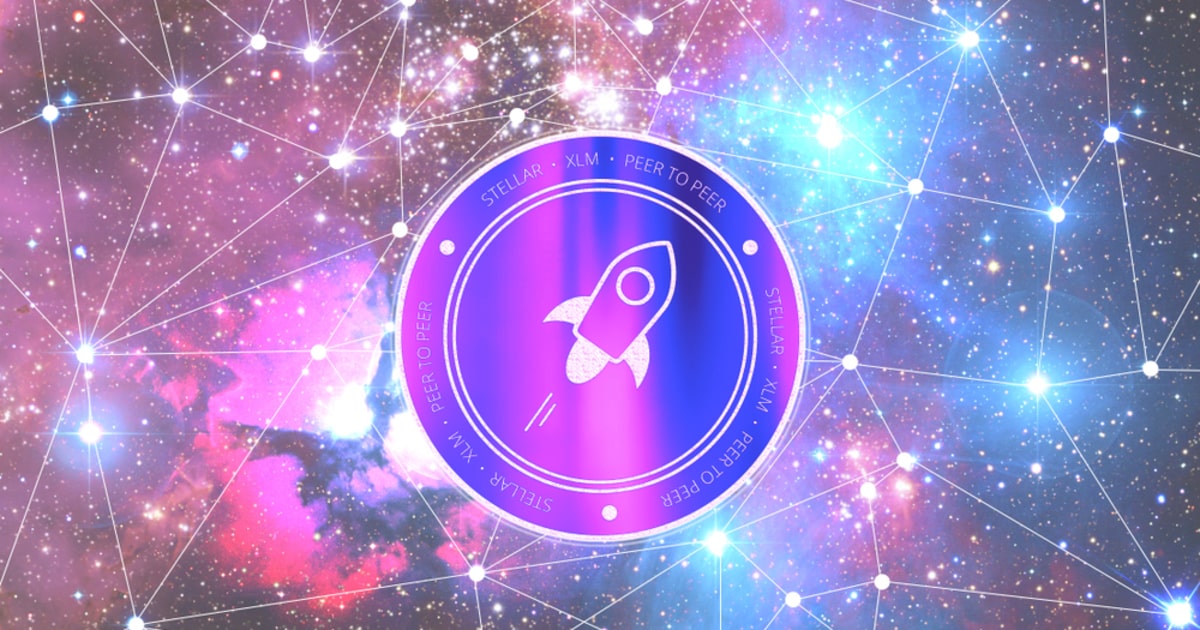 XLM has greatly gained in value, following the news that its blockchain network will be leveraged to develop central bank digital currencies (CBDC) in Ukraine. Together with the Ministry of Digital Transformation of Ukraine, the Stellar Development Foundation (SDF) will work on implementing and developing improved strategies for digital assets in the country.
It will further the development of the digital currency that the Central Bank of Ukraine is currently working on. Beginning this month, Stellar will begin working with the Ministry to provide Stellar-fueled tools to the digital payment system in Ukraine.
Ukraine's Ministry of Digital Transformation is planning on using Stellar to launch its national digital currency. Additionally, Stellar Development Foundation will help Ukraine develop an infrastructure for stablecoins.
Stellar may see more partnerships in the future, as it offers decentralized, fast, and scalable payments network for cross-border payments, much like its counterpart Ripple. While Ripple has been defamed due to the Securities and Exchange Commission's lawsuit for its associated token XRP, Stellar seems to be scooping up the competition, as it has seen bigger inflows in the recent weeks.
Stellar Lumens (XLM) price analysis

Source: TradingView
Despite the recent plummet of Ripple's price due to the SEC regulatory news, XRP's pal Stellar Lumens (XLM) surged by almost 90% since the start of the year. In the chart, you can see that XLM formed a falling wedge in the previous month, and has exhibited explosive growth after the breakout.
Since XLM's all-time high is recorded at $0.51, it still has more potential to grow. However, the resistance sitting at $0.26 (which is also the top price of Nov 2018) may be a major obstacle for the coin to rise further.
Stellar Lumens is founded by Jed McCaleb, founder of Mt. Gox and co-founder of Ripple. It shares a similar concept and coding with Ripple. When Ripple suffers, it appears that Stellar Lumens gets all of its attention and takes off from the ground, with XLM currently rising past its previous high of late November.

Recently, XLM has been outperforming Bitcoin and it has the potential to do even better in the crypto bull market. XLM price continues to move in the ascending channel drawn in the above graph, and traders can look for a buying opportunity inside the channel. If the channel breaks, the blue line currently sitting at 0.00000511 BTC can provide a decent support for a further upside and can be viewed as an excellent buying opportunity.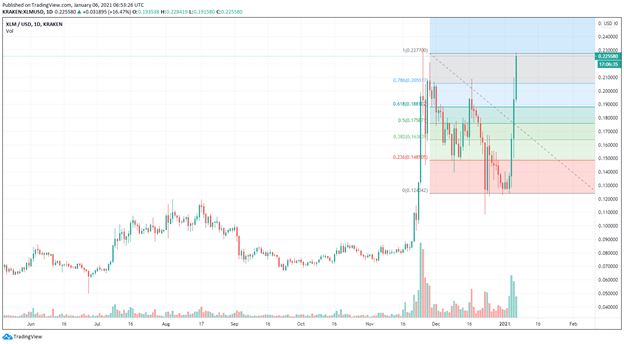 Source: TradingView
If this happens, there may be a major market sell-off, and we can see whether 0.618 Fib. retracement level can provide a potentially nice entry for the coin.
Image source: Shutterstock
Stellar Lumens (XLM) Price Surges over 150%—What's Behind the Massive Rally?
Read More