What is SHIB Burn and Impact on Price?
Introduction
SHIB burn refers to the process of permanently removing SHIB tokens from circulation, making them inaccessible and unrecoverable. This article explores the mechanisms of SHIB burn, the addresses involved, the burn rate, and the impact on the token's price.
SHIB Burn Addresses
There are three special null addresses used to burn Shiba Inu tokens. These addresses were not established by the Shiba Inu development team; instead, they are integral to the Ethereum network and are employed for the burning of other tokens as well.These addresses are not accessible by anyone and have no obtainable keys.
Burn Address 1: 0xdead000000000000000042069420694206942069
Mostly used since it's the same address co-founder of Ethereum, Vitalik Buterin, used to burn $6.7 billion in SHIB tokens.
Burn Address 2: 0x000000000000000000000000000000000000dead
Used by the team for ShibaSwap listings.
Burn Address 3: 0x0000000000000000000000000000000000000000
Called the Black Hole, used for renaming Shiboshi's NFT.
Three distinct null addresses are presently utilized to burn $SHIB tokens.
Why Burn SHIB Tokens?
The actual problem with SHIB tokens is the vast quantity in circulation. The community's goal is to raise the SHIB to $0.01, and to achieve this, tokens must be burned to reduce the number of tokens in circulation, thus potentially increasing the value of SHIB.
How to Burn SHIB Tokens
1. Burn Portal by Shiba Inu Team: On April 23rd, 2022, the Shiba Inu team released a burn portal where users can send tokens to the most popular burn address and receive passive income. The SHIB Burn Portal was created in response to the Shiba Inu Community's desire for a systematic way to increase scarcity and potentially grow their investment. This portal not only facilitates the burning of SHIB tokens but also rewards users with passive income in the form of $RYOSHI Rewards.
Collaborating with RYOSHIS VISION, the portal aims to enhance the Shiba Ecosystem and add value to the Shiba Inu asset. It's designed with flexibility, allowing any project to create a "BURN Pool" and offer rewards for burning SHIB tokens. The initiative embodies a community-driven effort to support Shiba Inu's growth as a prominent digital asset, with a commitment to decentralization and transparency in each burn transaction. The portal represents a collective endeavor to make Shiba Inu one of the standout cryptocurrencies, rewarding community efforts and promoting a reduction in circulation that could influence the asset's value.
2. Using Coinbase, Crypto.com, MetaMask, and Trust Wallet: Detailed instructions for burning SHIB tokens using various apps are provided, allowing users to send tokens to burn addresses and remove them from circulation.
Please note: burning tokens is a voluntary action, and individuals should be aware of the risks involved. Conducting personal research (DYOR) is advised.
Shiba Inu Supply and Burn Rate
You can get Shiba Inu Supply, burn rate, burned Shiba token over last 24hrs, and latest burn transactions from Shib Burn official website.
The Shiba Inu supply can be further broken down into several categories: Total burnt from initial supply, Max Total Supply, Total Supply, Circulating Supply, and Staked (xSHIB).
Burns are calculated "using three special addresses, two dead wallets which have no obtainable keys and tokens sent to the Genesis address (Black Hole) which reduces the supply." Alternative, Total burned in BA-3= 1,000,000,000,000,000 Initial Supply - Current Total Supply.
At the time of writing:
Total burnt from initial supply: 410,652,908,649,495
Max Total Supply: 999,987,704,541,142
Total Supply: 589,347,091,873,592
Circulating Supply: 579,306,629,040,394
Staked (xSHIB): 10,040,462,833,198
Burn Rate: 11.95%
Last 24hrs: 70,300,235 $SHIB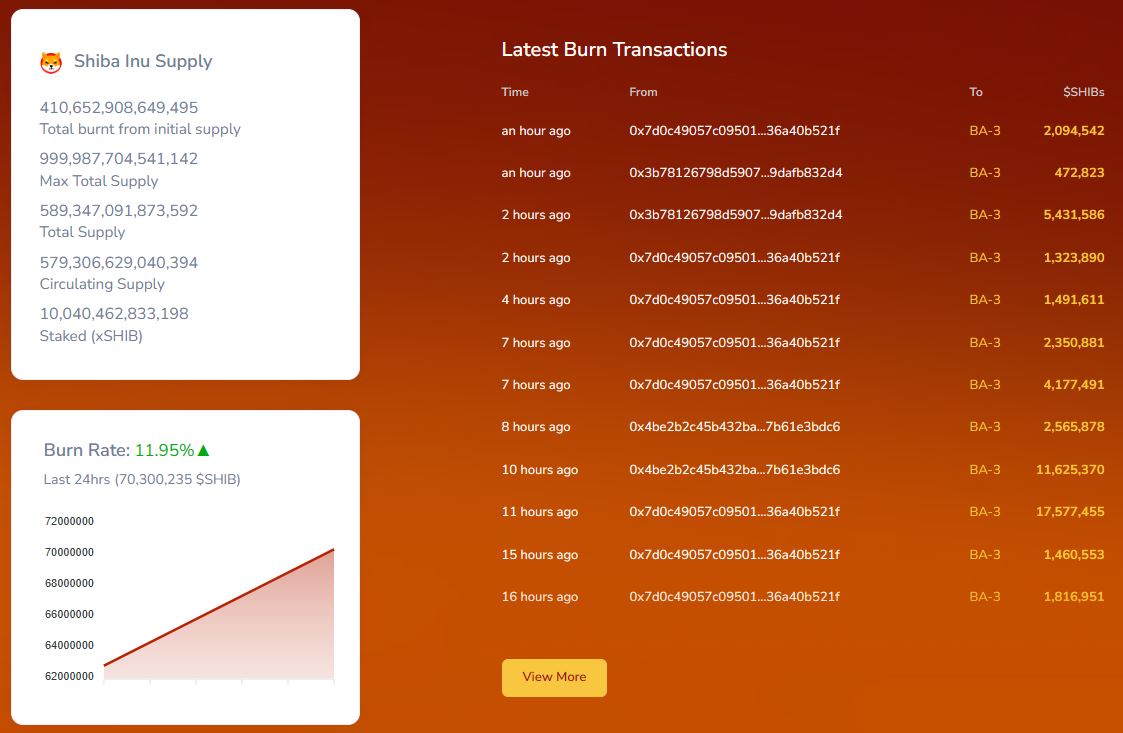 Source: Shibburn
Impact of Burns on Price
The burn rate's impact on the token's price and scarcity depends on its alignment with demand and overall market dynamics. A higher burn rate, coupled with increasing demand, can lead to scarcity, potentially influencing the token's price positively. Conversely, a lower burn rate without corresponding demand may have a limited impact on price. Since April 5, 2021, the price of SHIB skyrocketed by 1128% and has remained consistently above 118% higher than before.
Conclusion
SHIB burn is multifaceted, involving various platforms, methods, and individual transactions. Understanding and participating in SHIB burn contributes to reducing supply and creating scarcity, potentially influencing SHIB's value growth. The process reflects a collective endeavor to position Shiba Inu as a standout cryptocurrency, rewarding community efforts and shaping the asset's future.
Image source: Shutterstock
What is Shibarium?
Read More