Bitcoin Futures Reaches $50,000, Will Bitcoin Break Through $60K?
After undergoing a correction yesterday, Bitcoin's price surged to $50K on major crypto exchanges like Binance, Huobi and Bitfinex. Bitcoin futures has already reached the 50K mark as Bitcoin gains increased interest following Tesla's $1.5 billion endorsement. Currently, the Bitcoin market cap has reached $920 billion and may soon exceed $1 trillion.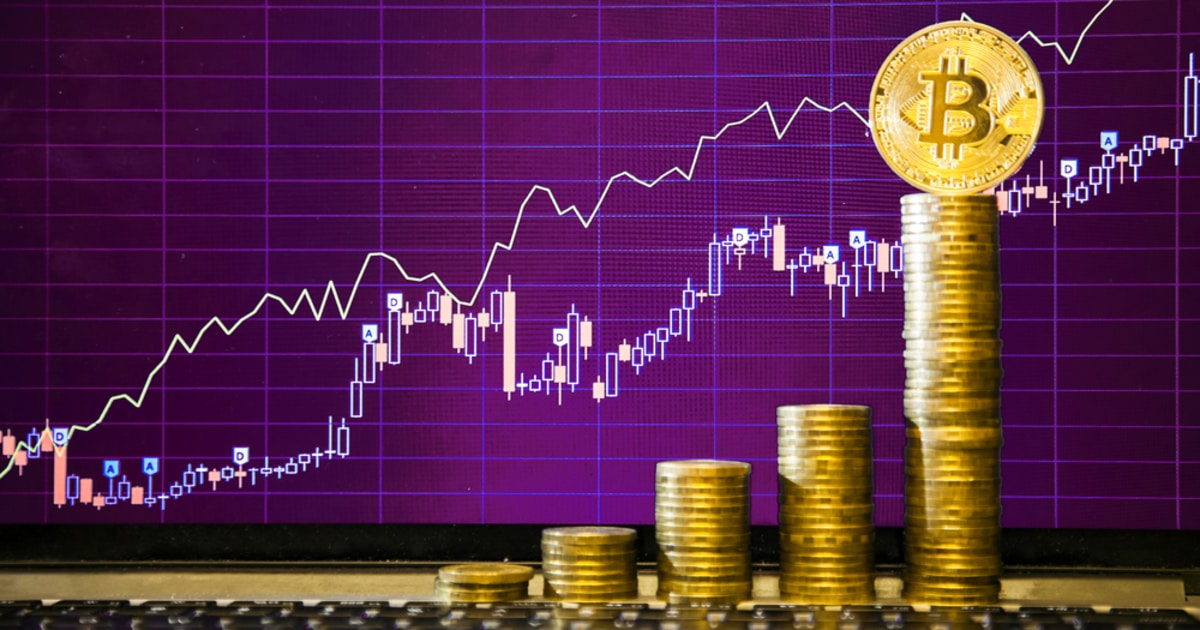 According to Cryptoquant CEO, Bitcoin's ascent to $50K is a war between Coinbase whales, who trade Bitcoin mainly with USD, and stablecoin whales, who trade with USDT. While Binance has been pushing Bitcoin's price up, Coinbase Premium is not doing the same. As institutional investors typically use Coinbase, this reflects that they are not quite confident in Bitcoin's price movement above 50K. At the time of writing, Bitcoin has pulled back from its all-time high of $50K, trading at $48,964.39.
What you should know about Bitcoin
1. One of the biggest events pushing Bitcoin's price higher is Elon Musk's support of the cryptocurrency. His electric automaker giant Tesla has recently publicly disclosed it has bought $1.5 billion in Bitcoin. This has ignited the craze for Bitcoin among investors and may inspire more public companies and institutions to buy Bitcoin. Elon Musk also advocates for Dogecoin, and the mere mention of the cryptocurrency has served to send the altcoin soaring to new heights.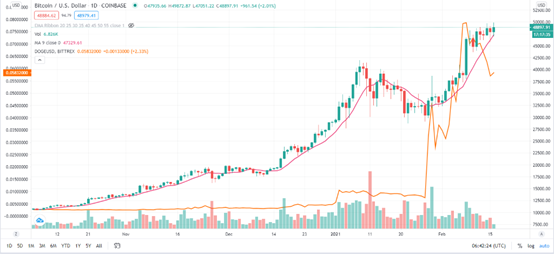 Source: BTC/USD and DOGE/USD via TradingView 
2. PayPal(PYPL), a major electronic payment company, announced that it will launch a new service that will enable users to buy, hold, and sell cryptocurrency directly from PayPal's account following Square(SQ) Bitcoin purchase. On Feb 10, 2021, Mastercard announced that it will begin supporting certain cryptocurrencies on its payments network at some point later this year, which will undoubtedly represent a major milestone for Bitcoin. 
3. According to the Glassnode report, long-term Bitcoin holders are taking profits while miners have reduced their selling pressure this week. 
4. New addresses keep emerging, signaling the rising interest in Bitcoin – The number of new addresses have risen to hit 535,064k on February 15,2021. As for Bitcoin active addresses, they have risen up to 888,793k today.
The increase in new BTC addresses shows that people around the world are increasingly turning to Bitcoin during the current major crypto bull run.
Source: Glassnode
Bitcoin Active Addresses historical chart

Source: BitInfoCharts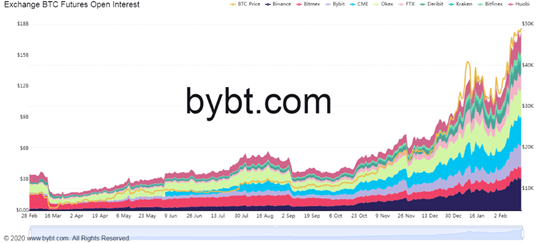 Source

:

Bybt 
5. Derivatives market showing a bull market
Meanwhile, derivatives markets experienced a significant increase with interest across futures exploding to a record high of $17.29 Billion.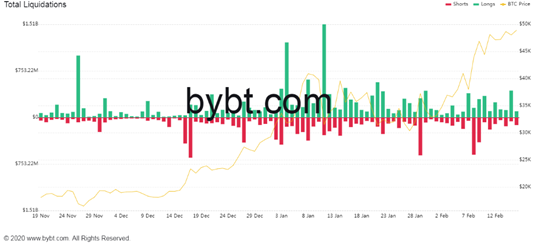 Source

:

Bybt 

Source: Bybt 
Total short liquidations are around $100.28M compared to total long liquidation of $124.82M, indicating that investors are optimistic about the future market outlook and the BTC long-short ratio is 0.98 less than 1.0.
Bitcoin Price Analysis
At the time of writing, BTC/USD is currently trading at $49,154.04, a slight pullback from its surge to touch $50,000. Our analysis shows that if today's closing price can break through the resistance of around $49,700, Bitcoin will undergo a rapid rise. It may experience a brief squeeze, which may quickly push its price to $60,000.
If the price is rejected again near $50,000, it indicates that the shorts are actively defending this resistance, which may cause short-term investors to sell and make profits, causing the price to fall to $44,000 and then to the 20-day exponential moving average Line (around $42,684).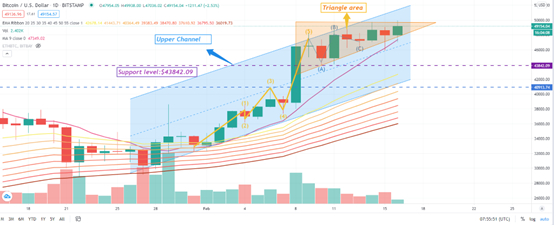 Source: BTC/USD TradingView 
From the daily candlestick chart of Bitcoin, we can see that the current Bitcoin price is in a triangular consolidation area and is gradually narrowing. In the short term, it may break through the entire triangle area and continue to rise in the upward channel. Bitcoin rose sharply on February 8 and reached a high of approximately $48K. A doji candlestick pattern was formed on February 9, which indicated that the bulls and bears had not yet decided on the next trend. A bearish candlestick was formed on February 10, indicating that the short-term future trend has been determined, as this hesitant attitude of buyers and sellers gradually disappeared, forming a correction wave A (point A), as shown in the figure.
According to the Elliott wave principle, as shown on the chart, when the upper channel line is touched, the fifth wave high point 5 is formed. During the period from February 9 to February 13, the adjustment of the three waves will be completed (wave A; B; C). Then, BTC/USD tried to breakout a high of $50,000 on February 14th, hitting a new high of 49,692 dollars.

Source: BTC/USD TradingView 
According to the 4-hour Bitcoin price trend change chart, after finishing the three-wave callback correction, we can see that the support line drawn before the downward decline of Bitcoin was $43,842.09, which received strong and effective support. At the same time, it can be seen that the BTC/USD trading pair encountered a strong resistance when trying to break through the pressure line of the triangle area, which approached the $50,000 mark and hit a record high of $49,692.
However, BTC/USD did not stand firmly above the pressure level of the triangle consolidation area around approximately $49,700.
It proves that the current buying power is still relatively insufficient, but from the chart, it can be observed that the triangle interval is narrowing, which indicates that the triangular consolidation will end in the short-term and may form an upward breakthrough trend.
If the bulls can push the price to $50,000 or higher and steadily break through the triangular consolidation range, then narrow fluctuations will form a new upward trend, which will rise towards an upward trend channel pressure line. The next target price for Bitcoin will be approximately US$60,000.
Image source: Shutterstock
Read More