Bitcoin Gains 110% Since Its Halving – 4 Reasons Why BTC Is Only Going to Rally Higher
Bitcoin's price has more than doubled in value since its third halving in May.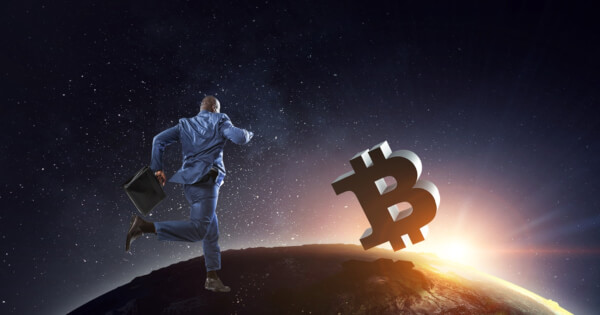 At the time of writing, Bitcoin has once again pushed past an $18K level on CoinMarketCap, trading at $18,089.77. Market experts have greeted Bitcoin's bullish momentum with enthusiasm and have stipulated that this time around, Bitcoin's increase in value will be sustainable, in comparison to its bull run to its all-time high in 2017.
According to findings from blockchain analytics Chainalysis, Bitcoin's price has increased by 110% since its third halving in May, where it was trading around the $8,500 level. There are a few indicators that may serve to explain Bitcoin's increased price. This time around, market experts think that Bitcoin's rally is backed by more legitimate factors which will only serve to push the cryptocurrency higher in the long run.
Illiquid Bitcoin wallets are increasing in number
Chainlaysis explained that currently, the amount of liquid Bitcoin (BTC) on the market is similar to that in 2017, but the difference is that the amount held in illiquid Bitcoin wallets is growing. The term "illiquid" refers to investor-held Bitcoin, which translates to "the amount of Bitcoin held in wallets that send less than 25% of Bitcoin they've ever received." Illiquid Bitcoin usually sit in reserves for a long period of time, as investors expect its value to grow.
As Bitcoin's demand is rising and there are fewer liquid Bitcoin's available, the price for Bitcoin has been increasing. Per the official report:
"Bitcoin's price is rising because demand for Bitcoin is increasing at a time when there's relatively few Bitcoin available to buy."
Chainalysis pinpointed the amount of Bitcoin still available and indicated:
"That leaves a pool of just 3.4 million Bitcoin readily available to buyers as demand increases."
As Bitcoin becomes more and more scarce, and its demand grows, Bitcoin's price is expected to go up.
Interest in Bitcoin investments have grown since 2017
In comparison with 2017, interest in Bitcoin as a legitimate investment has grown considerably. The increased interest can be seen through data collected from North American cryptocurrency exchanges, which suggest that larger inflows of Bitcoin have been observed this year.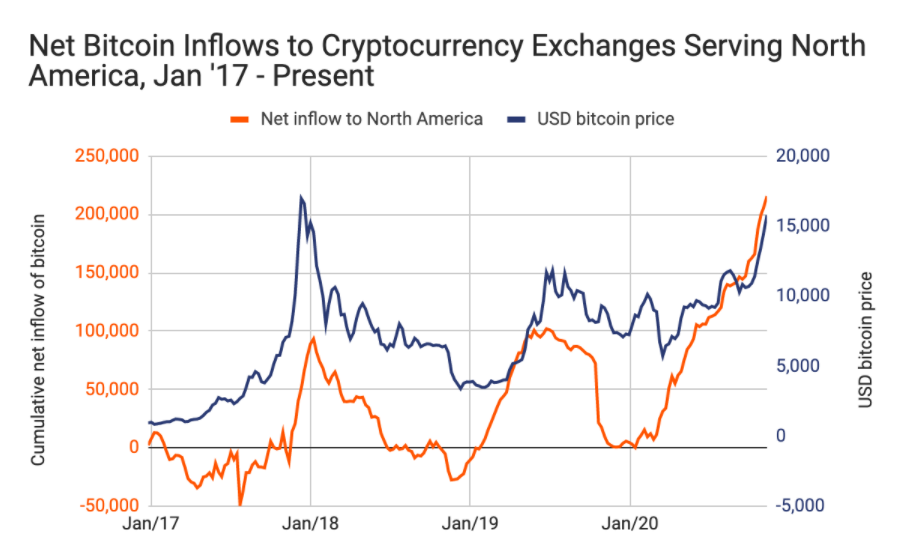 Source: Chainalysis 
In addition, trade intensity, which is used to measure demand, is increasing. Chainalysis explained:
"Trade intensity measures the number of times each Bitcoin deposited on a spot exchange is traded within that exchange before moving off the platform and is a good proxy for demand on a given exchange. It is currently 38% above the 180 day average."
Institutional investors are the whales backing BTC
The investments currently backing Bitcoin are also different than in 2017 when BTC was still relatively unchartered territory and backed by retail investors, who purchased smaller amounts of BTC. This year, sizeable Bitcoin purchases have been made by institutional investors looking to secure and diversify their treasury reserves, notably Square, MicroStrategy, Stone Ridge, to name a few. Per Chainalysis:
"2020 is the year institutional dollars began flowing into Bitcoin. From high-profile investors like hedge fund manager Paul Tudor Jones, who compared buying Bitcoin to investing early in Apple or Google, to corporations like Square, which invested $50 million or 1% of its total assets in Bitcoin, mainstream companies and financial institutions are turning to Bitcoin."
Bitcoin sure to skyrocket with the dollar sinking
Bitcoin's price surge is far from ending. With the second round of coronavirus-induced stimulus packages to be rolled out in the United States, the Federal Reserve will have to continue mass printing fiat, resulting in a debasement of the US dollar.
Additionally, as COVID-19 has caused the inflation rate to be pushed higher than its target, retail and institutional investors alike will flock to Bitcoin as a store of value, driving the demand for Bitcoin up once again. Bitcoin has increasingly been touted as a hedge, and the global economic uncertainty will see its price rising even more.
Market sentiment revolving around the "digital gold" asset has been positive lately. Just yesterday, blockchain data analytics Glassnode reported that Bitcoin mining revenue has hit a new 2020 record high of $21 million per day. The rewards are said to be returning to pre-halving levels, indicating that investors are bullish on Bitcoin.
The combined factors of growing illiquid Bitcoin reserves, increased institutional investor interest, larger inflows into cryptocurrency exchanges signifying bigger demand for BTC, and the devaluation of the US dollar is sure to push the cryptocurrency to rally higher.
Image source: Shutterstock
Read More