Behind the Bitcoin Price Rally: FOMO Buying Which Overpowered Profit Takers
Bitcoin rallied to new highs in the past 24 hours, surging past $21,800 setting a new all-time high. Bitcoin's price has surged 12.9% in the past 24 hours, and is trading at $21,824 at the time of writing. Most large cap altcoins have also followed Bitcoin's foot steps, with Ethereum (ETH) surging over 10%, XRP rocketing 24%, Litecoin (LTC) rising 15%, Cardano (ADA) surging 10.7%, and Stellar Lumens (XLM) gaining 16.9%.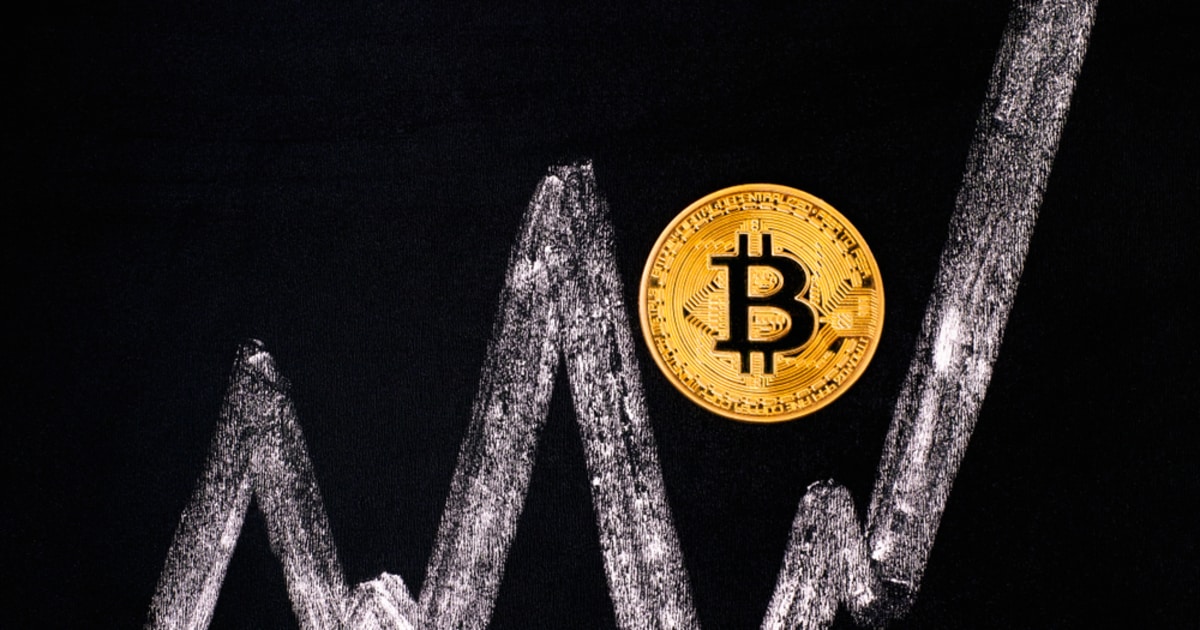 Crypto analyst Willy Woo noted that we are now at an all-time high juncture where Bitcoin's Top Cap Model has started curving upwards. Woo's model suggested that the estimation of Bitcoin reaching $100,000 is a very low target according to the current trajectory. Woo said:
"We are not at the all-time-high juncture where the BTC Top Cap Model starts curving upwards. $100k is a ridiculously low target at the current trajectory. $55k is the next landmark -> Bitcoin becomes a $1T macro asset bucket."
Behind Bitcoin's rally
Woo also suggested the reason behind the recent Bitcoin rally was due to the immense amount of FOMO (fear of missing out) buying in the market, which overpowered profit takers and boosted the cryptocurrency's price. Woo explained:
"Far from resetting which means immense amounts of FOMO buying in the market right now, they over powered profit takers and moved price upwards. That's not been seen before this early in the cycle."
Along with Bitcoin's recent price surge, the world's largest cryptocurrency's market capitalization also reached over $400 billion. Raoul Pal recently commented while pointing to the below chart:
"The last 2 days rise in bitcoin would annualize at 1000%. Good night and good luck. Corrections will come at some point, some will be scary. Buy them. BTW - I think 10x is more than realistic."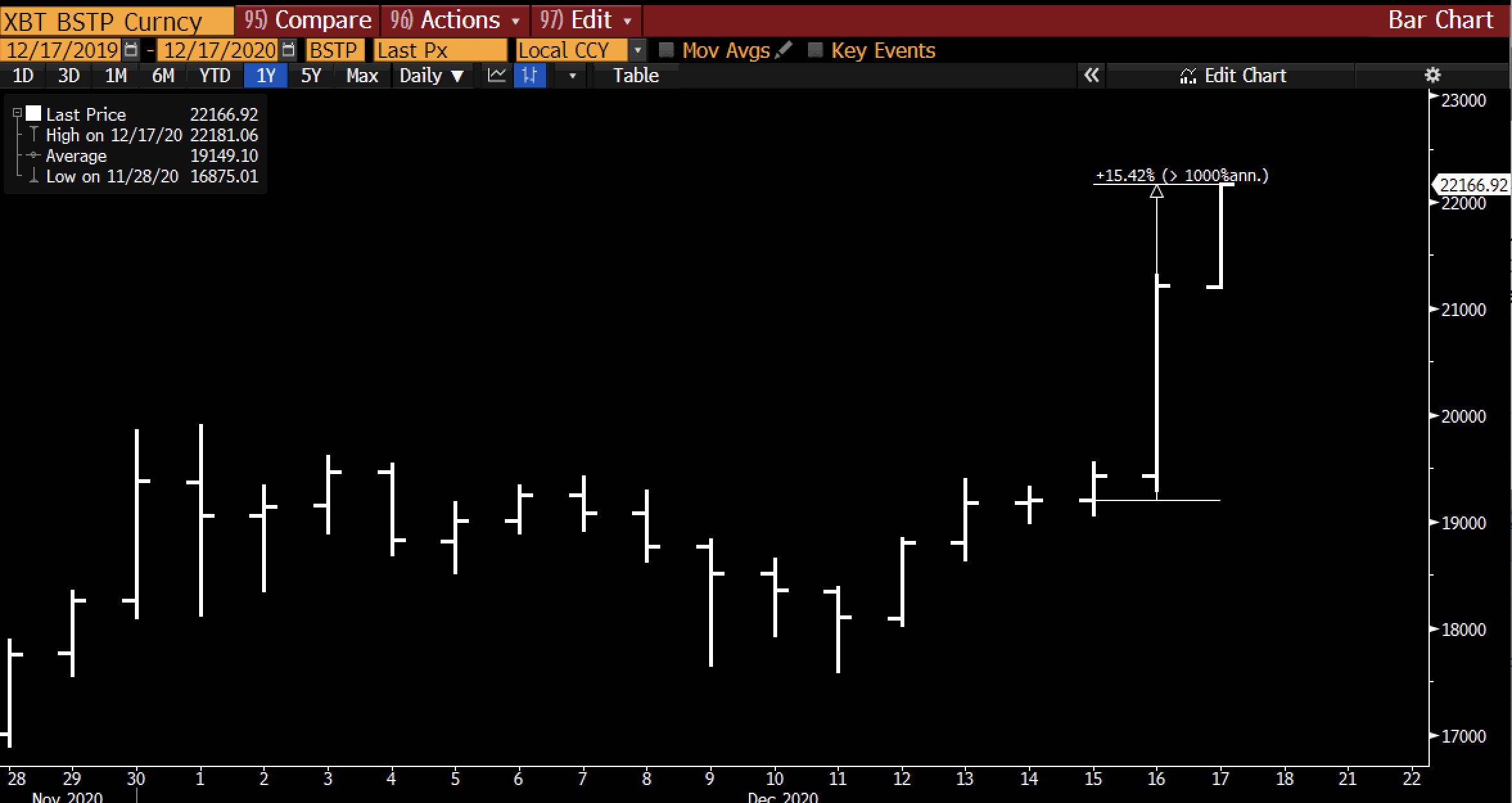 Bitcoin in a state of profit
Crypto analytics firm Santiment noted that as Bitcoin has been pushing towards new highs, 34 new addresses holding between 100 and 10,000 BTC were created before the recent rally. Santiment explained:
"#Bitcoin closed Wednesday (UTC) with a push to greater all-time highs. And this historic run hasn't slowed down a bit. 34 new addresses containing between 100 and 10,000 $BTC were made just prior to this spike, the largest gain in addresses since 11/29."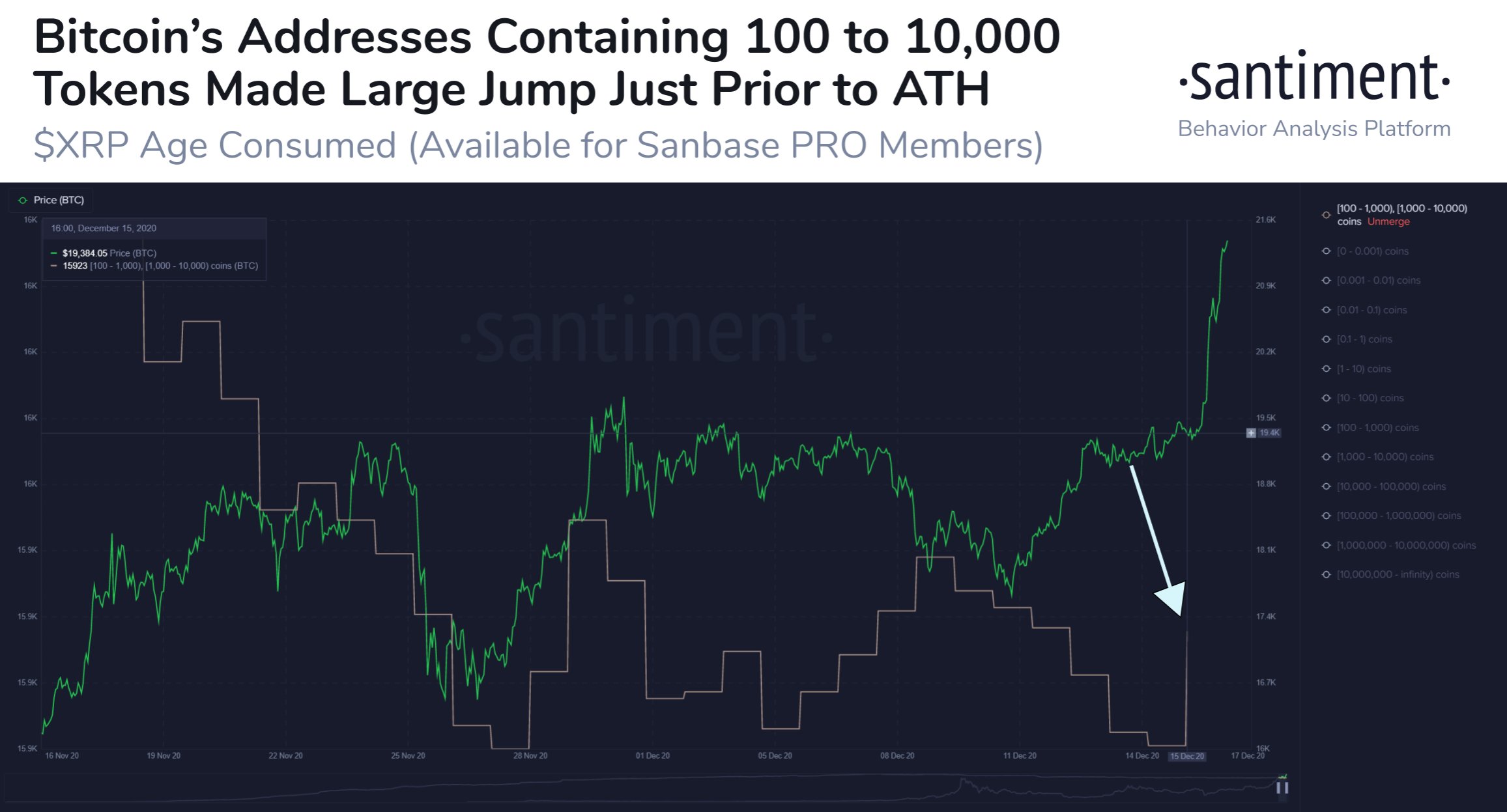 During the early hours of Bitcoin's price rally, the amount of liquidations of short positions on Binance reached $94,293,438, which caused a detriment to many Bitcoin bears. While Bitcoin surged above $20,000 data showed that 100% of BTC addresses were in a state of profit, meaning that everyone holding Bitcoin was making money.
What's next for Bitcoin?
According to Woo, only 2 percent of the world's population currently has exposure to Bitcoin. Woo predicted that with the Bitcoin adoption rate in history, 30% of the world population would own Bitcoin in 4 years' time.
Woo also revealed a model that would suggest that Bitcoin could reach $200,000 by the end of 2021, if not $300,000. According to Woo, most investors who have invested in the digital asset have paid $7,456 for one BTC. Woo explained that the current re-accumulation phase coincides with the spot market inventory depletion, and is roughly two times longer and deeper than the last cycle, which could lead to Bitcoin's price climbing higher.
Catherine Coley, the CEO of Binance.US believes that the recent Bitcoin rally is a testimony for a sustained period of growth. Coley explained:
"The amazing thing about this all-time-high for Bitcoin isn't that it's happening, it's that this bull run is evidence of a sustained period of growth. This is what the work across the industry has been building towards--getting the world ready for the next digital era as guidance on regulatory compliance becomes more clear, as countries explore national digital currencies, and as institutional and retail investors hedge bets on digital assets. When the Fed and other governing agencies across the world are seemingly OK with the effects of inflation on fiat currencies, we'll continue to see the diversification thesis into BTC surge, with price breaking through key technical levels."
According to Raoul Pal, CEO of the Real Vision Group, Bitcoin's price could hit $1 million by 2025.
Image source: Shutterstock
Bitcoin Price to Reach $1 Million in 2025, Raoul Pal Adds One More Zero to His BTC Prediction
Read More