Bloomberg Predicts Bitcoin Price to Surge Past $20,000 in 2020, Doubling Last Year's High
Bloomberg predicted in its recent report that Bitcoin's price in 2020 could reach double of last year's high of $14,000.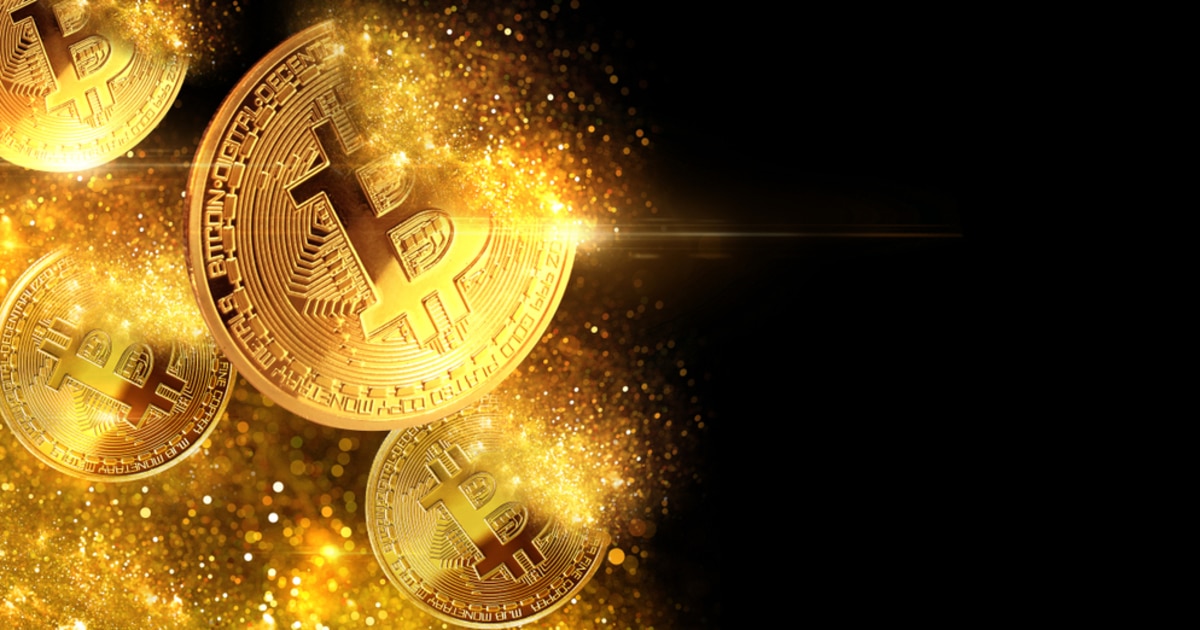 It further suggested that adoption is the primary Bitcoin metric, and Bloomberg takes a positive outlook on this end.
Looking at the trend during the previous Bitcoin halving event in 2016, the cryptocurrency seems to be mirroring the same trend and returning to its previous peak.
Bitcoin's price has seen a 60% decline in 2014, and at the end of 2016, Bitcoin matched the peak in 2013. If Bitcoin chooses to follow the same trend as 2016, with a 75% decline in 2018, Bitcoin is headed towards $20,000, according to Bloomberg.
According to the report, institutional investors such as Grayscale, also known as GBTC has been consuming around 25% of the new supply.
Progressing towards the digital equivalent of gold
The coronavirus pandemic has been pushing Bitcoin's maturity, says the report. Based on volatility readings, Bitcoin is gaining the upper hand, against the stock market. Bitcoin's 260-day volatility measure is the lowest ever compared to the stock gauge.
As Bitcoin's volatility is at its lowest-ever against crude oil, this indicates that the cryptocurrency is joining the mainstream and progressing towards the digital equivalent of gold. The graph below shows Bitcoin's volatility is around 2x the Nasdaq. When Bitcoin's price and index first crossed paths in 2017, it was closer to 7x.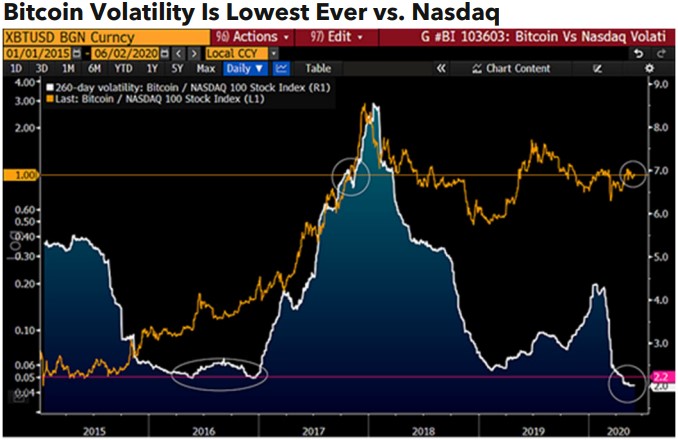 Source: Bloomberg
In Bloomberg's Crypto Outlook April 2020 report, Bitcoin's transformation into a safe haven asset like gold was said to have been accelerated by the coronavirus disruption. Taking into account that Bitcoin's on-chain indicators are remaining price supportive, the report reveals that the coronavirus appears to be accelerating Bitcoin's performance much more than the broad cryptocurrency market.
Futures driving Bitcoin's future
Bitcoin futures trading on the CME has seen favorable trends and are supportive of the price, according to Bloomberg. Increasing futures open interest and the stead price premium will reduce volatility even further and will drive the Bitcoin price up.
As Bitcoin was given the golden ticket has Bitcoin futures were being traded on a US-regulated exchange, while the Securities and Exchange Commission (SEC) on the other hand was reluctant to approve Bitcoin exchange-traded futures (ETFs).
COVID-19 may give Libra life
COVID-19 has highlighted vulnerabilities in the fiat world, and markets have been built on outdated technology. As the Fed is considering a digital dollar, Facebook's Libra gets a bit of the spotlight, as Wells Fargo, Truist and U.S. Bank are looking for new tech upgrades.
The Libra Association recently welcomed Singapore's state investor, Temasek Holdings. Temasek as a portfolio value of 313 billion Singapore dollars (roughly $219 billion), making it one of the more prominent backers of Libra.
Image source: Shutterstock
Read More