Ethereum Price Gains 45% in 24 hours, What's Driving the ETH Price Rally?
The Ethereum price has made its largest single-day price gain in the crypto's history, surging 45% in the last 24 hours, but what is behind the ETH price rally?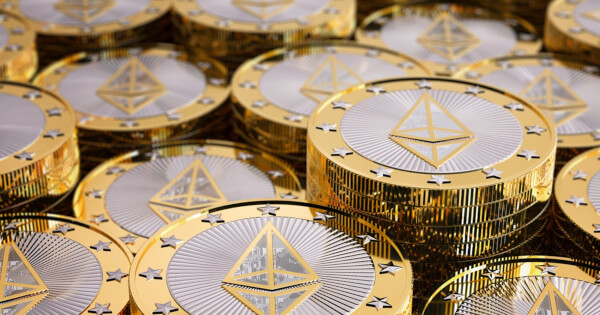 Ethereum, the second-largest coin by market cap, today broke past $1152 hours after the markets had opened in Asia. The ETH price is currently $1050 according to CoinMarketCap and is still around $400 dollars below Ethereum's all-time high of $1,432, which the crypto price set in January 2018.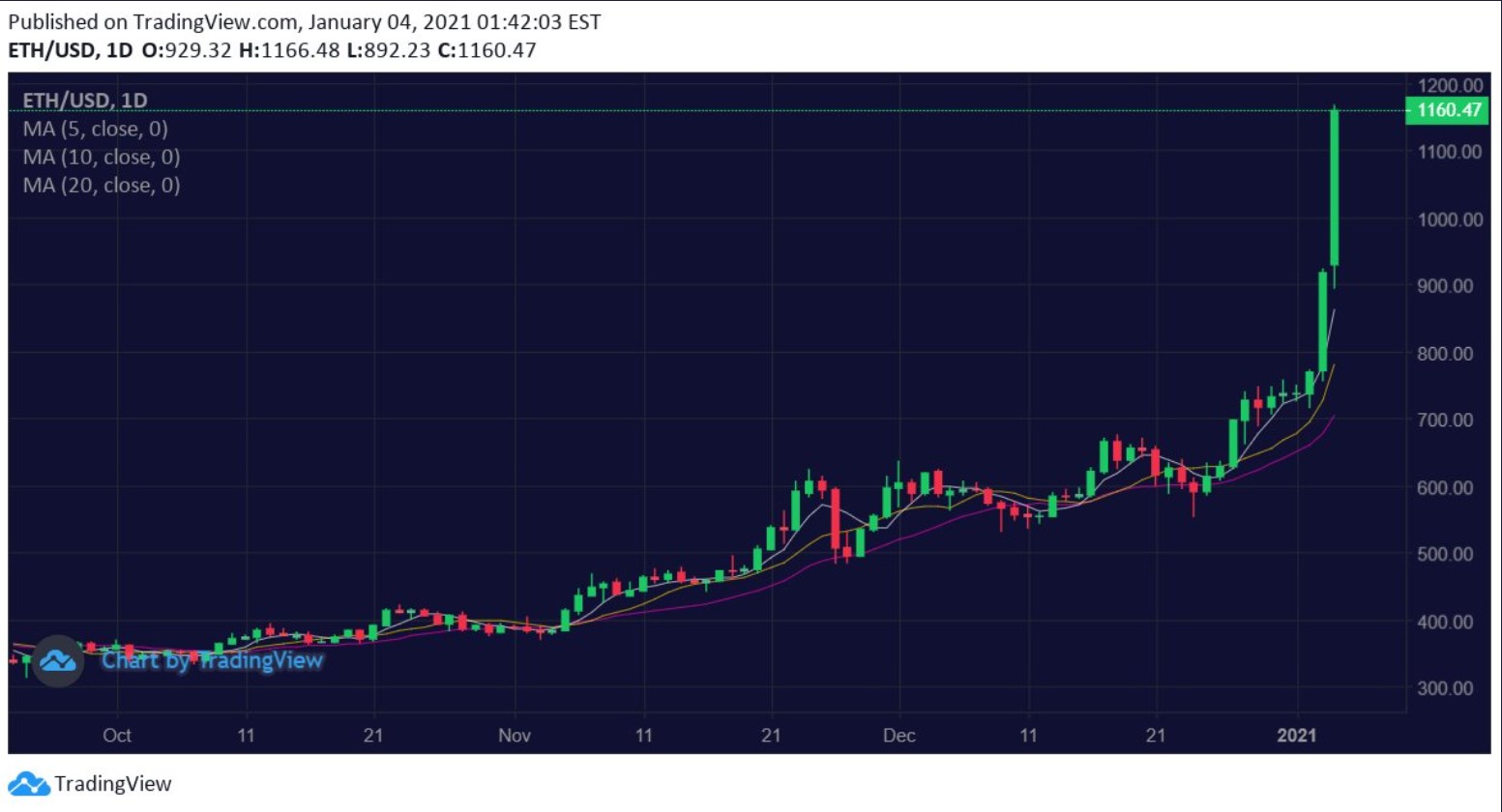 Ethereum's incredible 24 hour price rally could likely be attributed to its growing utility within decentralized finance, support for NFTs and upgrades to the Ethereum network with the launch of POS on the beacon chain.
However similar to the crypto bull run of 2017, Ethereum's performance could be the result of a recent upsurge of interest in Bitcoin, leaving investors searching for the best altcoin.
It appears that as the Bitcoin price continues to smash through resistance levels and rally ever higher—reaching it a new all-time high of $35,000 over the weekend—investors are now looking for the best alternative cryptocurrencies.
Crypto investor and CEO & Founder of Nugget's News, Alex Saunders tweeted:
"When you witness $BTC go from $10k to $20k without a pullback, then pump to $34k all in a matter of weeks, can you blame those scrambling for sub $1400 $ETH right now? We watched in awe as #Bitcoin got repriced as an asset. That same process is about to be fast tracked for ETH..."
The 2017 crypto bull run also saw Ethereum surge to new heights following Bitcoin closing in on $20,000, a pattern that is eerily similar to ETH current price. The host of CNBC's Crypto Trader Ran Neuner pointed out the similarity on Twitter:
"Is this an exact repeat of 2017? 18 December 2017, BTC hits ATH. ETH rallies/doubles from 18 Dec to 15 Jan."
Alluding to the hunt for alternative cryptocurrency to Bitcoin, or Altcoin season. Neuner soon added:
"This is more or less the time all the "maximalists" start shilling ETH and all the guys that chart Bitcoin on Youtube start focussing on ETH. IN a week or so they start making ALT calls...."
Ethereum an Institutional Hedge
Two days before Ethereum charged to a new three year high, Bitcoin bull and Gemini digital exchange founder Cameron Winklevoss tweeted:
"$ETH was the best-performing asset (up 450%) of 2020 hands down and still below its all-time high. Today it's the equivalent of 15K #Bitcoin I would take that bet all day long."
Ethereum is the second-highest cryptocurrency by market cap, the total value of Ether is currently $125 billion according to CoinMarketCap. While the ETH price surge is getting a boost from Bitcoin's astronomical bull run, another major factor appears to be attributed to the announcement that CME Group is launching ETH futures on February 8 as institutional demand for Ethereum's cryptocurrency rises.
Further to its value as an institutional hedge is the successful implementation of EIP 1559 into the ETH 2.0 upgrade on Beacon Chain. The Ethereum Improvement Proposal (EIP) 1559 does two main things—it establishes the market rate for block inclusion and effectively burns the majority of the ETH in the transaction fee. This change to Ethereum's gas management has significant implications to the monetary system and policy of Ethereum EIP 1559.
Burning the bulk of the ETH in transaction fees provide a deflationary mechanism to Ether's supply, which adds to the scarcity of Ether and long-term security of Ethereum—which could potentially make it as effective a hedge against fiat currency inflation as Bitcoin is purported to be.
Ethereum Price Prediction
CEO & Founder of Nugget's News, Alex Saunders is predicting a huge price increase in Ethereum based on the implementation of EIP 1559 in tandem with its surge in utility for DeFi. He tweeted:
"Many are excited that $100k $BTC is possible. It's more exciting that $20k $ETH is possible.Outrageous price target? No. Previous cycle ratio peaks.#DeFi #dWeb #Gaming #NFTs #ETH2 #EIP1559"
Crypto investor Ryan Sean Adams also believes that "ETH price still hasn't caught up to fundamentals." He tweeted his prediction:
"$1k ETH is just a pitstop on the road to $10k"
Image source: Shutterstock
Bitcoin and Ethereum Crypto Prices Exploding Because Gold is Lame says Vitalik Buterin
Read More