GRT, BTT, AVAX Prices Gain Over 150% As Best Cryptocurrency Gainers For The Week
The global cryptocurrency market has had yet another eventful week with the volatility charting a bearish turn at the beginning of the week and leaving most coins with impressive gains at the end. As most cryptocurrencies are positively correlated with Bitcoin, the rise and fall in the price of the premier digital currency were reflected in other coins as well.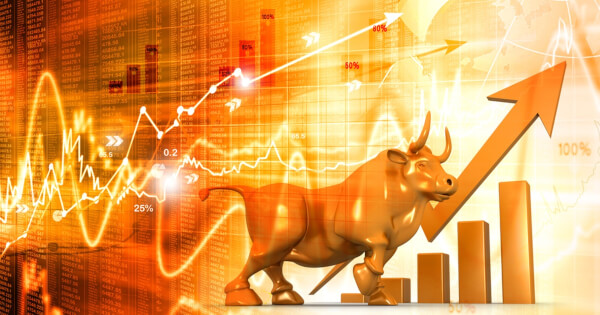 While the 22.57% weekly rate of gain of Bitcoin appears lower than the gains amassed by the other cryptocurrencies, its price gains are the most significant in that time frame. Bitcoin attained a new all-time high (ATH) this week, setting a new pace in its journey to mainstream adoption.
Other cryptocurrencies amongst the highly ranked assets also saw impressive showings this week. Binance Coin (BNB) attained a new ATH of $148.07 according to CoinMarketCap, BNB currently has a weekly growth of 105.10%. Decentralized finance token PancakeSwap (CAKE) recorded a 160.05% growth, leading the DeFi sector in terms of growth.
However, three cryptocurrencies stood out this week, gaining over 150% in an unprecedented rally. They are all profiled below;
The Graph (GRT)
The Graph is an indexing protocol for querying data for networks like Ethereum and IPFS, powering many applications in both DeFi and the broader Web3 ecosystem. The coin had an impressive showing in the week, coming off with a growth of 173.89% at the time of writing. The Graph boasts of a $2.95 Billion market cap and its current price of $2.30 is just about 19% below the all-time high attained a day ago.
BitTorrent (BTT)
BitTorrent is one of the low priced cryptocurrencies with a massive weekly gain of 184.21%. Backed by Tron's Justin Sun, BitTorrent finds relevance as a peer-to-peer (P2P) file sharing and torrent platform which has become increasingly decentralized in recent years.
Currently priced at $0.001268, the low price comes off as one of BTT's highest since it was created back in 2019 after being acquired by Tron. The coin's performance this week also saw its price surge to an ATH of $0.001944.
Avalanche (AVAX)
Avalanche token is the best performer for the week amongst the top 100 cryptocurrencies. Avalanche grew by 203.54% in the week-to-date period, dropping 15.48% below its all-time high price of $59.94 set within the week. Avalanche seeks to be like a global assets exchange, allowing anyone to launch or trade any form of asset and control it in a decentralized manner using smart contracts and other cutting-edge technologies. The AVAX, a token associated with this ambitious project appears to be getting the backing of investors, and HODLers alike.
New Turns, New Twist
Just as earlier ascribed, volatilities are largely associated with cryptocurrencies, and as a largely unregulated market, fluctuations can keep the price of these digital assets unstable. Over the course of the incoming week, there could be new turns that will herald new twists for one or all of the cryptocurrencies and tokens out there.
Image source: Shutterstock
XRP Pushes above Critical Level as Ripple Faces Lawsuit Heat
Read More