Ripple's XRP Token Recovers in Price and Hits $0.37, Will It Continue Its Upward Trend?
The lawsuit that has been hanging over Ripple since the Christmas holidays has caused its associated XRP token to plummet considerably on the market. XRP reversed the gains it recorded in November when the token soared by 136% within a month. However, Bitcoin's bull run past the $40,000 mark has served to push altcoins higher, including XRP.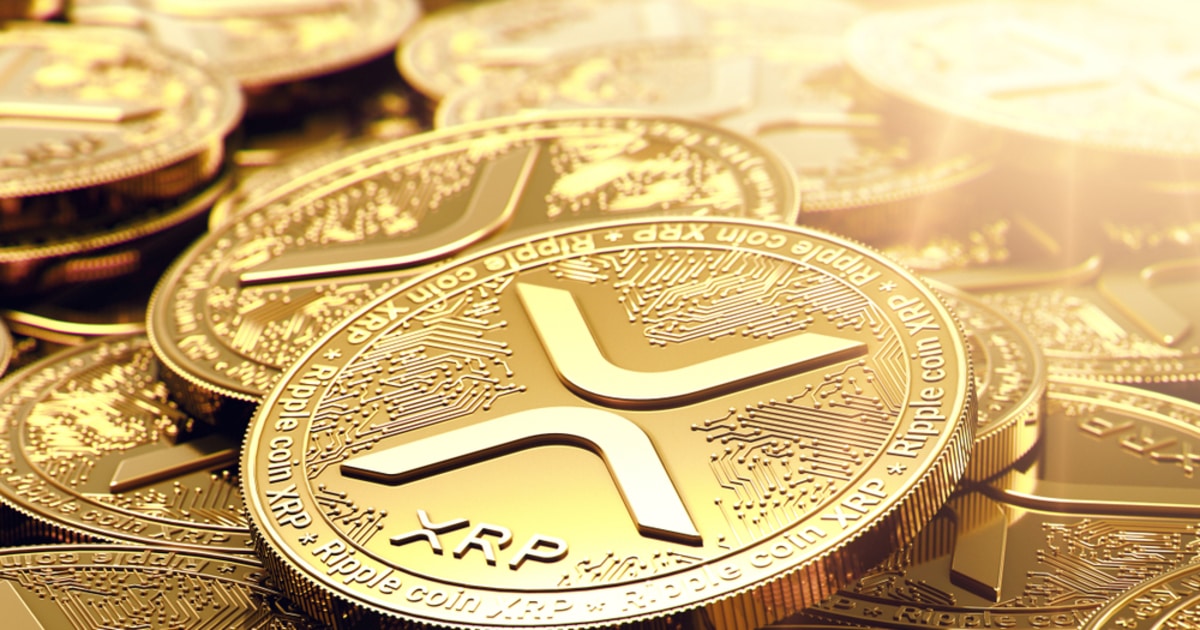 Positive sentiment has been the underlying tone of the cryptocurrency market since December. While XRP did not benefit from Bitcoin's record-breaking run on January 2 to top $30,000, it has joined other altcoins this time in the bull market. Currently, more liquidity has entered XRP and it has regained its spot as the fourth-largest crypto by market cap, after being unseated by Litecoin earlier this week. XRP's market cap tops $14 billion at the time of writing, while Litecoin's is a little over $10 billion.
XRP regains strength
Despite the SEC lawsuit against Ripple that has painted XRP as a security and defamed it, with US regulators arguing that Ripple violated federal securities laws through XRP sales since the token is not registered as a security, there appears to still be a lot of people backing XRP.
Most of its investors may, however, be situated outside of the United States, as XRP is leveraged in places like Japan and the United Arab Emirates for its features as a bridge currency. Founder of Quantum Economics, Mati Greenspan, remarked that XRP transactions were still high. Taking to his Twitter, he said:
"Let me get this straight, all this drama from the SEC and exchanges halting trading of XRP yet the number of transactions per day is still trucking higher."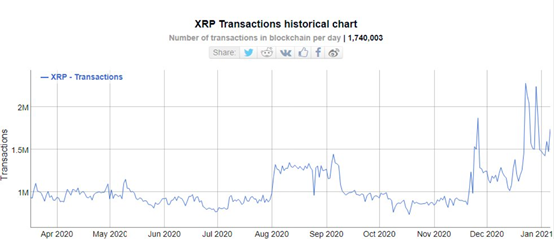 Source: Twitter
A pseudonymous crypto enthusiast replied to Mati Greenspan, and hypothesized:
"Evidently the other countries and their banks don't care what the US has to say. Some of them are all in on $XRP and what @Ripple products do to improve their money networks and their regulators have already classified it as a currency or utility."
Despite what US regulators have to say, many other countries such as Japan and the UK view XRP as a cryptocurrency. The CEO of Ripple had previously fired back at the SEC, stating that the United States was the only G20 member to classify XRP as a security.
With XRP's recovery in price from lows of $0.20, will it be able to maintain a value above the $0.30 mark?
XRP price analysis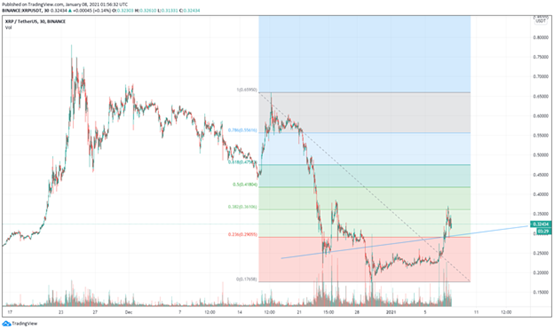 Source: TradingView
Amid the SEC lawsuit drama, Ripple bounced hard yesterday and went up by more than 100% from its recent low. It touched the $0.37 level yesterday but has since moved down with BTC, now trading at the $0.32 level.
From the graph, we can note that it was a 0.382 Fib. retracement of the recent downtrend. After the recent surge, we can observe whether Ripple's price will have a little consolidation here before going another leg up. XRP is expected to trade in the $0.3 - $0.37 zone in the upcoming days, and we can see if the blue trend line above can provide some support of the price.
The major resistance will be located at 0.385, which was the high on 25 Dec.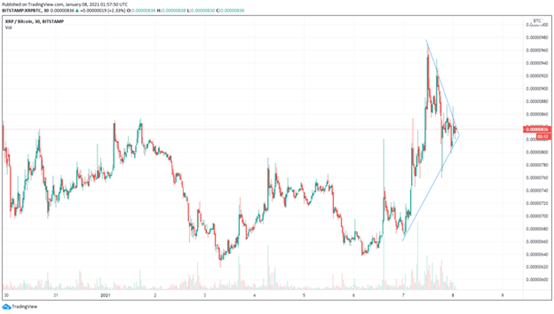 Source: TradingView
From the XRP/BTC 30-min chart, we can see that XRP/BTC is about to choose its direction and we can observe if it breaks up. If it breaks up, it is likely that we can see Ripple price challenge the $0.35 or even the $0.37 level again.
Image source: Shutterstock
Grayscale Investments Removes XRP from Its Fund and Rebalances Bitcoin, Ethereum, Litecoin, and BCH Assets
Read More