Gate.io Executive Explains: What Can We Expect for the Upcoming Bitcoin Halving Event and Crypto in 2020?
Bitcoin halving countdown
Bitcoin halving has been suggested as a significant event. Gate.io also released a halving countdown page for nine major cryptocurrencies in 2020, keeping its users informed of the latest status on halvings. "As an exchange, we want to be instrumental in providing useful information about Bitcoin Halving to our users and the overall community," Tatibouet said.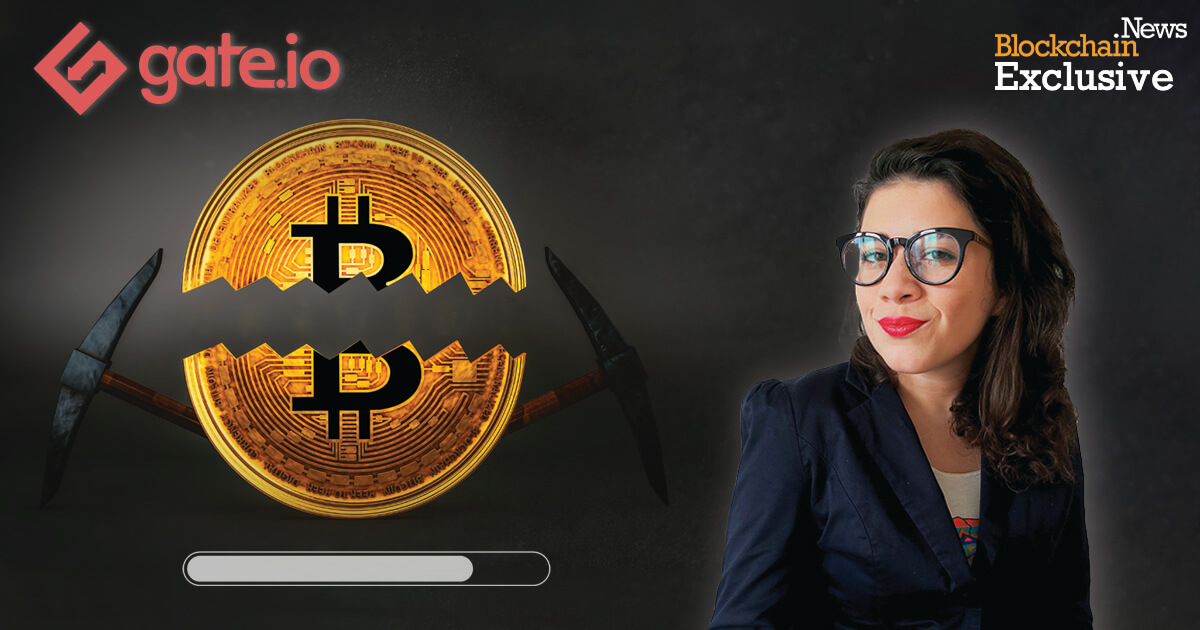 When Bitcoin first emerged, 50 Bitcoins were rewarded to miners, and after every 210,000 blocks mined, the block reward halves and will keep on halving until the block reward becomes 0. Currently, block rewards are 12.5 Bitcoins per block and will decrease to 6.25 Bitcoins per block after halving.
Regarding the effects of the Bitcoin halving, Tatibouet commented, "Based on two halving events in the past, the block reward halving tends to have long-term effects on the price of Bitcoin. The first time, BTC went from around $11 to around $1,100 and back down to $220. The second time, BTC went from around $230 to around $20,000 and back down to around $4,000. This would affect how regular traders are trading and HODL-ing BTC for the next 12-18 months after the Bitcoin halving."
Gate.io's Perpetual Contracts
According to Tatibouet, Gate.io's perpetual contracts are one of the most active crypto-asset contract trading markets in the world, and the firm recently hit a 400 million USDT trading volume milestone.
Generally, she explained, 3X-leveraged exchange-traded funds (ETFs) can resist a 33% market decline without returning to zero. With the recent plunge in BTC price, many underlying tokens of the ETFs maintained by Gate.io slumped by over 40%, which far exceeded the 33% decline-resistance, causing the forced liquidation of the hedge position in the perpetual contract.
To avoid users' 3X-long assets returning to zero, Tatibouet explained, "Gate.io has immediately reopened the position after the forced liquidation by consuming $500,000 to cover the loss of all our users. Besides, we also have an insurance fund of over 1,000 BTC to compensate users when the balance drops below zero so that we can protect their funds."
The tightening of crypto margin trading regulation in Japan
In January 2020, Japan's Financial Services Agency (FSA) introduced rules to tighten crypto margin trading in Japan by limiting the leverage to a maximum of 2x. Tatibouet suggested that Japan has great knowledge of maintaining the right balance between caution and progression with cryptocurrencies. Margin trading has been very popular in the crypto space, and could potentially dominate the market.
Tatibouet believes that as the regulatory frameworks are facing ongoing changes, and with the rising crypto adoption in the world, crypto exchanges should constantly redesign their offerings for the developing landscape. "Government institutions and fintech companies should also come together to design scalable integration plans for digital tokens into the wider financial ecosystem. At this point, we cannot predict whether this will be a threat or an opportunity for us as the rule will come into play once the association reviews the proposition."
Proof of transparency
Recently, Gate.io announced a feature that grants users access to 100% collateral; the 100% collateral is a feature that allows users to have visibility into the value of their total assets. Users will be able to see how their funds are placed. The company conducted a written audit report and the Merkle tree of the hash value of users' total assets, which is open to the public via the audit company's website. Through the application of mathematical algorithms, users can verify whether their assets amount is recorded accurately in the Markle tree.
Tatibouet added, "Providing users with a reliable method that ensures 100% transparency to their total assets on the platform protects them from being in a situation where their funds can be manipulated which can loosen the trust they have in the system. This can affect the way centralized exchanges manage their user's funds."
Crypto Loan
Gate.io's Crypto Loan feature allows funds in the spot account to be used for crypto loan requirements, enabling users to lock cryptocurrencies in their possession to borrow other coins for trading, without having to transfer their assets in their margin accounts. Users can use their spot accounts to borrow crypto funds for trading. "It is beneficial for beginners and advanced traders as they get more options to capitalize on their funds where they can use the collateral to earn added profits using Gate.io's staking program HODL&Earn. This isn't possible in standalone crypto lending products," she added.
Low liquidity market
The low liquidity market is a zone where projects with very low trading volume are displayed enabling users to evaluate these coins' trading potential. Tatibouet said, "Previously we had the token administration regulation, where we put those unqualified projects in the trading zone, and if they do not make any progress, we delist them eventually. This is an exercise that we make to protect our users from the price volatility of cryptocurrencies.
What can we expect in 2020?
The main focus for Gate.io in 2020 is to continue to provide a secure and transparent cryptocurrency trading experience to its users. "With that in mind, the most important thing on our 2020 roadmap is the upcoming launch of GateChain, a public blockchain which should solve the most pressing problems around fund safety. Its onchain vault account can recover users' stolen funds by retrieving the private keys, making it hack-proof for both consumers and enterprises," Tatibouet concluded.
Gate.io would also be focusing on achieving the 3 million user milestone and continue to work on more user-centric products including HODL&Earn, Margin Trading, Crypto Loans, which received a lot of attention from users in 2019.
Read More