HolyShxxt!'s NFT and Future GameFi plans Shows HK's Potential
Hong Kong-based HolyShxxt!'s release of NFTs and their plan to launch a strategic football management simulation GameFi shows the potential growth of the fusion of gaming and blockchain-powered financialization in the city and globally.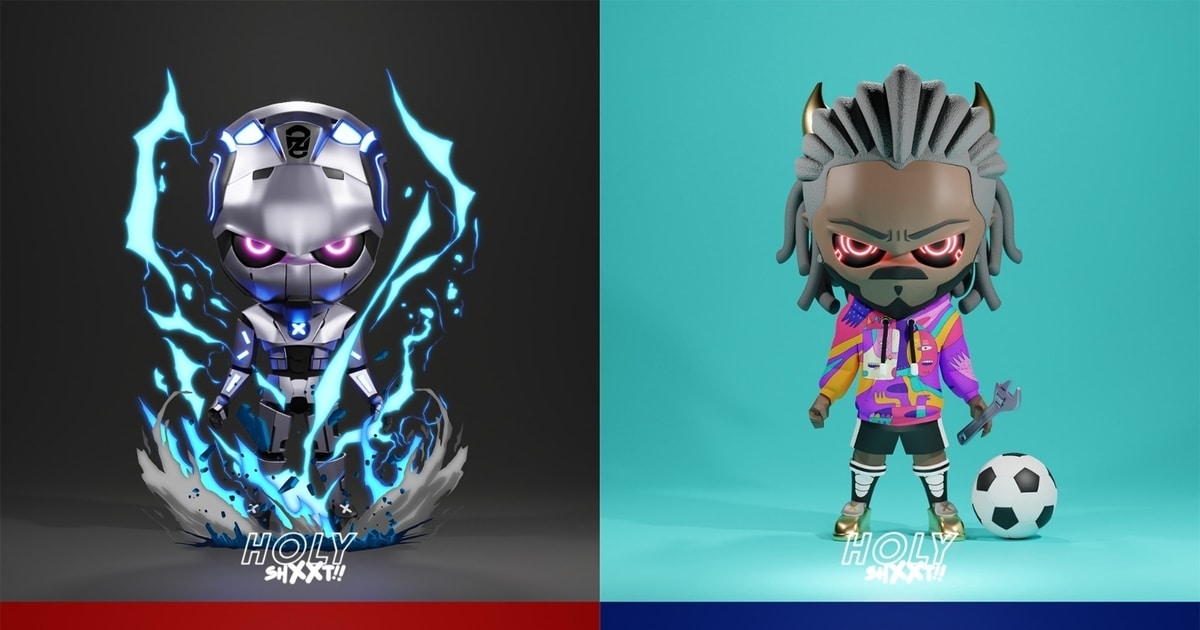 The NFT and blockchain developer launched a set of generative art collectables on January 11, 2022, that includes 8,888 unique soccer players' NFTs that are created by a combination of 15 traits and over 480 attributes in addition to special functional features.
Although GameFi is still at an infant stage globally and their popularity is yet to rise, HolyShxxt! told Blockchain.News that "there is going to be a growth in the number of audiences entering GameFi."
"When people get to learn more about NFTs, they will seek more utilities; gaming is always the first in mind. The competition will be fierce in the future of GameFi when more big players from Hong Kong are tapping in the market."
The rise in the value of crypto-based assets known as NFTs has been the critical factor for developing GameFi in recent years. Both NFTs and GameFi fall under the decentralized finance (DeFi) model of business, where token-based transactions take place on blockchains.
While NFTs are non-interchangeable units of data stored on a blockchain - a form of the digital ledger - which can represent works of arts in various digital forms such as photos, videos and even music; on the other hand, GameFi refers to decentralized applications ("dapps") with economic incentives.
One of the most appealing factors that differentiate a regular free-to-play game and GameFi is the ownership of assets that can be traded, lent or rented out.
According to Hong Kong's leading blockchain game developer and investor Animoca Brand's group president Evan Auyang:
"In a regular free-to-play game or console game, the skin that you have and all the upgrades that you have, the money spent in those games, they are not owned by you. But with respect to what we do is that we're trying to enable true digital asset ownership through the blockchain. And what happens is that your engagement level or gamers' engagement level becomes completely different".
GameFi VS E-sports
While in terms of differences with E-sports, HolyShxxt! explained that "E-sport is about excitement and fun, giving those who are good at the game to compete with each other on a big stage. While GameFi emphasizes tokenomics, revenue sharing to maintain the ecosystem. You do not have to be the best in the game to join."
Besides ownership, the fundamentals of the GameFi is experience and monetization or play-to-earn-based feature.
According to Bloomberg, the play-to-earn approach in GameFi generally involve tokens granted as rewards for performing game-related tasks such as winning battles, mining precious resources or growing digital crops.
Although tokens have always been prevalent in gaming, the earlier versions could not be easily or legally sold outside of games or converted into cash.
In GameFi, tokens are crafted to work as full-fledged cryptocurrencies which can be converted into cash on a number of decentralized exchanges, but similar to the volatility of cryptocurrencies, they are not pegged to a traditional currency.
HolyShxxt! said, in terms of attracting people into exploring GameFi:
"We believe that blockchain can bring players unprecedented gaming experience, and blockchain also enables monetization for play to earn. One of our missions is to share profits from popular games with our game players in return for their continuous in-game efforts and support. Active participants will be rewarded."
Details governing ways to generate income via GameFi can differ. Initially, players typically put in an allocated amount of money to buy game characters or NFTs and later get paid in tokens for winning battles and completing quests.
HolyShxxt! 's community-based GameFi model slightly differs from other traditional models. Here, NFT holders can join the play-to-earn football management simulation game "so that all community members can collaborate and co-create their dream team" and winners will earn "Key0Coin" - tokens for subsequent rare NFT and special merchandise transactions in the future.
"The more players play the game, the more Key0Coin they may potentially get. The earned Key0Coin can be converted into new NFT and special merchandise that can only be bought with game tokens. The project aims to redefine the value of NFT instead of its revenue," HolyShxxt! told Blockchain.News.
The company also stated that their NFTs are artwork, not a mining tool with a stable 1:1 game token issue mechanism to prevent crypto scams.
According to Bloomberg, GameFi games can be extremely rewarding. Earning tokens in a game that grows in popularity can rise in value: in 2021, the price of AXS tokens from the popular GameFi game Axie Infinity went from 54 cents to $94, which implies that it could also be a form of currency speculation, it reported.
Although the major selling point of GameFi has been the accessibility for players to earn money and own assets, many proponents see it as a way for them to gain independence from traditional game makers. According to Bloomberg, GameFi products are governed by their communities of users who decide on things like new updates and fees.
HolyShxxt! said that for their football simulation GameFi "all major proposals of the project development will be made by ballot within the community."
Bright future for GameFi?
Venture capitalists have poured $4 billion last year alone into GameFi companies and according to DappRadar, the number of blockchain games grew to more than 544 active dapps by the end of 2021, up from about 200 the year before.
Among the many success stories, Hong Kong-based Animoca Brands - a blockchain game developer and investor in NFTs - reached a valuation of $2.2 billion after pulling in fresh capital from investors, including France's Ubisoft Entertainment and Sequoia China, in October 2021.
Following which the company said it plans to use the capital to fund strategic investments, acquisitions, product development and licenses for intellectual properties.
The company is popularly known for its play-to-earn blockchain games that allow players to collect and trade NFTs on its platforms. Among Animoca's most popular titles is The Sandbox, which is similar to the world-building video game Minecraft. But in The Sandbox, players can create and monetize in-game assets such as lands, wearables, and equipment.
As GameFi seems to gain value and popularity with new blockchain-based features slowly, many hardcore gamers have turned sceptical and begun to argue that game makers will exploit these features to milk them for money. These resentments among gamers have developed over the years as game makers have found various ways to profit from users by making them pay to upgrade characters or enhance their level of play inside the games, according to The New York Times.
Meanwhile, general sceptics believe cryptocurrencies and NFTs to be digital Ponzi schemes whose prices have been inflated beyond their true value. Also, questions regarding the long-term utility of the blockchain and cryptocurrencies have remained unanswered.
In recent months, many game studios have revealed plans to add NFTs to their games which could also potentially be transferred among games in the future, meaning an interconnection of game franchises that could affect gameplay. Many players have said that game publishers may see these moves as upgrades or updates to the gaming experiences but are actually blatant ways to grab cash from players.
Besides all the praises and criticisms, the overall crypto developments at this point are still young, and much remains to be unravelled. Still, the major factor that could change the future outlook is the regulation of the crypto sector.

(Co-contributed by 

Mervyn Kwan

)
Image source: HolyShxxt!
Korean Government Reportedly Asks Google and Apple to Remove P2E Gaming Apps
Read More