Matrixport's Evolved Enterprise-Grade Cactus Custody and Holistic Approach to KYT and AML Compliance
Exclusive Interview with Cynthia Wu, Head of Business Development and Sales, Matrixport Part Two- (Link - Part One)

Matrixport is a Singapore-based cryptocurrency startup which was launched by former Bitmain CEO Jihan Wu. Established in July 2019 with the goal to offer over-the-counter trading, lending and custody services for crypto, Matrixport boasts a systematic security model, global distributed infrastructure and business-focused security innovation capability to assure the security and reliability of users' assets.


Cynthia Wu is the Head of Business Development and Sales at Matrixport where she is also focused on building business for Cactus Custody and managing Matrixport's key investor relations.
In this second part of our exclusive interview, Wu tells Blockchain.News all about implementing and regulatory requirements of Cactus Custody and she also shares a piece of Matrixport's future roadmap.
Cactus Custody
Originating from Bitmain's proprietary custodian solution in 2017, Matrixport offers Cactus Custody, an evolved version, to safeguard assets for the industry. Cactus Custody is a qualified custodian and a Hong Kong trust company that meets the capital reserve requirement and acts within regulatory and Anti-Money Laundering (AML) guidelines.
Cactus Custody is an enterprise-grade crypto custodian and management system. It is like a financial management system, but for crypto. Wu said, "We provide the product, both via API and web portal, to allow our customers to be able to operate their business or manage their assets on our platform. Clients can use Cactus Custody to securely custodize their digital assets, to effect batch payment, to tailor-made risk management parameters (customized approval process, whitelist, withdrawal limits, alert and notification etc.). It's highly secure, and it is highly convenient and versatile to use. We made it intuitive enough so even the newbies to cryptocurrency won't find it difficult to use. We also support more than 18 crypto currencies and we also support fiat custody as well."
In terms of acquiring the license and meeting regulatory requirement Matrixport had to apply and meet the standard in Hong Kong and Switzerland, where they also operate under the name 'Chaintech'. Wu discussed the requirements of both geographies. She said "It took us about 9 months to get the license in Hong Kong, but the Swiss license took around half a year." Wu explained, "Regulators worldwide tend to put the most emphasis on AML guidelines as well as counter-financing of terrorism (CFT). So, you need to have a very holistic policy to reduce their concern and, to that end, they need to know about the procedures you have in place, both in house and when you communicate to a client, and how you would react to any suspicious transactions. Onchain transaction tracking or more often known as "KYT" (Know-Your-Transaction) is also an ever important area that regulators pay closer attention to."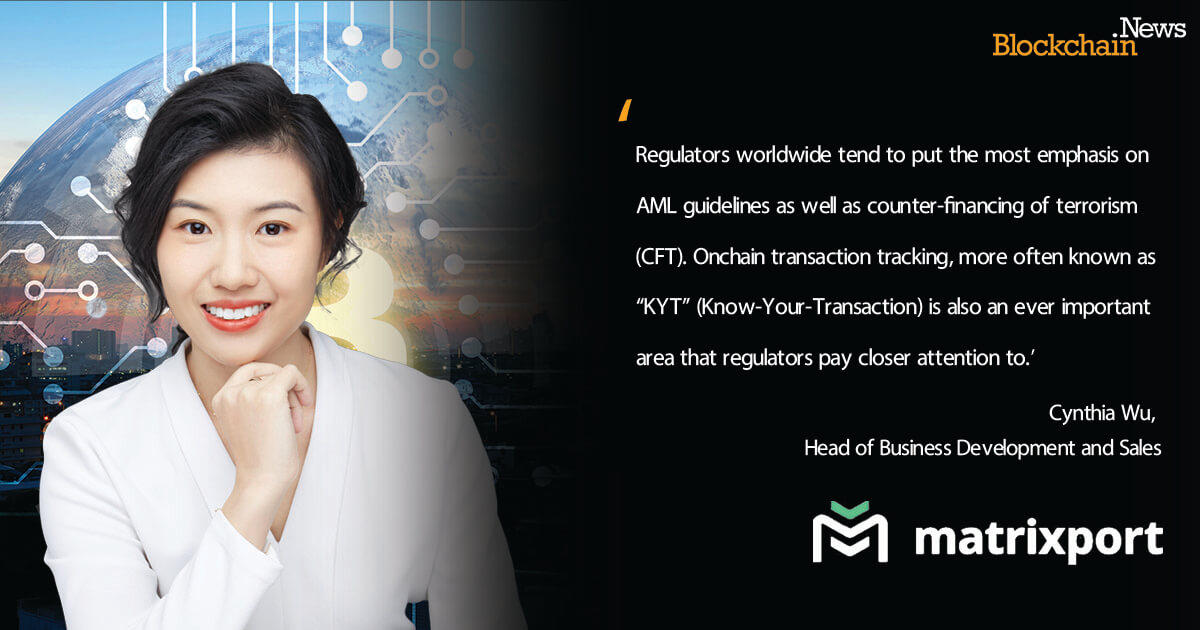 Hong Kong and FATF
Hong Kong is a member of the Financial Action Task Force (FATF). In June last year the FATF issued new guidelines on how digital assets should be regulated. A point that caused great concern and confusion for exchanges was the "travel rule,": which refers to section 7(b) in the Interpretative Note to Recommendation 15 in the FATF Guideline, which requires Virtual Asset Service Providers (VASPs) to collect and transfer customer information during transactions.
Wu said, "The regulators are studying the Travel rule and trying to come up with certain policies in their respective jurisdictions to govern VASPs, and that will have an impact on the benefits or costs of compliance of custodians and exchanges, and maybe OTC providers." She added, "For us, I think, in this existing regulatory environment, the most challenging part is getting our clients or potential clients to understand why they have to fulfill our regulatory requirements and how our compliance would be of benefit to them. Because for most people, it sounds like a burden, so our challenge is communicating with the clients and making them understand these guidelines are necessary."
The Road Ahead
2020 will be big year for Matrixport according to Wu who stated that the first year was mainly for the setting up of team and infrastructure, licensing and initial roll out of products to test the market. She said, "We have completed the initial product-market fit phase and business validations so now the question is how do we expand? Both in terms of further product innovation, branding and client acquisition as well as geographical expansion."
In terms of the custody product of Matrixport, Wu said, "We have already gained trust and traction in our first year. This year is about growing our AUM (Assets under management) and we have more functionalities that we know that the clients will need." She added, "Also very importantly, we will also be focusing on AML and KYT (Know your Transactions) - so on-chain transaction monitoring - that's going into be more and more important. The Regulator's will also start to look closer at if they don't have anything enforceable and don't have hard requirements, so it helps us remain on top of compliance."
For the lending products, Matrixport's main product is the collateralized loan. Wu explained, "Miners are typically unbanked but they need working capital to invest in more equiments/mining rigs, pay the electricity bills or build bigger mining farms so they need capital to make those things happen. So we provide them with funds, and use Bitcoin as collateral to pledge for those loans."
Wu and her team at Matrixport see a lot of opportunity surfacing in the market. She concluded our interview saying, "We see the perpetual contracts and the futures market growing fast and recently the options market is also taking off. The options market grew 10 times in 2019 compared to the volume in 2018. I think this year is going to be 10 times the size of last year very easily. It's going to be exponential. Matrixport is very active in the options market, providing risk management, hedging tools and structured products to miners and institutions. We are very positive on the market development and the way market infrastructures evolves in this asset class."
Read More