Bitcoin Bull Run Ahead? Understanding the Factors Driving Bitcoin's Price Growth
Bitcoin breached its key resistance of 7,300$ today. Block halving, change in economic supply and an Ichimoku Kumo twist are driving the price forward, let's take a look into how these factors are going to affect the price of bitcoin ahead.
1. Bitcoin Monetary Supply
The economics of the bitcoin system is computerized and thus we have knowledge about Bitcoin issuance over a period of time. This helps us understand the inflation rate of Bitcoin, its circulation in the open market, and how it would impact the price.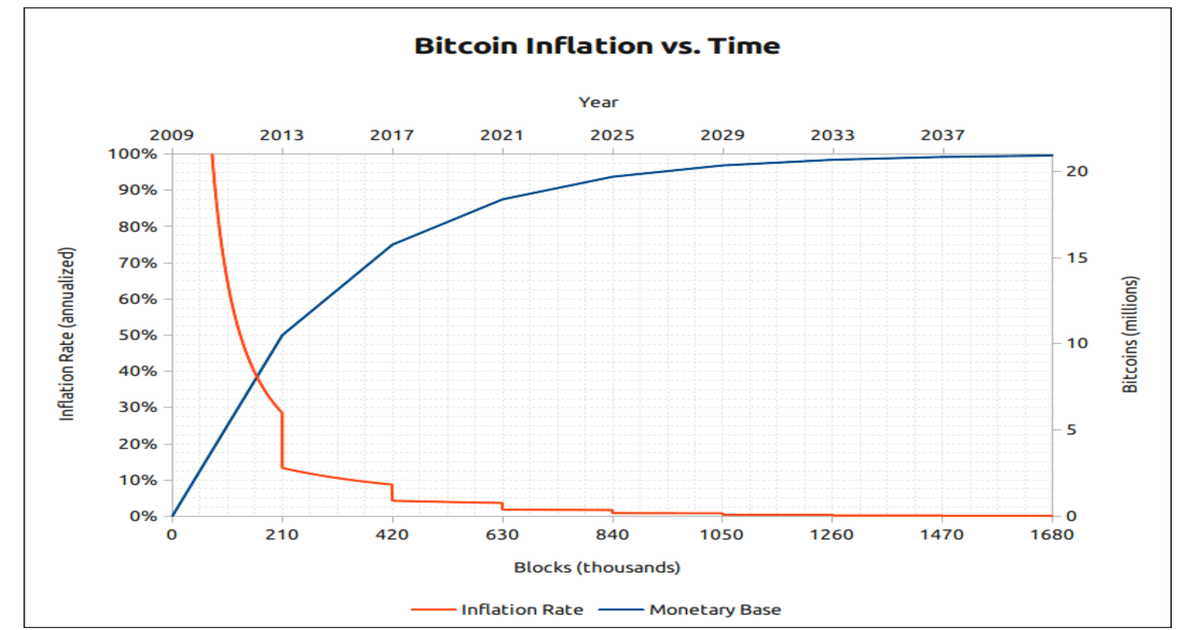 Source: bitcoinblockhalf.com
2. Bitcoin Supply Economics
Total Supply: 21,000,000 Bitcoins to ever be produced
Block Interval: 10-minutes time difference between each block.
Block Halving: Every 210,000 blocks or approximately every 4 years.
Change in parameter: Requires all Bitcoin participants to agree by consensus to approve the change.
Reduction in supply and block reward indicates that the inflation rate of Bitcoin is going to reduce significantly. This reduction in price leads to an increase in the value of each bitcoin, further based on historical price analysis we can see that Bitcoin has always rallied due to a halving changing its supply economics.
3. Bitcoin Historical Price Movement
What Bitcoin will do in terms of pricing for a halving event is always a question for everyone. Experts believe that halving is already priced in by the market and thus there's no expectation for the price to do anything. Others believe that due to price equilibrium, a halving of supply should cause an increase in price if the demand for Bitcoins is equal or greater than what it was before the halving event. The chart below provides a historical analysis of bitcoin's price movement.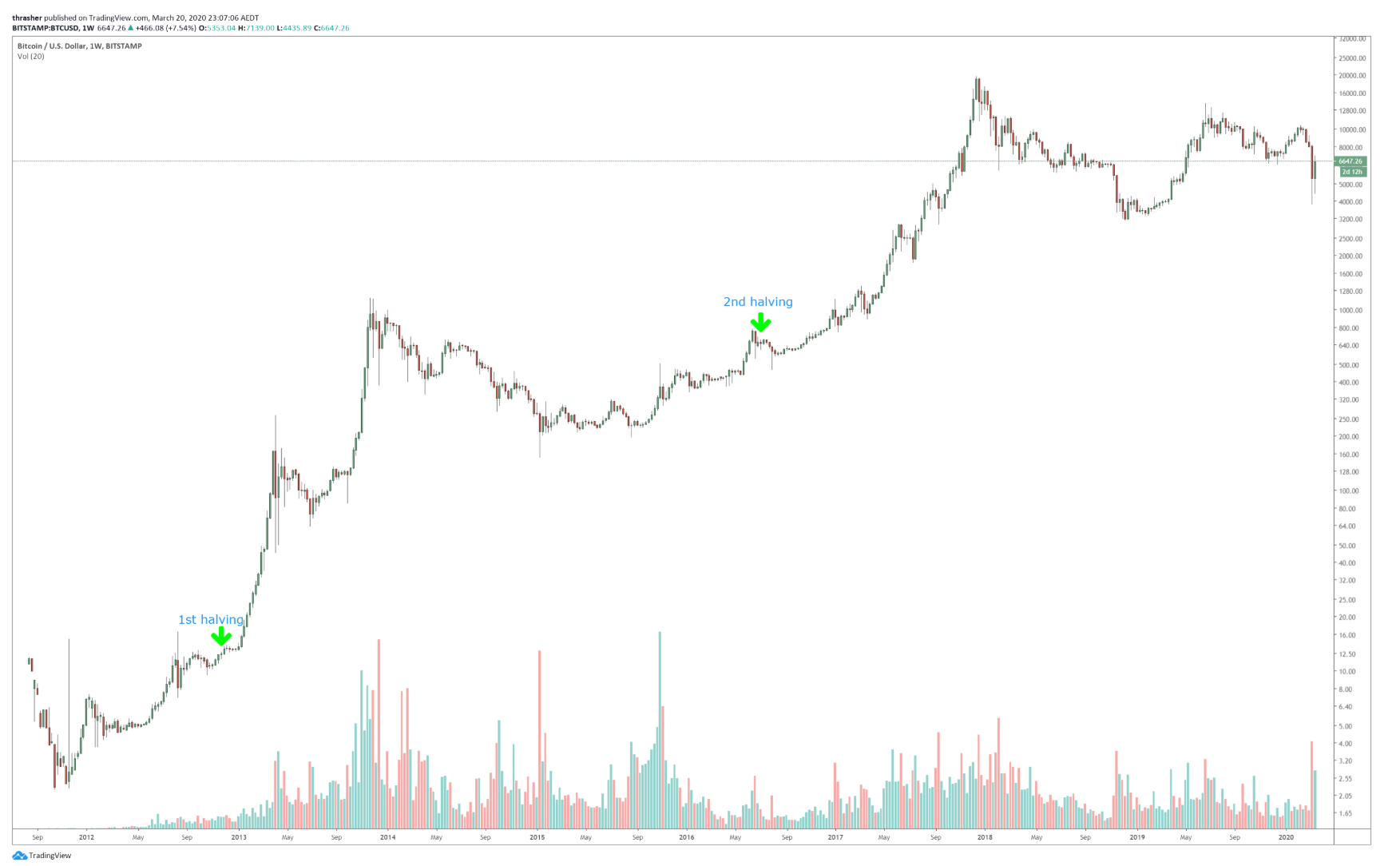 Source: bitcoinblockhalf.com
4. Ichimoku Cloud Twist
Ichimoku Kumo has turned bullish which means that the sentiment of the market has turned bullish, whenever Ichimoku cloud turns bullish bitcoin sees a continued bullish momentum.
With 18 days to halving, this is a very good sign for the market. Tenkan-sen is also supporting the price, indicating bullish momentum. Tenkan-Sen, also known as the Conversion Line, is the mid-point of the highest and lowest prices of an asset over the last nine periods. The Ichimoku cloud is a colored part of the indicator indicating a change in market trend which helps to identify the market trends.
The RSI also known as Relative Strength Index is a momentum indicator that measures the volatility of recent price changes to evaluate and identify overbought or oversold conditions. The RSI is displayed as an oscillator which line graph and reading between 0 to 100. Bitcoin RSI index is currently ranging between 60 to 40 and is showing a momentum towards 100. This means that the price is still not overbought and has room for an upward movement.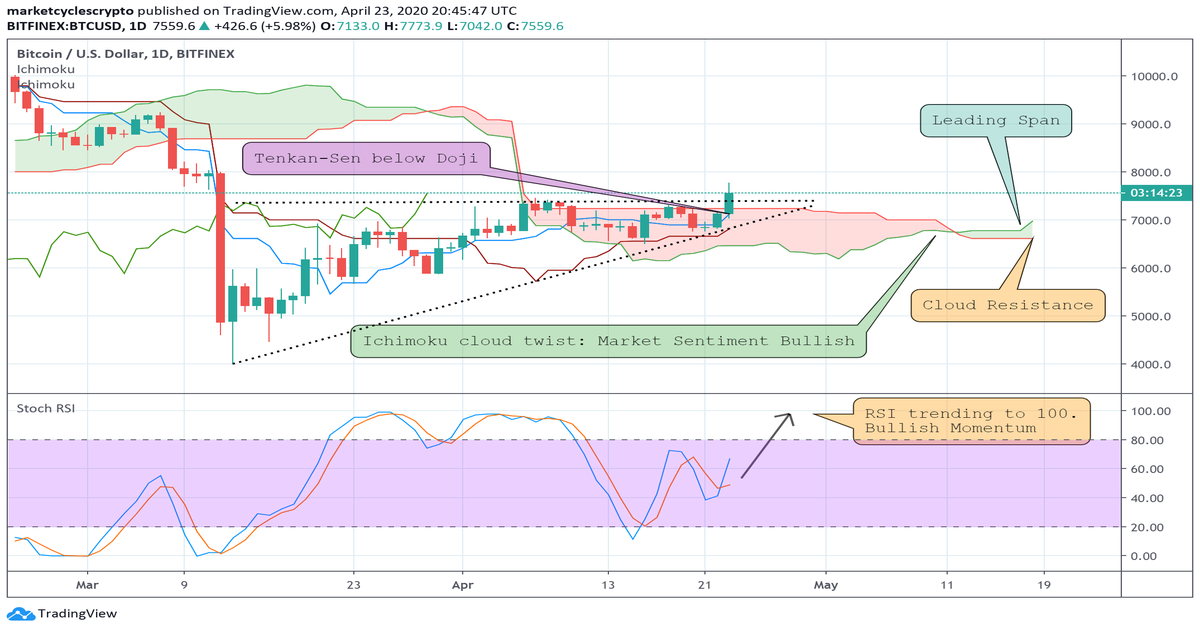 Strong fundamentals are driving bitcoin's growth. With a reduction in inflation, the price tends to move towards the equilibrium, and movement towards equilibrium indicates a bull run. These factors are going to drive the growth of bitcoin's price on a larger timeframe.
Image via Shutterstock
Read More