BTC Price Consolidates at $19,000, Will Bitcoin Reach $20,000 in 2020?
Bitcoin soared to over $19,400 last night, the BTC price coming within relative inches of creating a new all-time high before it fell sharply and is now consolidating under the $19,000 resistance level. Will we see Bitcoin reach $20,000 before 2021?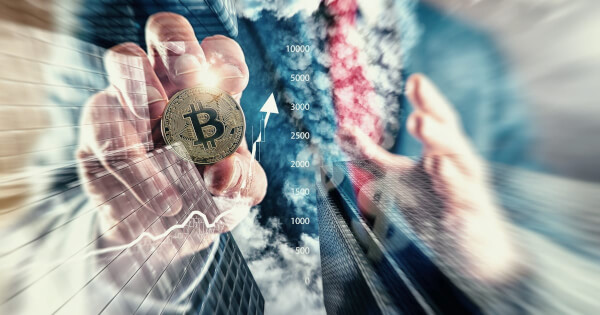 Bitcoin bulls were in complete control of the market as BTC rallied to over $19,400, along with the top ten altcoins—XRP price notable gained over 50%. While crypto traders were focused on Bitcoin potentially rising to $20,000, the traditional markets also had a good day with Dow Jones rallying by more than 400 points to secure a new all-time high at 30,046. The S&P 500 and Nasdaq followed suit by adding 1.6% and 1.3%.
Since the beginning of November 2020, the world's combined cryptocurrencies have added nearly $200 billion dollars in global market cap, with Bitcoin (BTC) leading the charge. Bitcoin's incredible bull run these last weeks is attributed mainly to the increased institutional investment.
In addition, Bitcoin and cryptocurrency prices have also benefited from global central bank stimulus measures and this week investors in the United States and Europe are also waiting to get a clearer picture of whether the Federal Reserve and the European Central Bank (ECB) plan to provide further economic stimulus to combat the resurging COVID-19 cases. The increasing likelihood of further stimulus seems to have provided the market with some confidence.
George McDonaugh, Managing Director and Co-founder of crypto and blockchain investment firm KR1 believes that the current Bitcoin narrative and fundamentals could push the BTC price to new record highs.
McDonaugh told Blockchain.News:
"The narrative from Central Banks around the adoption of digital currencies and major investment institutions diversifying into Bitcoin is driving the current interest and bull market, a narrative we expect to continue in future."
At the time of writing the Bitcoin price has fallen to $18,926 and given recent market momentum, many crypto traders a predicting it will breach $20,000 in the coming days. McDonaugh explained that this bull cycle is different from BTC's stellar price run in 2017, and few resistance points remain and there are fewer sellers in the market.
The KR1 Founder said:
"Bitcoin has spent 0.32% of its life at 16k and above, which means there were relatively very few buyers at that level back in 2017. Also space was smaller in terms of participants. This correlates to there being very few sellers at this level now, meaning there isn't a strong resistance band for the bulls to push the price higher."
McDonaugh says that the market may see some selling pressure from hardcore hodlers (people holding Bitcoin forever) should the BTC price break $20,000. He said:
"However, $20,000 is a far more a psychological barrier, so it is likely to be 'hodlers' (people holding Bitcoin forever) that may derisk at that level and produce some selling pressure. But given the comparatively small delta between where we are now at $16,000 and $20,000, it's likely hodlers will hold out until Bitcoin gets closer to its all-time high."
While McDonaugh is optimistic about the Bitcoin price, he admits he does not expect it to break its ATH until early 2021. He said:
"Be warned though, as we've seen so many times in the past, Bitcoin can surprise and if going by the cycle trading we're due a pull-back soon. I expect we don't reach $20,000 in this current move and consolidate before going again and breaking through in early 2021. That's how bitcoin has liked to behave in the past."
The Bitcoin price all-time high of 2017 is debatable. During BTC's price peak, major exchanges did not reach a consensus and BTC peaked around $19,892 on Coinbase while Binance had listed at $19,799. Rounding up the difference, $20,000 has become known as BTC's ATH to the common crypto trader.
Image source: Shutterstock
Read More