Cardano CEO Getting a OneCoin Vibe from Federal Reserve's 'Infinite Cash' Statement
In an interview given to CBS's 60 Minutes on March 22, 2020, Neel Kashkari, the President of Federal Reserve Bank of Minneapolis made a controversial remark after being asked to comment on how the state would deal with it if a situation like the 2008 financial crisis came again due the Coronavirus outbreak.
On being asked whether the Federal Reserve Bank is equipped well enough to provide money to all the banks if they needed to satisfy all incoming panic withdrawals, Mr. Neel Kashkari was quick to respond that this is the reason why Federal Reserve Bank exists.
"Yes. This is the fundamental reason the Federal Reserve exists.", said Mr. Neel Kashkari. He further added, "If everybody gets scared at the same time and they demand their money back, that's why the Federal Reserve is here, is to make sure that there's liquidity, that there's money to meet those demands."
Mr. Neel Kashkari further clarified his controversial statement by saying 'that's what Congress has told us to do'. He stated that they have been given the authority to print money and provide liquidity in the financial system by first creating it electronically and then printing it with the Treasury Department.
After the interview went live on the internet it received a wave of public criticism, one of the voice was the CEO of Cardano, Charles Hoskinson. He went on to tweet that the comments made by Neel Kashkari gave the US Dollar a real OneCoin Ponzi scam vibe.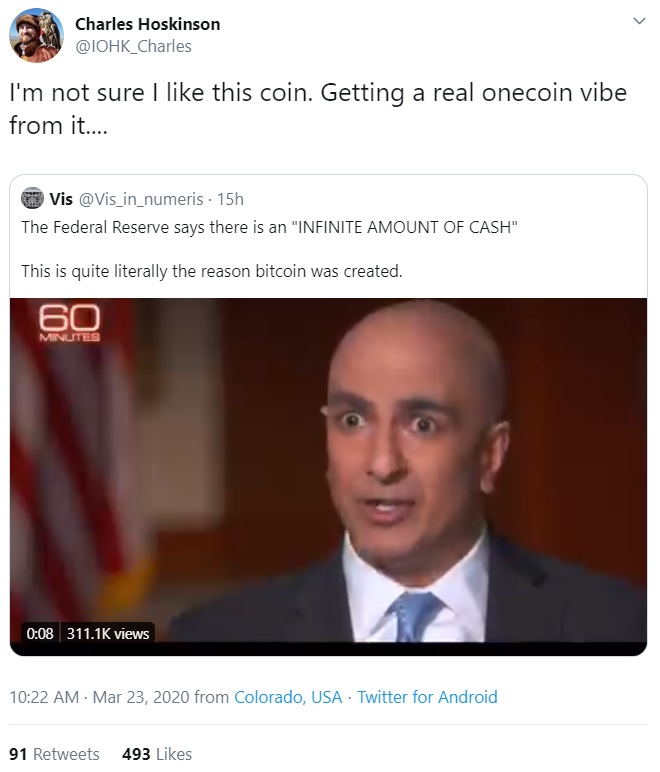 OneCoin was a Ponzi token scam that aimed to capitalize of the success and hype of Bitcoin. It is estimated that the scam costed its investors around $4 Billion as they had no idea that the tokens that they were buying had no value.
And it wasn't just the CEO of Cardano but also other cryptocurrency experts like Anthony Pompliano and Changpeng Zhao who took a dig at Neel Kashkari's comment.
Anthony Pompliano, co-founder of Morgan Creek Digital tweeted, "History tells us that this is not sustainable long-term for a currency."
"Ever heard about 'supply, demand and price'? What happens to price when you have infinite supply?", tweets CEO of Binance, Changpeng Zhao.

Image via Shutterstock
Read More