Carl Icahn: Possibly Get Into Cryptocurrencies up to $1.5B in a 'Big Way'
Billionaire Carl Icahn, an American business tycoon, revealed that he might get into the cryptocurrency market up to $1.5B in a big way, who was sceptical to Bitcoin-led cryptocurrency before, according to Bloomberg reported Thursday.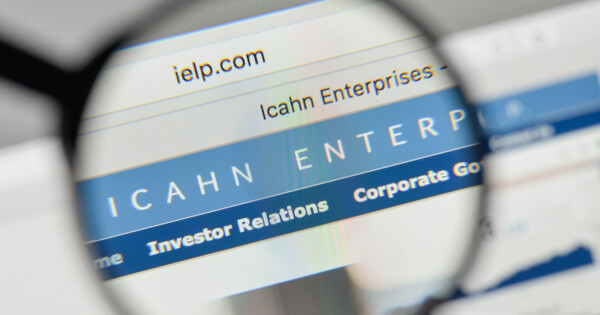 As of the 2021 Forbes listing, Carl Icahn, as the founder of Icahn Enterprises (Icahn Enterprises), an investor and former advisor served for Donald Trump's administration, has a net worth of up to $15.6 billion. He also said that he is planning a huge investment to enter the crypto market, saying that:
"I mean, a big way for us would be a billion dollars, billion-and-a-half dollars ... I'm not going to say exactly."
According to Bloomberg News, Icahn has not purchased any cryptocurrency assets yet but studying Bitcoin (BTC), Ethereum (ETH), and the entire crypto industry and the value behind it to find the most suitable investment opportunities and said that if he enters the market, he will not just buy a few coins and some simple things like that.
Carl Icahn stated that:
"Much of the cryptocurrency issued today will not survive, but we believe cryptocurrency in one form or another might be here to stay. To be clear, we have never bought any cryptocurrency, but we are studying it."
However, there are some doubtful voices raised from the market. For instance, Mythos Capital founder Ryan Adams, a staunch ether supporter, expressed hesitation on Carl's behaviour on Twitter, thinking that he might actually have already entered the market:
"If Carl Icahn hasn't already bought a billion dollars worth of ETH and BTC, why would he announce he's about to buy a billion dollars worth of ETH and BTC."
Founder of MicroStrategy tweeted: "Maybe Carl Icahn will be the first Bitcoin Terachad."
Since then, Carl Icahn has also joined the track of billionaires investing in the digital currency market, following the CEO of Tesla Elon Musk, the CEO of Global Macro Investor and Real Vision Group Ray Dalio, Founder of MicroStrategy Michael Saylor, owner of the National Basketball Association's (NBA) Dallas Mavericks Mark Cuban, etc.
In addition, activist investor Mark Cuban, an American billionaire entrepreneur, further expressed his support for the crypto market-listing Polygon network on his companies website as one of his holdings on Wednesday.
Image source: Shutterstock
IT Firm Globant Purchases Bitcoin for $500K as the Latest Institutional Investor in BTC market
Read More