Coinbase Crashed Amid Bitcoin Price Surge
On April 30, Coinbase, one of the biggest crypto exchanges in the world crashed during the Bitcoin price surge where it skyrocketed from $7,700 to $9,200 within a matter of 24 hours.

The Coinbase website showed the status of 'partially degraded service' while it was not operational. The co-founder & partner of Morgon Creek Digital, Anthony Pompliano went on to Twitter and tweeted, 'Coinbase has crashed as Bitcoin skyrocketed today'.

The users were also quick to take the issue on Twitter and posted screenshots with the intent of getting it fixed soon.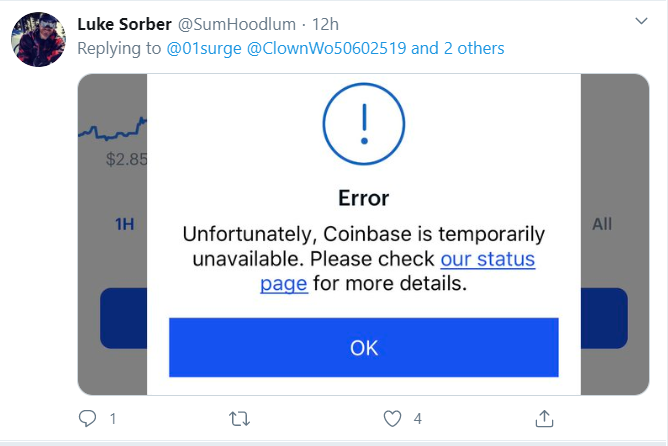 "The Coinbase Pro web and mobile apps are experiencing connectivity issues. A fix has been implemented and we are monitoring the results.", a press release from Coinbase.
The Timing Says it All
On March 13, 2020, Bitcoin took a hard hit when its price crashed to as low as $3,500 before it later bounced back to $4,500. However, after a series of external stimulus from the European Central Bank (ECB) by launching €750 Billion Pandemic Emergency Purchase Programme (PEPP) and Bitcoin halving hype, Bitcoin, in the last 24 hours has gained a 19% jump in its price and is currently being traded at $9,250.
During such high price fluctuations, crypto exchanges often tend to crash due to high trading volumes and traffic on their servers.
Similar Events
This isn't the first time that Coinbase has gone down. A similar incident took place on December 17, 2017, when Coinbase servers crashed which coincided with the Bitcoin price dropping 40% to $12,000 after achieving its all-time high of $20,000.
BitMEX, the crypto derivatives exchange faced a similar situation where its servers weren't able to handle the overabundance of users which eventually jammed their operations.
Image via Shutterstock
Read More