Crypto Assets Mark Cap Continuously Sinks by $200bn
The market cap of the crypto asset continuously lost $200 billion within a day. Bitcoin suffers from bear market sentiment, breaking $26,000 to its lowest level in 16 months.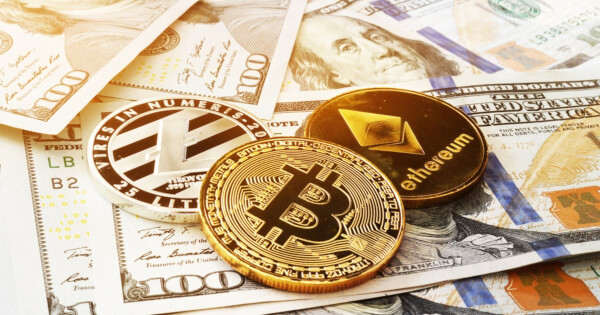 According to Coinmarketcap, the current cryptocurrency Market Cap records $1,302,616,717,916.
The cryptocurrency market cap had hit a low of $1.4 trillion on Tuesday, well below its all-time peak of $2.9 trillion last November.
U.S. inflation data showed that prices for goods and services rose 8.3% in April, near their highest level in 40 years.
Investors are fleeing cryptocurrencies en masse as the U.S. hikes interest rates by 50 basis points to hedge against inflation. U.S. stocks also suffered a slump.
The price of Bitcoin plummeted to $26,700 on Thursday. This is the first drop below the $27,000 level since December 26, 2020.
Bitcoin then rebounded, at the time of writing, BTC rose 6.51%, and its trading price was $30,501, standing above the key technical level - $30,000.
Ether, the second-largest digital currency, fell to $1,800 per coin, which is the first time the coin has fallen below the $2,000 mark since June 2021. Ether has since regained lost ground and was the last trading at $2,084, up 3.4 %.
According to CoinGecko data, the cryptocurrency market was stunning because of the stagging plummet of LUNA, as its value almost lost from an all-time high of $119.18 on April 5 nearly a month ago to an all-time low of $0.027 on May 12, losing over 99%.
Also, the issuer of LUNA- the peg of TerraUSD (UST), the world's fourth-largest stablecoin owned by Terraform Labs, lost its peg to the U.S. dollar, plummeting to an all-time low of $0.29 on May 11.
The Luna Foundation Guard is selling its billion-dollar bitcoin holdings to prop up its troubled stablecoin.
The collapse of UST has led to concerns that the market will spread to the rest of the dollar-pegged stablecoins. If a large-scale withdrawal occurs, it is likely that the remaining stablecoins such as Tether will not have enough reserves to support their dollar-pegged.
Image source: Shutterstock
Terra Erases 12 Months Bullish Gains with 94% Drop in Value
Read More