Crypto-Integrity-Tao—The Books And Convention That Will Change Everything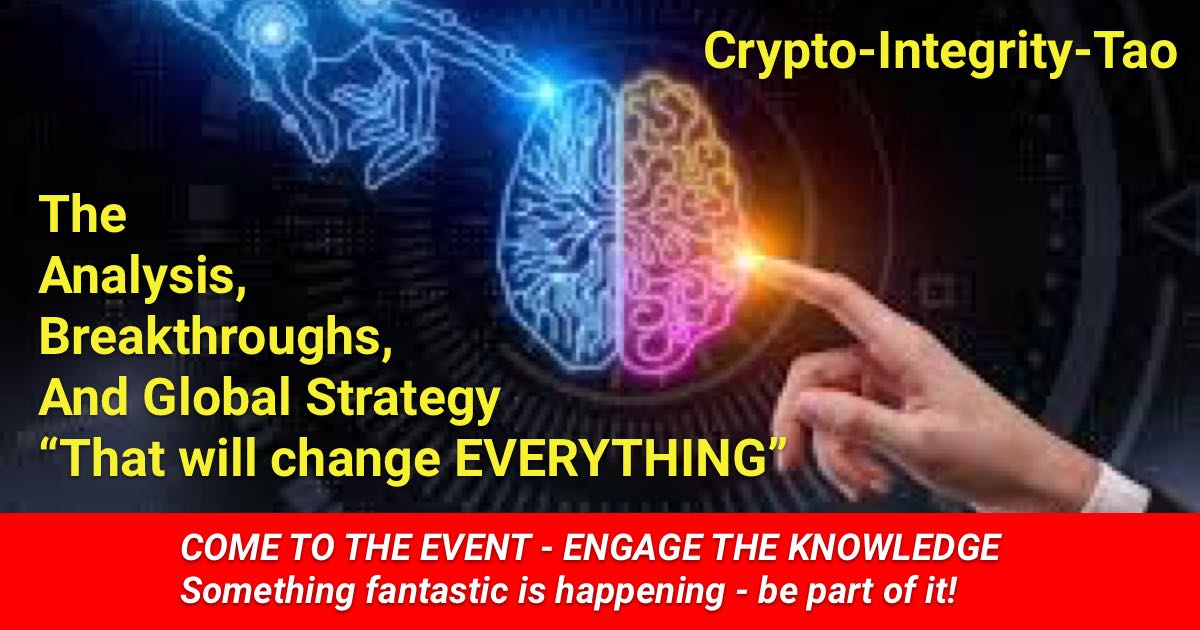 For the first time in technological history, with Blockchain humanity is creating an "Organism-Environment" and a few innovators and futurists are aware of this fact. It will begin this year and deliver incredible rewards, releasing the "spirit" of Blockchain Intersections in a 5G world.
This Crypto-Integrity-Tao seminar will not be like any seminar you ever attended before. You will leave knowing more about the true potential and future of Blockchain than any person not attending. The books present the full potential of Blockchain beyond current imagination. The event, books, and Membership launch this era now.
What Blockchain in all its forms needs most is to be defined – to be based upon something proven – and for that definition to share a common language and nurture with human "meaning." Meaning is the emotional and psychological gravity that individuals value enough to alter a lifestyle to embrace a new interface on this scale.
Crypto-Integrity-Tao dedicated 4 years to discover breakthrough Blockchain correlations in Physics, Astrophysics, Neuroscience, Biology, Geology, the Humanities, and Mathematics that open the door to ruling the potential in DLT and DeFi assets. As one of the great innovators in Blockchain said, don't spend a dollar on marketing until you have a valuable product to deliver. Crypto-Integrity-Tao has almost 100 "Deliverables" – Strategy, Games, Films, I.P. Content, Apps, Patents, and Streaming with fantastic R.O.I. and Brand value.
Delivering the future "now" required over 1,900 pages of inter-connected analysis, breakthroughs, and global regulation strategy in 6 big books. Compare that with the usual 80-page annual report by global leading consulting firms paid tens of millions for, and you get an idea of how Crypto-Integrity-Tao dwarves anything presented before in any event or analysis.
If you can't define it, you can't measure it – if you cannot measure it, you cannot control it or exploit its full potential. Be among the first to truly define and maximize Blockchain DLT and all its DeFi forms.
Leaders that intend to uplift humanity, present beautifully designed innovations, make the technology arenas more secure, associate this with their company Brand and profit from it through their own innovations must view all that is related to Blockchain from a more evolved perspective.
From this Crypto-Integrity-Tao seminar will walk those few leaders that dominate Blockchain Intersections in their 5G-energized Edge Technologies of IoT, Virtual Reality, Augmented Reality, Big Data, and Games.
To ensure your long-term dominance, discover S.G.D.A. – the Sustained Global Disruption Advantage. Crypto-Integrity-Tao is equal parts Edge Science, Philosophy, Strategy, Media, and instant Rewards. Find out how these 5 parts function together not as fingers pointing to a distant future but instead function as "The Mental Hand" capable of grasping the powerful innovative tools to build this virtuous, balanced, secure, visionary, game-changing, and spirited Organism-Environment today. Find out why experts around the world that saw only 20 slides in a PowerPoint said the following:
"You have written the Bible for Blockchain."
"This will change everything."
"Whoever has this will dominate their world of Blockchain."
"I'm an expert, and you made me feel as smart as a bug."
This event and these books are more than a seminar and clues … they are a joyride through awe.
Find out what all this means – what this really can mean for finance, technology, and humanity! Attend this never-before-experienced limited-seat convention and integrate the breakthroughs in the books to dominate your field.
Learn more and see a teaser of the expanse of knowledge soon to be released by visiting
WEBSITE:
Image source: Crypto-Integrity Tao
This is a paid press release, the views and opinions expressed in this article are those of the contributor and Blockchain.News does not endorse and is not responsible or liable for any content, accuracy, quality, advertising, products or other materials on this page. Readers should conduct their own research before taking any actions related to this company. Blockchain.News is not responsible, directly or indirectly, for any damage or loss caused or alleged to be caused by or in connection with the use of or reliance on any content, goods or services mentioned in the press release.


Read More