Crypto Market Loses Around $170 Billion in the Last 24 Hours as Bitcoin Price Drops
After enjoying a remarkable bull run in recent weeks that saw the crypto sector's market capitalization surpass $1 trillion, many cryptocurrencies have since pulled back. This has resulted in the crypto market plummeting by nearly $170 billion in the last 24 hours as leading cryptocurrencies Bitcoin (BTC) and Ethereum (ETH) tumbled by 13% and 16%, respectively.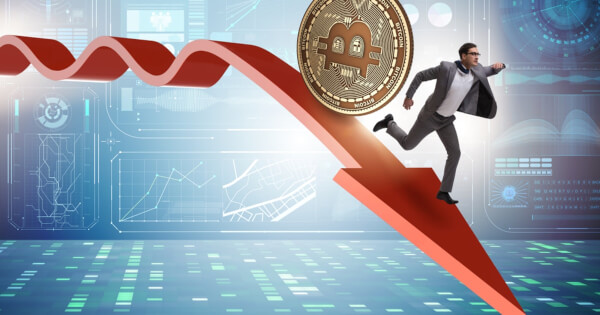 A sell-off was inevitable
Bitcoin has been witnessing wild price swings, which made it breach the $40,000 level for the first time in its twelve-year history. Nevertheless, a looming correction was imminent as its price has retracted to $33,514 at press time, according to CoinMarketCap.
Market Insights provider Unfolded had previously remarked that caution was not to be thrown to the wind because BTC's levels had become euphoric; hence a downward push was inevitable.
These statistics point to the fact that the crypto market had witnessed a huge rally, and a sell-off was unavoidable based on the profit-taking tendencies by some investors. Vijay Ayyar, Luno's head of business development, noted:
"It's to be determined whether this is the start of a larger correction, but we have now seen this parabola break, so it might just be."
Yields boost the US Dollar
Bitcoin's price rally has been dented because the rising US yields have enhanced the dollar broadly. Research shows that BTC and the dollar have an inverse relationship. For instance, as Bitcoin surged by more than 295% in late 2020, the US Dollar Index (DXY) slipped to a 32-month low.
The current price correction in the crypto market has made its market capitalization tumble to $943.57 billion from a high of more than $1 trillion.
However, Alex Kruger, a popular economist and crypto trader, recently disclosed that BTC's price would likely never trade below $20,000 again as the size of market corrections are expected to diminish sharply. With institutional support of corporates such as MicroStrategy and Square backing Bitcoin, it is likely that Bitcoin's current price correction is temporary, and the cryptocurrency is undergoing a momentary pullback before surging ahead.
Image source: Shutterstock
Read More