Ethereum Price on the Verge of Surpassing its All-Time High of $1400, Bitcoin Consolidates
Ethereum's price has been on the rise, up 11% in the last 24 hours. On its end, Bitcoin has been consolidating and trading above the $35,500 level.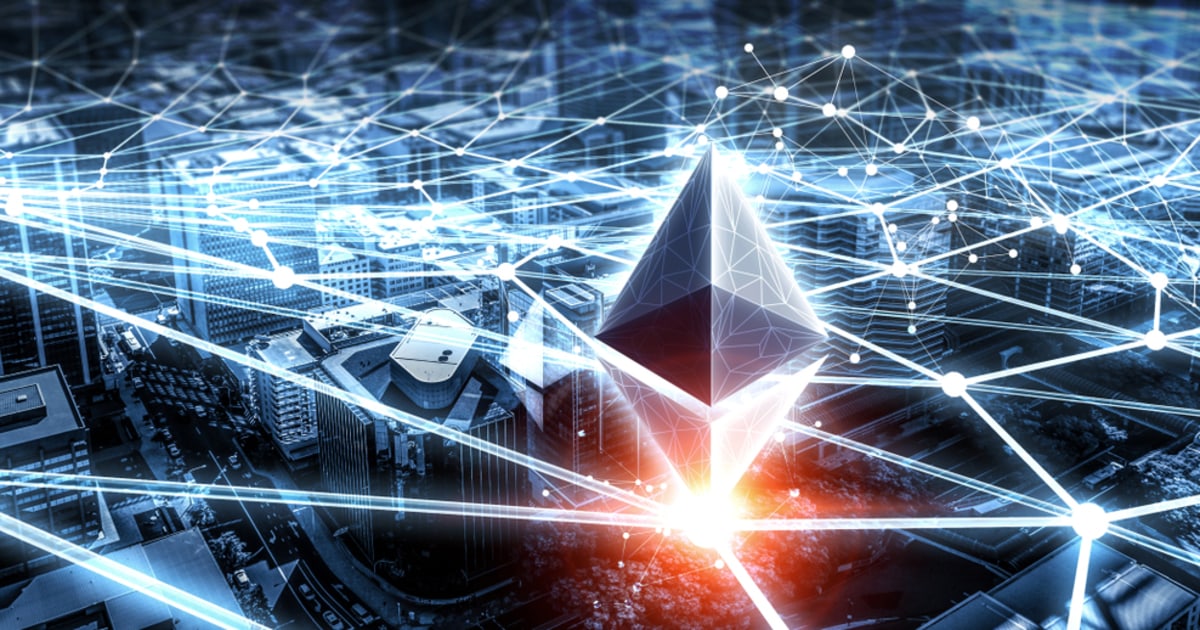 The mainstream cryptocurrency has cleared the 20-day moving average, and currently, it has been unclear whether it is in the bull or bear market. Both ends have been struggling to gain control. Over the weekend, Bitcoin fluctuated between $34,900 and $37,850, with whales buying the dip. According to JP Morgan strategists, Bitcoin needs to break above $40,000 soon or the cryptocurrency could be hurt by "trend-following investors." However, overall, market analysts still perceive Bitcoin's bull run to be positive overall.
Ethereum (ETH) is also displaying bullish momentum, and may soon be hitting a new all-time high, above its previous price record of $1400. Currently, the second-largest cryptocurrency by market cap has been trading at $1,329.70 on CoinMarketCap. According to a pseudonymous crypto trader, Ethereum is on the verge of surpassing its previous all-time high of approximately $1400. He said:
"$ETH is now only a little over 5% away from making a new all-time high."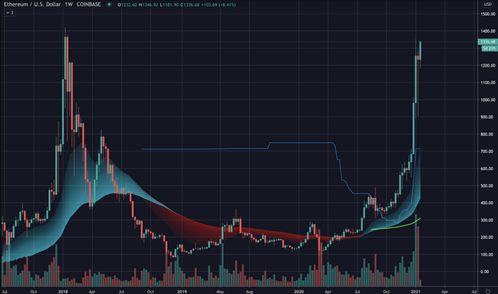 With Ethereum's daily transaction on the rise, market sentiment around ETH has been positive, and this may serve to carry the cryptocurrency to new heights.
Additionally, the decentralized finance (DeFi) sector, which relies heavily on the Ethereum ecosystem, really took off in 2020, and innovation surrounding new protocols are expected to grow considerably in the near future. DeFi tokens such as AAVE and Polkadot (DOT) have been performing bullishly on the market, with DOT recently outperforming XRP and claiming the spot of third-largest crypto by market cap.
Ethereum likely to surge and hit $20,000
Many in the cryptocurrency community seem to think that Ethereum may potentially surge even more than Bitcoin in the future, as the blockchain network has a lot of projects underway. Currently, Ethereum 2.0's phase 0, featuring the Beacon Chain, is in development. The upgrade will gradually introduce a new proof-of-stake consensus to the ecosystem.
Wall Street veteran Raoul Pal had also said that the Ethereum market capitalization is growing faster than Bitcoin when the mainstream cryptocurrency was at the same point. Pal also suggested that in this bull cycle, Ethereum's price may likely hit $20,000, with an even bigger market capitalization.
Image source: Shutterstock
EIP 1559 — ETH 2.0 and the Scarcity of Ethereum
Read More