EY Ops Chain: Bringing Transparency and Accountability to Public Finance Management
Exclusive interview with Jimmy Ong, Ernst & Young: Part 1
Governments utilize enterprise resource planning (ERP) tools to track public finance nowadays, however, how can we ensure the tracking of public funds is transparent and accountable to the general public?
Ernst & Young (EY) has been the leader in using blockchain to track public finance. Its flagship product, EY Ops Chain made its debut in 2017 which has been widely adopted across the areas of public finance and supply chain management. In Apr 2018, EY brought blockchain into its audit business with the EY Blockchain Analyzer, which helps auditors to interrogate the data and perform analysis of transactions, reconcile and identify transaction outliers.
Blockchain.News sat down with Jimmy Ong, EY Asia-Pacific Blockchain Leader to take a deep dive in EY Ops Chain and EY Blockchain Analyzer. In particular, we explore how EY Ops Chain facilitates a more transparent public finance tracking. Ong also shared an interesting use case when EY Ops Chain enables the tracking of blood in Canada.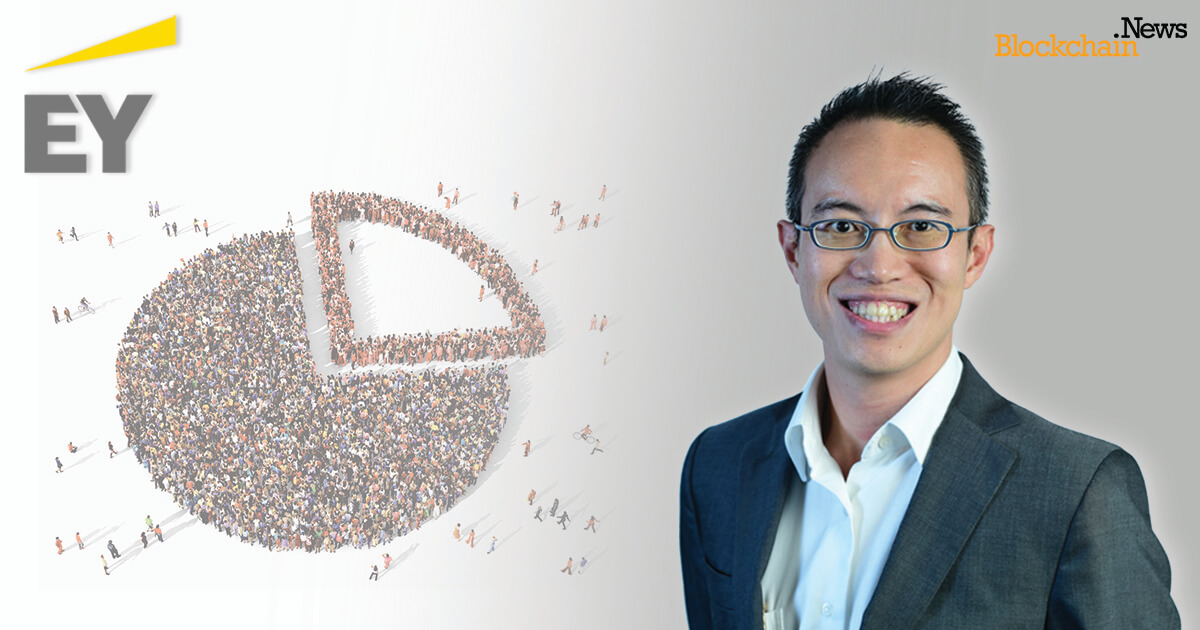 What would you say is the main impetus behind the formation of the EY blockchain team and when did EY first begin experimenting with the technology?
At EY, we are constantly evaluating and innovating with new technologies to ensure we understand how these solutions can solve real-world problems for our clients. Our mission is to build a better working world and bring digital transformation to the forefront. This includes experimenting with and using emerging technologies – like blockchain – when applicable. We see blockchains as universal business infrastructure that will integrate business ecosystems.
On the website of EY, the immediate quote is that "blockchains will do for networks of enterprises and business ecosystems what enterprise resource planning (ERP) did for the single company". Could you expand on this core concept for our readers?
EY has a clear vision and strategy for how blockchain is digitalizing and integrating supply chains by knitting together business operations and finance at the ecosystem level. Blockchain does that through tokens and smart contracts.
Blockchains allow for a level of digital collaboration previously thought unfeasible. Using blockchain, we now have a technology-based business infrastructure that enables enterprises to transact between each other using shared business logic and shared business data.
We see blockchain playing a very important role enabling enterprises to complete the purchase-to-pay (P2P) lifecycle – from contracting, ordering, fulfilling, invoicing to handling payments in a more accurate, efficient and more secure manner.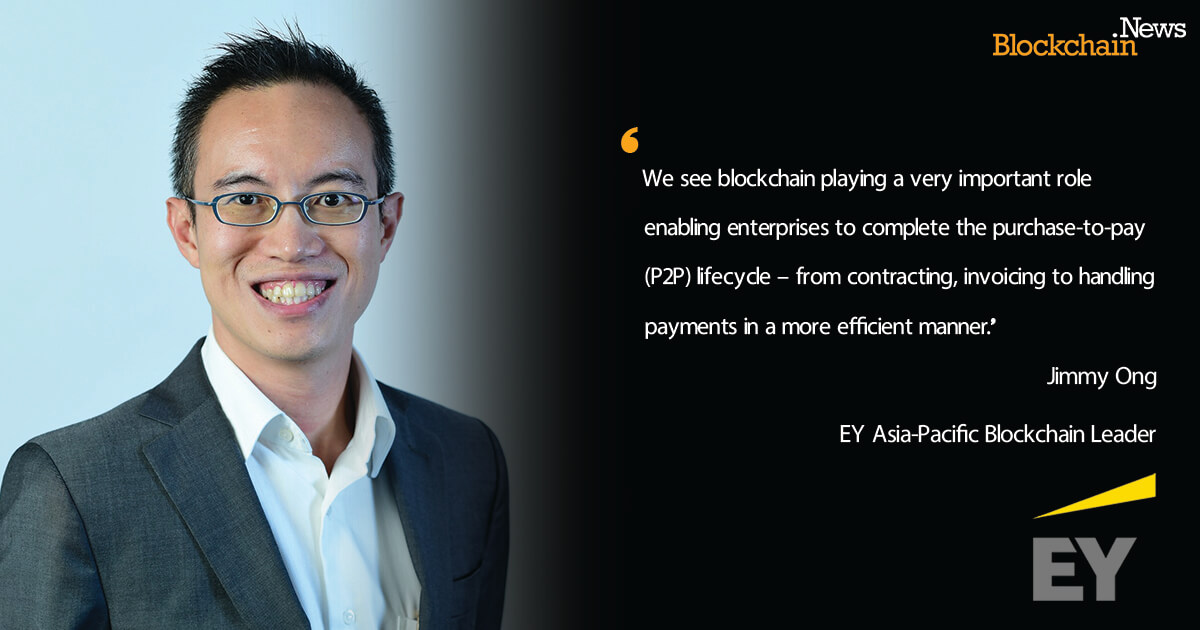 EY OpsChain: Use Cases
Which areas of blockchain applications are the focus of the EY blockchain team? Can you share some examples with us?
At EY, we focus on two blockchain platforms: EY Ops Chain and EY Blockchain Analyzer. EY Ops Chain helps organizations conduct business on private and public blockchains. EY Blockchain Analyzer helps organizations get insights into what happened on the blockchain. We see these two platforms as complementary as the first enables enterprises to conduct business transactions on the blockchain while the latter allows for enterprises to analyze them.
EY OpsChain
Using EY Ops Chain traceability, we have enabled our clients to track numerous assets along the value chain such as wine, chicken, and animal vaccines. Earlier this year, we brought EY Ops Chain traceability to one of the world's most important services: blood service operations. We worked with the Canadian Blood Services (CBS) to track blood from 'vein to vein.'
The blood registry had a desire to augment the donor base and utilize emerging tech to optimize the management of Canada's blood product supply and inventory. Implementing EY Ops Chain traceability would help reinforce the partnership in Canada between donors, hospitals, patients, ministries and CBS employees by bringing them all on one platform.
For tracing blood from 'vein to vein,' the solution starts with the donor where the bag of blood is scanned and tagged, monitored along the logistic journey, tracked as it's processed into additional products including plasma, cells and platelets. Once the blood product is ready for recipient use, the bag is then scanned for the final time closing the loop.
The results were improved transparency and donor engagement, enhanced end-to-end management along with the key process steps from collection, CBS transport, production/testing, storage, hospital transport and storage, leveraging data and technology to support research and seek improved patient outcomes.
EY Blockchain Analyzer
EY Blockchain Analyzer is all about linking the blockchain with enterprise transactions and real-world assets. The platform can integrate with a multitude of sources and provides useful tools to perform blockchain analytics, audits, and tax processes. We use the EY Blockchain Analyzer for our audit engagements where the enterprise has transactions on the public blockchains such as Bitcoin, Bitcoin Cash, Ethereum, Ethereum Classic and Litecoin. EY Blockchain Analyzer helps with transaction monitoring, tax calculation, token and smart contract testing. The technology can also support zero-knowledge proof (ZKP) private transactions and connect with private Ethereum, Quorum, and Hyperledger blockchains.
EY OpsChain: Public Finance Manager
In Oct 2019, EY has launched the OpsChain Public Finance Manager (PFM) in tracking public funds. Can you share with us the pilot testing result in Toronto?
EY Ops Chain Public Finance Manager helps governments allocate taxpayers more effectively. The solution's aim is to drive transparency, eliminate reconciliation and enhance the decision-making ability of governments for the financial management of public funds. EY first implemented our solution for the City of Toronto and it is now being piloted worldwide. The city's financial management transformation efforts lead to the blockchain-based solution for better managing reconciliations and interdivisional fund transfers between different agencies.
Results are being measured on an ongoing basis but early signs point to a more accurate availability of reporting measures for management decision-making. Decision-making authority has a consolidated view of funds along the chain in real-time. Administrators now have synchronized transactional and reporting data across participants. The product has reduced administrative costs and allowed for the reallocation of resources to high-value-add activities.
It is claimed that the PFM can track government fund movement through different state agencies, which also means different state agencies need to share their own data to the blockchain for transparency. What are the challenges to gather public fund data from different state agencies?
Governments, municipalities, and the many agencies related perform the essential public services to empower the communities of which they serve. That being said, the IT landscape and digital maturity of authorities can differ drastically among them.
Our solution makes it easy to integrate with a wide range of ERP and other financial reporting systems to help alleviate the siloed and out-of-sync data problems that plaque most governments and enterprises alike.
Read More