How Triffic is Gamifying Advertising for Local Businesses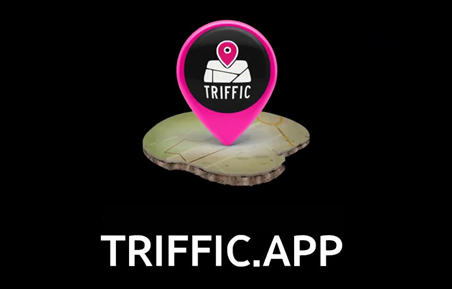 Entering the world of cryptocurrency can be a daunting prospect for newcomers, with several practical and psychological barriers to overcome. Most people who've heard of Bitcoin are aware of its notorious volatility, and in some cases, of negative headlines associated with cryptocurrencies, such as the risk of hacks and losing private keys.
Even for those willing to look past the front-page risks, there's a whole heap of jargon and insider knowledge that comes with being a cryptocurrency user, not to mention all the technicalities of blockchain technology. Even at this point in 2020, when the user experience is starting to improve, these barriers are still very real and off-putting to the extent that mainstream adoption remains some way off.
Triffic is one example of a blockchain-based application that removes many of the hurdles to cryptocurrency adoption. It combines a fun, augmented reality smartphone game akin to Pokémon Go with an advertising platform that can be used by local businesses to attract people to shop with them.
It makes it easy to accumulate cryptocurrencies without navigating all the complexity of exchanges and fiat onboarding. And it incentivizes users to get out and about, exercising in the fresh air.
What is Triffic?
It's an augmented reality game that users navigate using a map interface. Users can earn Triffic's GPS tokens simply by walking around with the app's location services enabled. They simply need to watch a short ad video to top up with "fuel," and the tokens start accumulating once they start moving.
If you've heard of geocaching or Pokémon Go, then you'll be familiar with the concept behind Triffic's Beacons. Within the game's map interface, Beacons show up in certain locations, and users can earn even more GPS tokens by finding them. Beacons come in multiple types, including gold, silver, and bronze, which contain various quantities of GPS tokens. Users can also increase their GPS earnings by increasing their usage of the Triffic app. There are also several ways people can spend their GPS tokens. For instance, Donation Beacons allow the user to make a donation to a particular cause. Triffic used this feature to fundraise for COVID-19 relief in 2020.
Because Triffic uses the phone's location services, it allows local businesses to take advantage of location-specific advertising and promotional services. So if a user is beacon-hunting in a particular neighborhood, they might see an advert for a local coffee shop. Businesses can even create their own branded Reward Beacon.
So using the coffee shop example, the shop owners could place a Reward Beacon in a nearby location offering a free pastry with each takeout coffee. They can also offer GPS tokens as reward points and have the option to accept them as payment or part-payment for goods and services in-store.
Benefits for Businesses and Users
Triffic appears to have hit upon a win-win model for businesses and users. The AR game taps into the vast global appetite for mobile gaming, which market analysts NewZoo estimates is currently worth over $70 billion each year. However, unlike most games, users can be rewarded in GPS tokens that have a real-world value. It also overcomes many of the barriers for new users wanting to get into cryptocurrency by providing a fun way to accumulate tokens without needing to use a cryptocurrency exchange. Users who want to up their exercise can also use Triffic as a motivational tool.
It also creates a highly targeted way for local businesses to gain access to potential customers with offers and rewards that isn't available via any other platform. A company could pay for Facebook advertising, but Facebook simply serves up the ad based on the duration and frequency paid for by the business. With Triffic, a business can place a Partner Beacon within a minute or two of their actual location, knowing that customers are in the vicinity when they see it.
What is Triffic's Business Model?
Of course, Triffic has to be able to monetize the platform itself to fund future development and ongoing operation. Therefore, the app makes revenues from its own GPS tokens. These come from three channels – from a share of advertising revenues, from in-app subscriptions for account upgrades, and from a share of revenues from Partner Beacons.
Triffic is developed on the Ignis blockchain, the main child chain of the Ardor blockchain. Ignis offers out-of-the-box features that allowed the team behind Triffic to get up and running with a blockchain-based application without having to develop their own platform. Triffic plans to migrate to its own dedicated Ardor child chain in 2021 as part of its expansion plans, which include extending GPS rewards to ridesharing and food delivery apps.
However, it's currently one of three promising projects developed on Ignis. Treecoin is another – a sustainability initiative aiming to reforest parts of Paraguay with timber yielding eucalyptus trees. The third is Bridge Champ, an online gaming platform for players of the popular strategy card game, contract bridge.
All three projects are supported by Jelurida, the firm that operates the Ardor ecosystem. Jelurida has a long pedigree in the blockchain development sector, having been part of the team that developed Nxt in 2013, the first pure proof-of-stake blockchain.
Triffic will announce more about its expansion plans over the coming year.
Image source: Triffic Media
The views and opinions expressed in this article are those of the contributor and Blockchain.News does not endorse and is not responsible or liable for any content, accuracy, quality, advertising, products or other materials on this page. Readers should conduct their own research before taking any actions related to this company. Blockchain.News is not responsible, directly, or indirectly, for any damage or loss caused or alleged to be caused by or in connection with the use of or reliance on any content, goods or services mentioned in this article.


Read More