Iran Pushes Oil Investment on Citizens, Winklevoss Advises Bitcoin
Despite the oil price taking a beating this year, Iran has urged its citizens to invest in a scheme that would pre-sell 220 million barrels and drive liquidity into the OPEC nation's struggling economy. In response, Cameron Winklevoss tweeted that Bitcoin is a far better investment.
The President of Iran and his administration have been encouraging Iranians to invest in the struggling oil market, prompting the famous Bitcoin billionaire Cameron Winklevoss to start a Twitter debate on black gold's flaws compared to Bitcoin.
During a televised cabinet meeting, President of Iran Hassan Rouhani said that "The stock market and oil -- not gold and the dollar -- are the places to be investing and we want to help people this way."
In a plan that has been ratified by Iran's Supreme Council of Economic Coordination, the OPEC nation plans to enable members of the public to invest in oil on its capital markets for the first time. The economy of Iran has been battered by the COVID-19 pandemic, continued United States sanctions and declining oil demand.
In April, the oil market fell to new lows when expiring oil futures contracts scheduled for a May delivery through the West Texas Intermediate crashed by more than 100% send the oil price into negative territory.
Despite the obvious poor climate for oil investment, the Iranian government is forging ahead with its strategy to pre-sell 220 million barrels of oil to its citizens.
President Rouhani said, "The government is doing everything to control liquidity and counter oil sanctions […] the plan will help the economy and secure revenues for our people."
Cameron Winklevoss Says Bitcoin not Oil
With a tweet that seemed in almost direct response to the Iranian government's plan, Cameron Winklevoss took the opportunity to highlight the flaws in the oil market and suggest that Bitcoin is clearly the best option for investment.
Accompanied by a Wall Street Journal report on the frailty and uncertainty of the oil markets, Winklevoss wrote, "Oil is not a reliable store of value. #Bitcoin."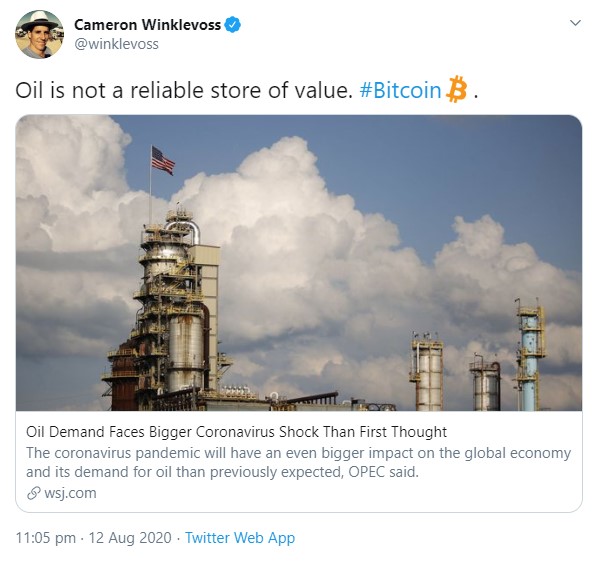 While Bitcoin did initially take a hit with the rest of the S&P 500 on Black Thursday in March, the original cryptocurrency has made a strong recovery and there is now consensus amongst many mainstream investors that it has become a new form of digital gold.
Bitcoin's price now sits at $11,527.99 at the time of writing according to CoinGecko.
Winklevoss appears to believe that if Iranian President Rouhani was serious about creating value for his citizens, then Bitcoin is the clear choice but it obviously would not directly impact the liquidity of the struggling oil-rich Iran economy.
Image source: Shutterstock
Read More