Is Bitcoin's True Power Being Revealed as COVID-19 Market Crisis Sends Oil Futures Price Below Zero?
As WTI crude oil futures plummeted into negative territory, Bitcoin hardly seemed to notice, recording only a minor correction and dipping under 7k.
Is Bitcoin starting to reveal its true potential as a safe haven asset? While the pioneer crypto lost relatively little value could it be too early to tell and is the Bitcoin price soon to be in danger?

It may also be possible that fewer BTC holders are willing to part with the potential safe haven value store given the current COVID economic downturn. If the shock crude oil crash does not demonstrate a potential weakness in the structure of our global economy and a need for an asset with the promise of Bitcoin, then frankly nothing will.
The sell-off appeared to be mainly attributed to the impending expiration of the the May 2020 Futures contract for West Texas Intermediate (WTI). The expiration of these May contracts force the handover of physical barrels of oil at a time when storage capacity is critically low. According to data from Bloomberg, on April 20, futures for a barrel of WTI crude oil expiring in May lost 36% on Monday.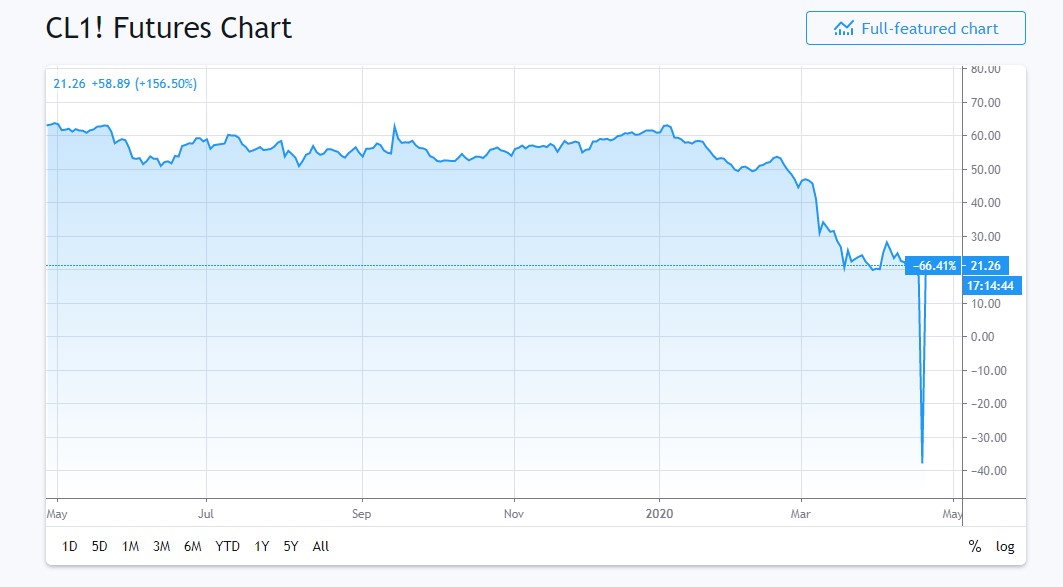 Source : WTI May futures - Trading View
The sell off continued and at its worst the crude oil price stopped just shy of negative $40 dollars with the contracts finally settling on -$37.63%, a whopping -305% decline which is unheard of in the history of WTI crude oil futures.
The shock crash is indicative of just how much oil demand has collapsed due to the COVID-19 pandemic lockdown which has not been further helped by the ongoing oil price war between Russia, Saudi Arabia and Mexico. As there seems to be no end immediately in sight to the pandemic, the financial community is growing concerned that we may see a repeat of this price action with June crude oil futures.
Oil Plummets, Bitcoin Hiccups
As the crude oil futures plummetted, Bitcoin appeared to be almost at business as usual. Bitcoin which had been experiencing a bullish recovery from its initial fall and was sitting at around $7,200 prior to the crash, in the immediate 24 hours after, the price dropped nearly 5% and currently sits at around $6900 - which is a very small movement in the world of Bitcoin.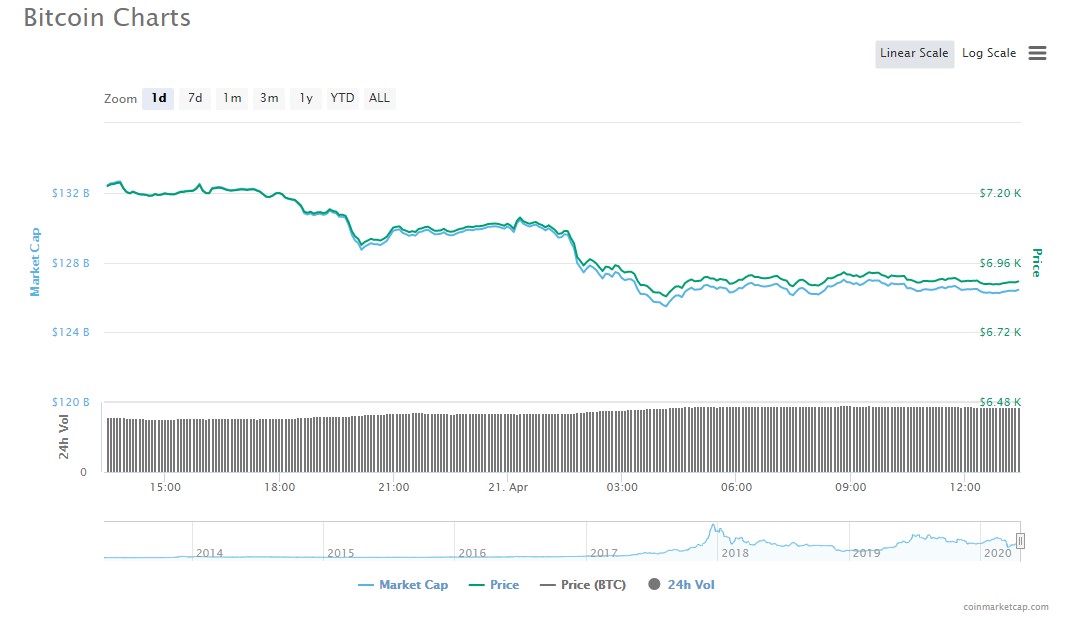 Source - CoinMarketCap
Are Bitcoiner's Safe in their Harbour?
Bitcoin was built in reaction to a broken global economic system. It was designed as an alternative to traditional state-controlled financial currencies and markets. That's why many have thought for the last 10 years that the Bitcoin price would shoot up if the stock market were to crash.
However, almost as soon as the US stock markets started to crash in February, the price of Bitcoin showed very strong market correlation and also declined. The Bitcoin price halved from around $10,000 to $5,000 in a matter of weeks, shedding thousands of dollars in just a few days. This proves that the first move of many investors wasn't to rush to trade their stocks for Bitcoin. It was to trade their Bitcoin for US dollars and stablecoins.
Oil's price action is a testament to the instability of the legacy market infrastructure prevalent in the global economy unable to balance the fundamentals of supply and demand. Bitcoin, however, which continues to dance in and around these traditional markets, held in price against the shocking decline of demand for black gold which has breathed new life into its potential safe-haven status.
While BTC's movement remains on track to make its post halving bull run seemingly undeterred by the oil crash, the truth is it is just far too early to make a call on its ability to act as value store that will survive through the pandemic crisis.
Another potential issue that hardcore Bitcoiner's do not appear to be recognizing is that bringing new blood to the market will not be as easy as continually pointing out the failures of our system. Essentially, Bitcoin will only be recognised as a safe haven when its market action reflects this through holdings by investors, but why would these investors suddenly turn to a nascent technology that they hardly understand in the middle of COVID chaos, while in reality, traditional safe-haven Gold is now performing as expected?

It may be too early to tell if Bitcoin has gotten away clean from this latest incident in the rising global financial crisis brought on by the COVID-19 pandemic, and it's still far too early to speculate if it will prevail as a safe haven.
Read More