Is the Crypto Market about to Burst? Mark Cuban Compares Crypto Downtrend to Internet Stock Bubble
After undergoing an incredible surge, with the market capitalization of the crypto market crossing the $1 trillion mark, many cryptocurrencies have considerably dropped in value. This has served to flush out more than $200 billion in market value as Bitcoin (BTC), the largest cryptocurrency by market cap, dropped. It is now trading at around $35,819.00 at the time of writing, down approximately 6% in the last 24 hours after hitting a record high of $40K at the end of last week.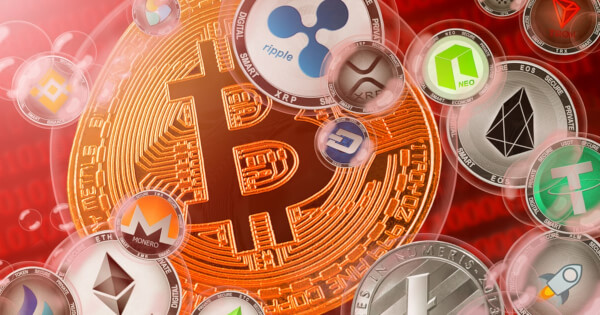 Along with BTC trading lower, most cryptocurrencies have followed suit. Ethereum, the second-largest cryptocurrency by market cap, is also down 10% in the last 24 hours, although it has still managed to stay above the $1000 critical support level.
BTC and ETH will beat the crypto bubble
Shark Tank entrepreneur and NBA Dallas Mavericks owner Mark Cuban commented on the cryptocurrency market's downtrend and hinted that the current situation was indicative of a stock bubble, in which asset prices massively crash after riding on highs for a sustained period of time. Cuban said:
"Watching the cryptos trade, it's EXACTLY like the internet stock bubble. EXACTLY. I think btc, eth, a few others will be analogous to those that were built during the dot-com era, survived the bubble bursting and thrived, like AMZN, Ebay, and Priceline. Many won't."
Cuban hints that Bitcoin (BTC) and Ethereum (ETH) will likely thrive despite the current bubble territory that seems to have hit the cryptocurrency sector, just like some tech stocks who beat the dot-com bubble in the late 1990s, namely Amazon, Ebay, and Priceline. During that period of time, many tech-related stocks rose considerably in value due to excessive speculation, but the stocks quickly went bust by the end of 2001, resulting in a market crash and steep losses for investors.
Being the largest cryptocurrency by market cap, Bitcoin has been largely backed by institutional support and will likely continue to rise in value in the long run. The same is likely to happen for Ethereum as well in 2021, as there have been talks that ETH futures will be rolled out in 2021 by CME Futures, given that the demand for Ethereum is growing.
Crypto and other investments driven by perfect sales pitch
Cuban said that the reason behind cryptocurrency price surges was the same as that behind gold – according to him, it was simply a question of supply and demand. The likes can be influenced by a perfect sales pitch that tugged on investors' FOMO (fear of missing out) strings – that the asset was scarce, and one must therefore have it before it was too late. For Cuban, it is as simple as that. The Shark Tank personality said:
"As during the dot-come bubble 'the experts' try to justify whatever the pricing of the day is. Crypto, much like gold, is a supply and demand driven. All the narratives about debasement, fiat, etc are just sales pitches. The biggest sales pitch is scarcity vs demand. That's it."
Cuban is not the only bull who thinks that Bitcoin is caught in bubble territory. Jeffrey Gundlach, the CEO of the DoubleLine Capital LP, also shared his views and said that Bitcoin looked like it was about to plummet at any moment.
Cuban said that the best way to go about investments was to "learn how to hedge."
Peter Schiff remains skeptical about crypto
Gold bull Peter Schiff, on the other hand, has long been critical of the real value of cryptocurrencies, having previously proclaimed that Bitcoin was not unlike a pyramid scheme, and artificially inflated. The investor much preferred conventional stocks like gold and silver to hedge, rather than digital assets. He now hit Cuban back with a comment, saying:
"The difference is that some of those early internet stocks actually had real value. So they survived and ultimately thrived. None of the cryptos have any real value so there will be no winners. They will all lose."
Image source: Shutterstock
Bitcoin and Tesla Prices Plunge as FED Hints QE Scale Back to Avoid Asset Bubbles
Read More